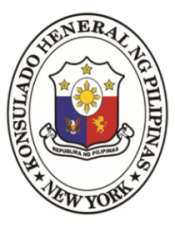 RESIDENT ELECTION REGISTRATION BOARD
CONSULATE GENERAL OF THE REPUBLIC OF THE PHILIPPINES
NEW YORK, N.Y., U.S.A.
Pursuant to Section 20, Rule V of COMELEC Resolution No. 10167 promulgated on 28 October 2016, the Philippine Consulate General in New York wishes to inform the public that it will conduct a Hearing on the Applications for Registration/Certification as Overseas Voters for the period 01 October 2020 – 31 December 2020 on:
Date: 19 January 2021
Time: 3:00 p.m.
Venue: Philippine Consulate General
             3rd Floor, Board Room
             556 Fifth Avenue, New York, NY 10036
All objections/opposition against the names in the list below may be filed not later than 11 January 2021. Only Opposition on valid grounds will be entertained.
Thank you.