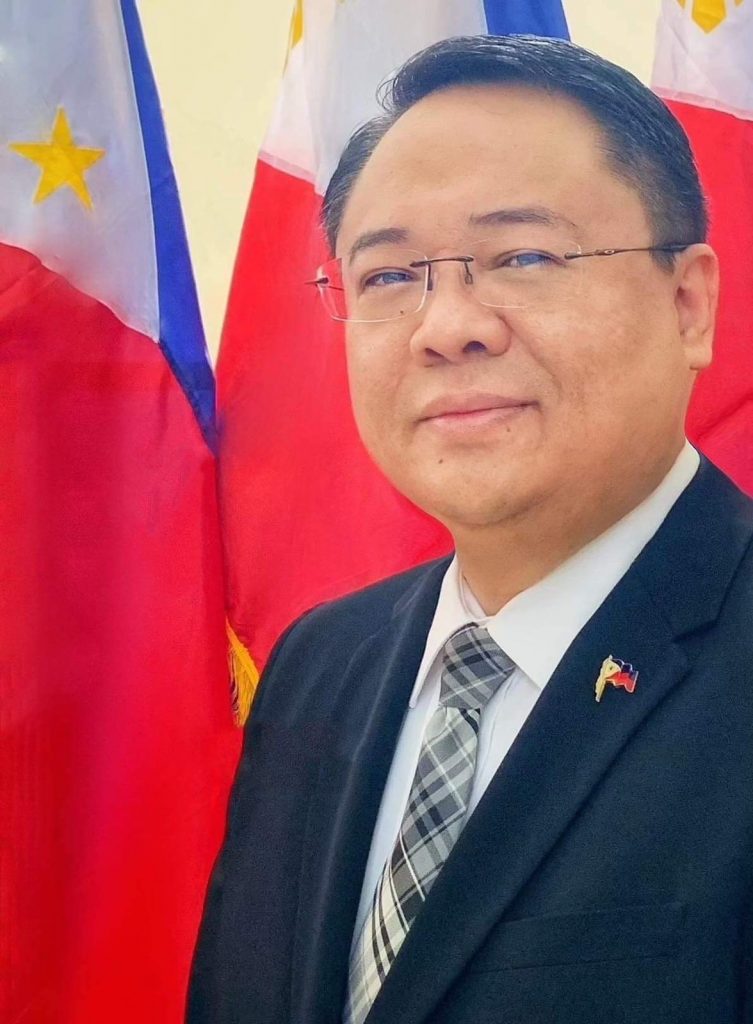 Consul General Elmer G. Cato is a career diplomat with the rank of Chief of Mission Class II who joined the Department of Foreign Affairs (DFA) in 1998.
A journalist before joining the foreign service, Consul General Cato had served in various capacities in the Philippines and abroad in the past 23 years.
Before being assigned to New York, Consul General Cato was Chargé d'Affaires, e.p. and Head of Mission at the Embassy of the Philippines in Tripoli from 2019 to 2021.
His first overseas posting was at the Permanent Mission of the Philippines to the United Nations from 2003 to 2010 where he also served as a member of the Philippine Delegation to the UN Security Council from 2004 to 2005.
Consul General Cato was assigned to the Embassy of the Philippines in Washington, D.C. from 2012 until he volunteered to go to Iraq where he served as Chargé d'Affaires, e.p. and Head of Mission of the Embassy of the Philippines in Baghdad from 2015 to 2018.
At the Home Office, Consul General Cato served as Foreign Affairs Assistant Secretary for Public Diplomacy and later for Strategic Communications during the terms of Foreign Affairs Secretaries Alan Peter S. Cayetano and Teodoro L. Locsin, Jr. from 2018 to 2019.
During the term of Foreign Affairs Secretary Albert F. Del Rosario, Consul General Cato was Special Assistant for Special Projects at the Office of Administration; Director for Intelligence of the Intelligence and Security Unit under the Office of the Secretary; and Executive Director of the National Council on United Nations Peace Operations from 2010 to 2012.
Consul General Cato also served as Special Assistant for Foreign Affairs Secretary Domingo L. Siazon, Jr. and Teofisto T. Guingona; spokesperson and Officer-in-Charge of the Presidential Commission on the Visiting Forces Agreement; and Officer in Charge of the Regional Consular Office in San Fernando and Clark Field, Pampanga.
Consul General Cato is a recipient of the Gawad Mabini, one of the highest awards the Government of the Philippines can bestow on Filipino diplomats, for initiating the public-private partnership that led to the rent-free hosting of DFA consular offices in shopping malls across the Philippines.
Consul General Cato joined the DFA in 1998 after passing the Foreign Service Officers Examination of 1996. He also passed the Career Ministers Examination of 2013.
Before entering the Foreign Service, Consul General Cato was a journalist for 17 years who started as a 16-year-old cub reporter. He was also an overseas worker in Jeddah and Jakarta. END.
Mga Minamahal Naming Kababayan,
It is my honor to inform the members of the Filipino Community that I have assumed as Consul General of the Republic of the Philippines in New York. Like those who have served here before me, I will do everything I can to ensure that your Consulate General will remain responsive to your needs.
Aside from improving the delivery of consular services within the limitations brought about by the coronavirus pandemic, I will be working with the men and women of your Consulate General and other partners inside and outside of our community in ensuring the well-being of our kababayan in New York and in the other areas under our jurisdiction.
As we all know, the Filipino Community has been hit hard by the coronavirus but even as we struggle to cope with the effects of the pandemic, we suddenly find ourselves confronted with another challenge—hate crimes and other types of race-based violence.
It is really unfortunate that kababayan in New York and other parts of the United States have been caught in this maelstrom along with other Asian-Americans and Pacific Islanders. In New York alone, the number of hate crimes against the Asian-American Community rose eight-fold from January to November 2020 compared to the same period in 2019. The figures do not include recent incidents that involved some of our own.
On Monday, we saw how our 65-year-old kababayan, Vilma Kari, was violently assaulted by a former convict while on her way to church in Manhattan. A few weeks earlier, 61-year-old Noel Quintana was slashed on the face while riding the subway also in Manhattan. There are other incidents of similar violence inflicted on Filipinos and other members of the Asian-American Community. Sadly, many of these incidents went unreported.
This Lenten Season, we call on our kababayan to reflect and remember the significance of treating one another as fellow human beings. We are reminded of Jesus Christ's example of service, sacrifice, and struggle against injustice. Our culture, traditions, and history are deeply influenced by His example, and our steadfast faith in God allows us to persevere in our constant quest for a just and humane society.
And as we pray for an end to hate, racism, and discrimination, we also urge our kababayan to do their share. We call on all Filipinos who experience or witness any hate crime to immediately dial 911 to report the incident. We also urge Filipino victims or those who know of Filipino victims to immediately get in touch with us at the Consulate General so we could render assistance.
Hinihikayat po namin ang ating mga kababayan na ipaalam kaagad sa amin ang mga insidente ng hate crimes para mabigyan din po namin ang biktima ng kaukulang tulong. Ang aming hotline ay +1 (917) 239-4118. Maaari din po ninyong ipaalam sa amin sa pamamagitan ng pag email sa newyorkpcg.atn@dfa.gov.ph.
In these trying times, the Consulate General of the Philippines would like to assure our kababayan in New York and those in other states under our jurisdiction that we remain fully committed in looking after their well-being.
Isang Mapagpalang Semana Santa sa Ating Lahat!
Mabuhay ang Sambayanang Filipino!
I would like to thank the Chinese-American Citizens Alliance of Greater New York (CACAGNY) for organizing this rally to demand justice for Vilma Kari, the 65-year old Filipino mother who was violently assaulted while she was walking to church in Manhattan exactly a week ago today. All of us saw how Brandon Elliot, a 38-year-old convict who is out on parole for killing his own mother, kicked the helpless Vilma without provocation and stomped on her face while yelling at her "You don't belong here!"
I can see in Vilma the face of my own mother and other elderly Asian women living in New York, who, due to the recent spate of violence against Asians, would not even want to leave the safety of their homes anymore for fear that they, too, would be violently assaulted. A few weeks ago, another elderly member of our community, 61-year-old Noel Quintana, got his face slashed after he was attacked with a box cutter while riding the subway on his way to work also in Manhattan.
These cases hit close to home, since we, Asians, revere our elders. It is part of our DNA to look after our elderly. This is why Elliot's violent attack on Vilma had been particularly distressing to all of us. But contrary to what Elliot said, Vilma and the rest of the Asian-American and Pacific Islander (AAPI) Community belong here. Our community contributes significantly to the greatness of this city. The New York City Metro Area has the largest number of AAPI residents in the country, with more than 2.4 million people who contribute more than $6.2 billion in state and local tax revenues.
Our contribution to the city does not end here. In the battle against the coronavirus disease (Covid-19), Filipino nurses remain in the frontline against the pandemic. Data from National Nurses United shows that while only 4 percent of nurses in the United States are Filipino, about 30 percent of the almost 200 registered nurses who died from Covid-19 are Filipino. Twenty-five percent of Filipinos in New York work in the healthcare industry. It is, thus, ironic for Elliot to insist that Vilma and the AAPI community she belongs to do not belong here.
As we pray for an end to hate, racism, and discrimination, we urge everyone not to shut their doors to victims of hate crimes like Vilma. Please call 911 or the Crime Stoppers hotline of the New York City Police Department to report incidents of hate crimes. Filipino victims of hate crimes are also encouraged to get in touch with us at the Consulate General.
We take this opportunity to thank the NYPD and its Asian Hate Crime Task Force for their dedication to their work and their quick action in apprehending Elliot. Today, Brandon Elliot will appear in this Criminal Court, and to him we say Vilma belongs here, Asians in New York belong here, everyone belongs here.
Thank you.