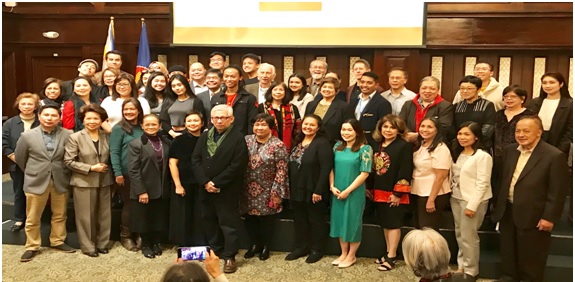 29 October 2018, New York –
"First, a poem must be magical,
Then musical as a seagull.
It must be a brightness moving
And hold secret a bird's flowering
It must be slender as a bell,
And it must hold fire as well"
And so it was that Consul General Claro S. Cristobal recited one of the most beautiful lines of poetry by Philippine National Artist for Literature, Jose Garcia Villa, during a night of poetry held on 24 October 2018 at the Philippine Center, in celebration of the Filipino-American History Month.
"And it is thanks to literary geniuses, such as Jose Garcia Villa – who has revolutionized poetry through his 'comma poems' and 'reverse consonance' rhyme scheme – that we continue to be invigorated in both mind and soul," stated the Consul General during his welcome remarks.
During this night of poetry, Mr. Luis H. Francia, professor of Hunter College and New York University, who learned poetry in workshops with Villa at Greenwich Village, gave a brief lecture aboutthe "Pope of Greenwich Village." He narrated how Villa disliked the use of the word "so" at all costs. Francia also remembers Villa discouraging the reading of fiction, as it confuses the poet, and rather urging his students to be single-minded and faithful to their own views.