The Philippine Consulate General in New York (PCGNY) wishes to inform the public that all Overseas Filipinos (OFs) arriving from overseas, who are not OFWs and foreign nationals exempted from the inbound travel ban, may be required to undergo quarantine procedures (not exceeding 14 days) and/or COVID-19 testing upon arrival in the Philippines. The attached diagram lays out the medical vetting and quarantine process to be be employed by authorities.
PCGNY also cautions all travelers to the Philippines to expect delays in traveling to their final destinations outside Metro Manila in view of the limited transportation options resulting from the existing Enhanced Community Quarantine (ECQ) in Metro Manila and in some regions, provinces and cities throughout the Philippines. Prospective travelers are therefore advised to postpone or delay non-essential travel to the Philippines.
The public is further advised to continuously monitor the websites of relevant Philippine agencies for updates on this matter.
While PCGNY remains closed to public until further notice, our officers and staff continue to provide urgent and emergency services to our kababayans from home. Please regularly monitor our official Facebook Page (https://www.facebook.comPHLinNY) and official website (www.newyorkpcg.org) for updates.
For consular queries, you may email any of the following: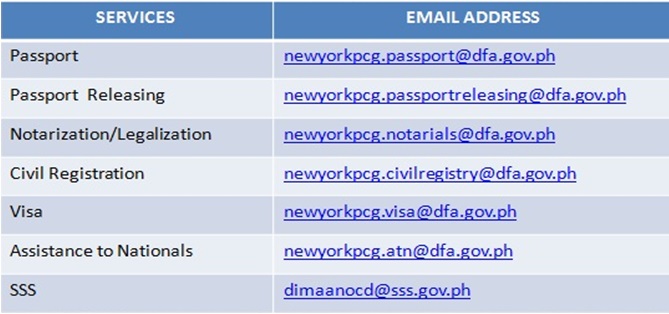 Salamat po.
01 May 2020