PH Consul General Supports Filipino Restaurants in New York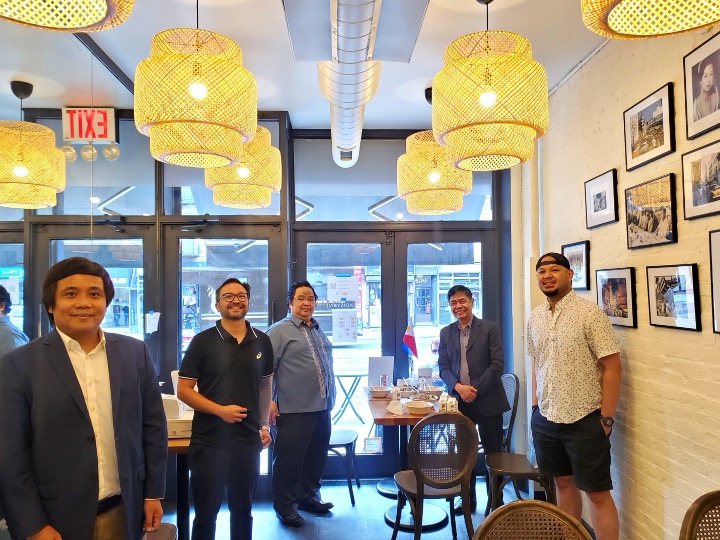 Consul General Claro Cristobal (2nd from right) during visit to Tradisyon NYC. (L-R) Consul Arman Talbo, Joey Chanco, DCG Kerwin Tate, and Anton Dayrit. (Photo by PCGNY)
27 JUNE 2020, New York – Philippine Consul General in New York Claro S. Cristobal showed support for Filipino restaurants that started to offer outdoor dining services as New York City slowly reopens following a 3-month pause that brought almost everything in the city to a halt.
Consul General Cristobal visited and dined at Tradisyon, a new restaurant located in the Hell's Kitchen neighborhood of Midtown Manhattan, on 26 June 2020. Combining fresh, quality ingredients with authentic flavors, Tradisyon makes Filipino favorites like sisig, kare-kare and adobo known and accessible in the entire borough through delivery. Co-owners Anton Dayrit and Joey Chanco discussed with the Consul General the Filipino elements they have incorporated in the design of the restaurant like the bar that is made of capiz shells, photos of Philippine scenes and personalities that adorn one wall, and light diffusers made of bamboo.  These creative elements complement the mouth-watering Filipino comfort food meticulously crafted by Chef Anton.
The Consul General then visited Ugly Kitchen in Manhattan's East Village. Owner and Chef Aris Tuazon offers authentic Filipino food including pulutan like crispy pata, chicharon bulaklak, and sisig which go so well with Philippine beer and cocktails that available in the restaurant. Ugly Kitchen is also known for bringing the kamayan boodle fight experience to mainstream diners. Mr. Tuazon thanked the Consul General for the support being extended by the Philippine Consulate General in New York to Filipino restaurants which are adversely affected by Covid-19.
At the start of the pandemic in NYC when restaurants were allowed only to offer delivery and curbside pickup, the Philippine Consulate General published through its social media account a list of Filipino restaurants offering those services and encouraged kababayans to support them by ordering online.
Tradisyon and Ugly Kitchen are among the restaurants that were supposed to participate in the Filipino Restaurant Week last May but it had to be postponed due to Covid-19. Patterned after the New York City Restaurant Week, the FRW is a flagship project of the Philippine Consulate General to promote Philippine cuisine. The Consul General will visit other FRW participating restaurants as they reopen in the next coming weeks.
Consul General Cristobal was joined by Deputy Consul General Kerwin Tate and Consul Arman R. Talbo. END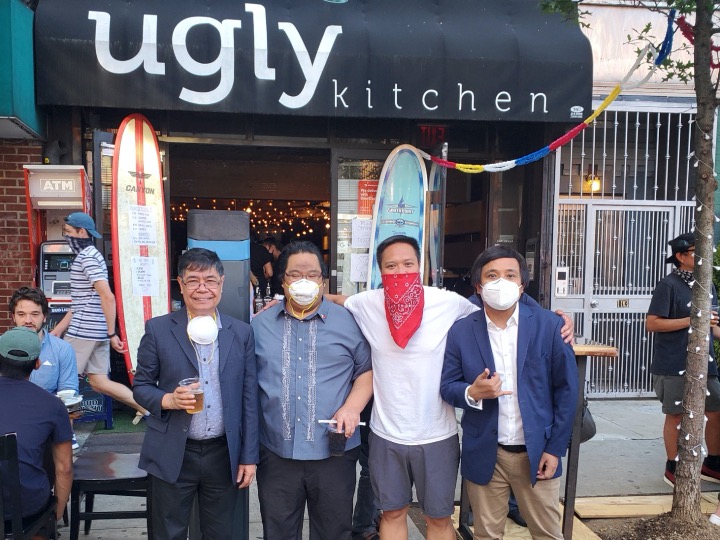 (L-R) Consul General Claro Cristobal, DCG Kerwin Tate and Consul Arman Talbo (far right) with Aris Tuazon of Ugly Kitchen. (Photo by PCGNY)