PH Consulate in New York Receives Face Mask Donations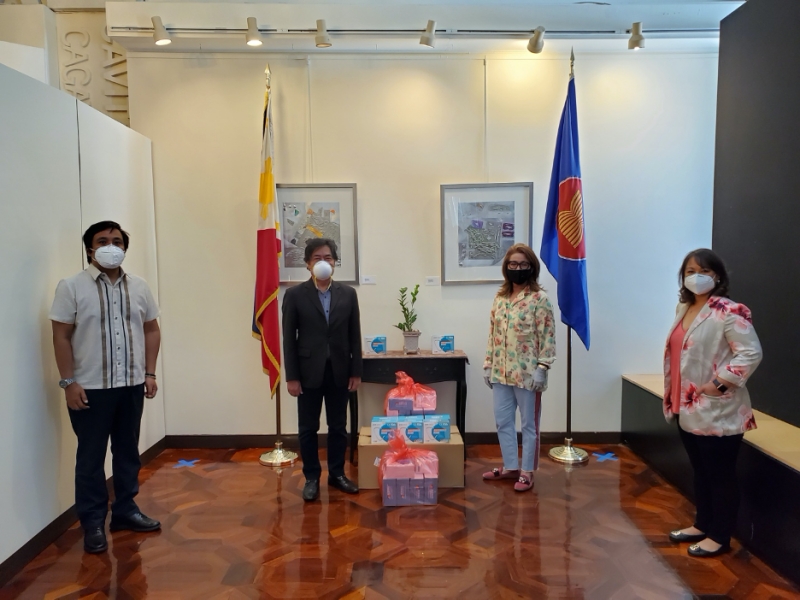 (L-R) Consul Arman Talbo and Consul General Claro S. Cristobal receives the face masks at the Philippine Center in New York from JoAnn Sy Bahia of The Prescription Shoppe and Grace Labaguis of Synergy Production and Marketing. (Photo by PCGNY)
13 July 2020, New York – Consul General Claro S. Cristobal received 1,000 pieces of KN-95 masks donated by Fil-Am JoAnn Sy Bathia, owner of The Prescription Shoppe, a pharmacy based in Jersey City, New Jersey.
The masks will be distributed to members of the Fil-Am community and guests who have official business with the Consulate but are not wearing face cover.  Since the reopening of the Consulate on 12 June after the lifting of the lockdown in NYC, the wearing of face mask inside the Philippine Center has been made mandatory to help prevent the spread of Covid-19 as advised by health authorities.
Bathia said that her donation is her small contribution for the safety and well-being of the Fil-Am community. The donation and turn-over was facilitated by Grace Labanguis of Synergy Production and Marketing upon learning that the wearing of mask will be made mandatory.
Consul General Cristobal thanked Bathia and Labaguis and said that the masks will benefit kababayans who forget to bring their mask when coming to the Consulate.  The Consul General emphasized the importance of following health protocols, including temperature check and hand sanitizing, when entering the Philippine Center to ensure the safety of kababayans and Consulate personnel. – END