PH Consulate in New York Wraps Up 1st Virtual Paaralan sa Konsulado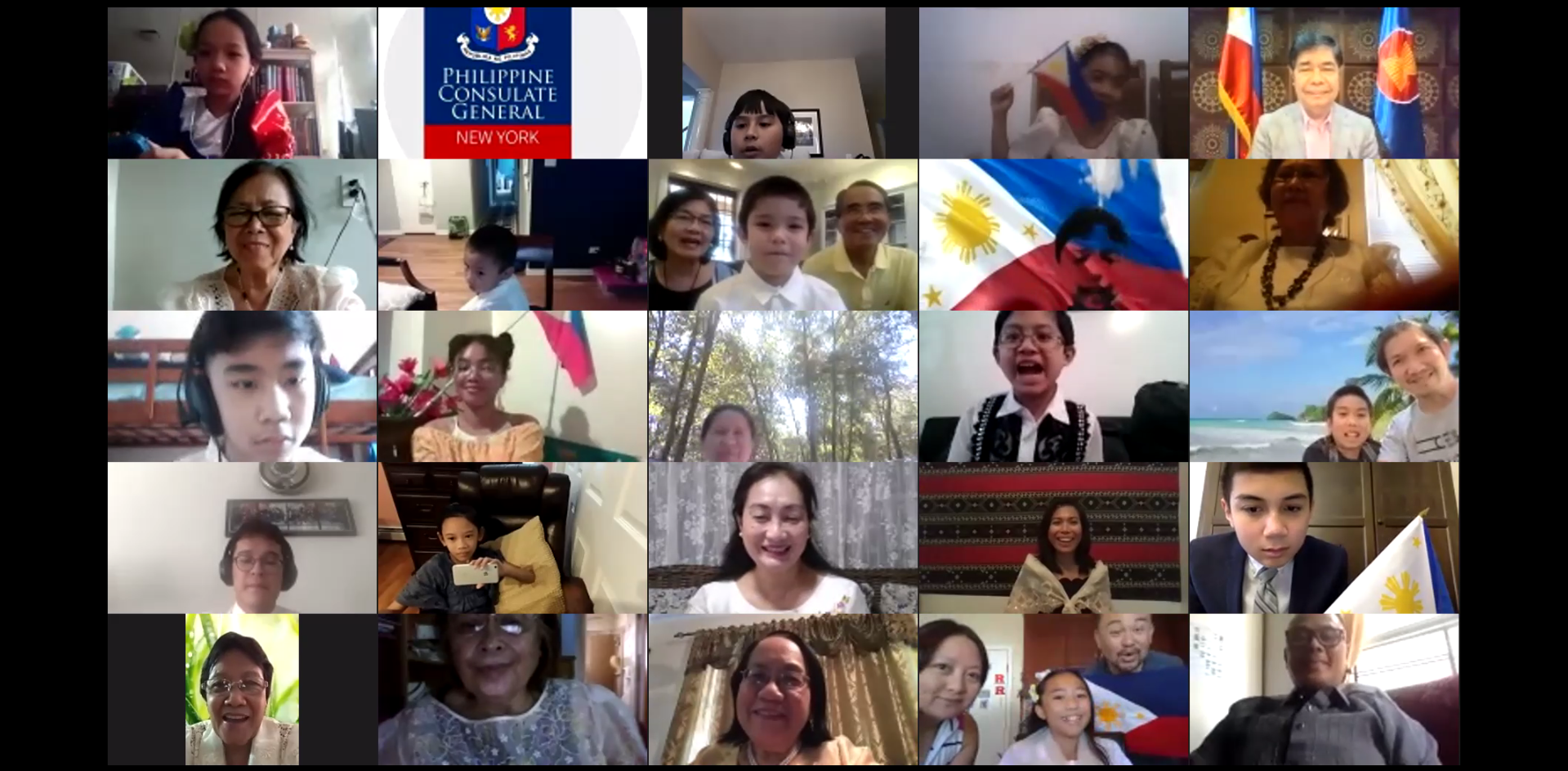 Philippine Consul General Claro S. Cristobal (top right most) poses with PSK students, AFTA teacher volunteers, and parents during the PSK closing ceremony. (Photo by PCG NY)
03 August 2020, New York – The Philippine Consulate General in New York hosted via its Facebook page the culminating activity of this year's 22nd Paaralan sa Konsulado (PSK) which was conducted online from 27 June to 01 August 2020 in partnership with the Association of Filipino-American Teachers of American, Inc. (AFTA). Due to the pandemic, the Consulate and AFTA innovated and adjusted the PSK curriculum to be able to conduct it online this year.
Out of the 99 students who attended at least one session, 78 students were able to complete the 5-Saturday workshop and proudly displayed what they learned during the closing ceremony. Their achievements were recognized in a simple virtual awarding ceremony where Certificates of Completion were given to them. Medals were awarded to students who excelled in the following categories: outstanding classwork, most creative, most engaged, most inquisitive, best performance and best folk dance presentation, as well as the winners of the Tuklas Talino Essay Writing and Art Contest. Students who have been enrolled for the 3 or more consecutive years in PSK were also awarded with Loyalty Medals.
Garbed in their Filipiniana attire, PSK students Ethan Gauat from Connecticut and Trinity Bosley from Maryland led the singing of the Philippine National Anthem while Kian Francis Inot from New York led the Panunumpa ng Katapatan sa Watawat ng Pilipinas. Jacqueline Yabut from New Jersey rendered a number singing the classic Visayan song, Rosas Pandan, which she learned during the PSK. Meanwhile Christian Bond from Florida, together with his father, sang the traditional folk song Bahay Kubo.
The Yabut siblings (Jacqueline, Patrick and Caroline) led the karaoke-style community singing of Smokey Mountain's A Better World. Also presented during the closing event was a video highlighting the students' success in learning the Filipino language, folk songs, folk dances, festivals, and arts among others.
In his remarks, Consul General Claro S. Cristobal acknowledged the inspiration and dedication that the children have shown, including their parents' support throughout the program. He likewise recognized the great sacrifice, innovation and creativity of PSK teachers who have again risen to the challenge during this time and have shown the very high standard Filipino teachers are known for.
Giving their reflections about PSK, Chrissy Steger, parent of 11-year old PSK student Danielle Steger who started with PSK at the age of 5, said that her daughter has developed a deeper understanding of Filipino culture and deeper sense of pride for her Filipino heritage. "I would definitely promote the PSK program to my Filipino friends," she added. Eleven-year old PSK student Zoe Quijote related her journey since she started PSK at the age of 7, where her pride for being Filipino grew tremendously. "I always look forward to the yearly PSK. I did not only learn about Filipino dances, song and games, but also learn about important Philippine culture and traditions," Zoe said.
Consul Arman Talbo recognized the dedication and spirit of volunteerism of PSK volunteer teachers from AFTA, namely; AFTA President Marcelo Inot, Dr. Roxanne Cajigas, Cheruby Inot, Josette Baraquia, PSK Principal Dara Valconcha, PSK Assistant Principal Rena Pedaria, Ivy Sacay, Doreen Cabillan, Christian Penas, Lino Arca, Ramil Buenaventura, Sheridan Lambert, Jojo Reynes, Johjoh Demol-Jenae, Olive Abarquez, Jovani Tablezo, and Ann Marie Wilson. He also thanked the Tuklas Talino Essay Writing and Contest judges Rizalina C. Labanda, Carol L. Ramos, Elizabeth Martin, May Hope Acero, Chaz Raimier Penas, and Ramon Penas Sr. He also acknowledge the valuable information and insights shared by the resource speakers during the plenary sessions: child actor and ventriloquist Shane Selloria, Debra Ortiz-Pardi from the National Center for Missing and Exploited Children, Dr. Joie Calub from the NYC Department of Education, and Anton Dayrit from Tradisyon NYC.
AFTA President Marcelo Inot, in his closing remarks, thanked the students and parents for their active engagement during the 5-Saturday PSK program. "It is heartwarming to know that the pandemic did not hinder the children in learning more about the Philippines. They have greatly shown their love for the country as evidenced by the outstanding output and project they have submitted," Mr. Inot added.
AFTA teacher Ramil Buenventura who served as emcee during the live-streamed sessions, including the closing ceremony, have kept the students and audience connected and engaged, making the PSK event memorable and lively.
The PSK is a summer workshop for Filipino and Filipino-American children between the ages of 5 and 15, which aims to provide children born and raised in the USA opportunities to learn about their Filipino culture and heritage. It ran for 5 Saturdays, from 27 June 2020 to 1 August 2020 (except July 4) from 10:00 am to 12:00 noon, with participants learning about Filipino values, heritage, history, art, songs, dances, games, traditions, and conversational Filipino.
This year's PSK has reached far bigger participants coming not just from the US northeast, but as far as California, Florida and Maryland, too. The daily sessions livestreamed on the Consulate's Facebook page have earned an average of 2.8k views, with the closing program earning the highest with 4.3k views, the opening program with 3.7k views, the 3rd and 4th Saturday both with 2k views and the 2nd day with 1.8k views. – END
Watch the PSK Culminating Program video here: