PH Consulate in New York Marks Fil-Am History Month with Virtual Taste of the Philippines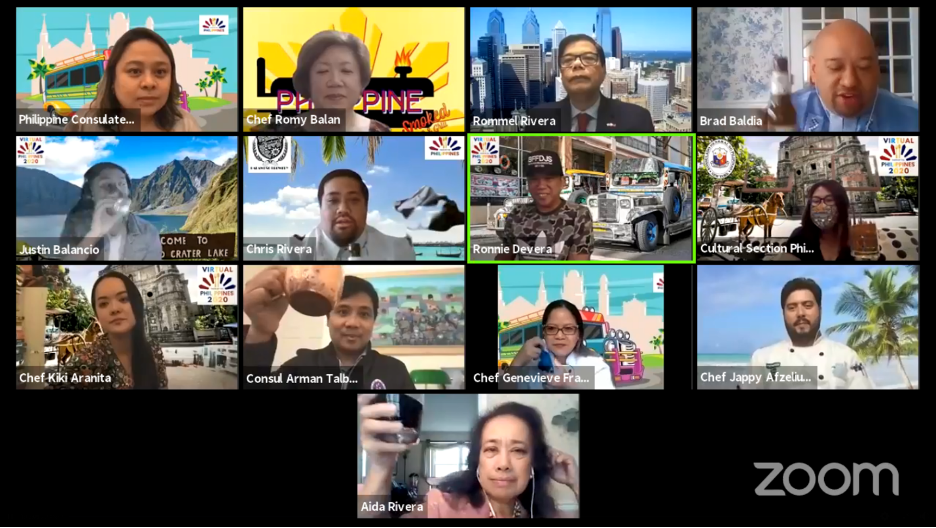 Consul Arman Talbo (2nd from left on 3rd row) and PACCGP president Brad Baldia, together with the chefs and attendees toast during the virtual Taste of the Philippines event. (Photo by PCGNY)
21 October 2020, New York – As part of the month-long celebration of Filipino-American History Month, the Philippine Consulate General in New York and the Philippine American Chamber of Commerce of Greater Philadelphia (PACCGP) hosted the Virtual Taste of the Philippines on 10 October 2020 at 2:00 pm via the Consulate's Facebook page.
Ambassador Jose Manuel Romualdez in his brief remarks said, "Fil-Am History Month highlights the valuable contributions of Filipino Americans in the economic and social growth of the United States." He recognized how Filipino-Americans answered the call to be at the frontlines in fighting the coronavirus pandemic in healthcare, law enforcement, military and other essential services. Ambassador Romualdez encouraged viewers to support Filipino-American restaurants and the food service industry which are among the hardest hit sectors during the pandemic.
As the virtual event featured cooking demonstrations from four renowned Filipino-American chefs, Deputy Consul General Kerwin Tate underscored that the Philippines being an archipelagic country with fertile soil and abundant seas boasts more than "7000 flavors stretching from Batanes to Jolo, with every region and province offering something unique to the palate."
This wide arrange of flavors was exhibited during the cooking demonstration, where Philadelphia's Poi Dog Chef Kiki Aranita made kinilaw na kona kampachi (a Hawaiian yellowtail); Maryland's  Philippine Smoked BBQ & Grill pitmaster Romy and Lalaine Balan showed how to roast lechon and make sisig out of it; Tsismis NYC Chef Jappy Afzelius prepared pasta aligue; and Philadelphia catering chef Genevieve Francisco cooked escabeche.  
To complement these dishes, Dean Gonzaga from Palaweño Brewery New Jersey showed how to make cocktails using Palaweño beer. Several Philippine Department of Tourism #EatsMoreFuninthePhilippines videos, highlighting the country's culinary tourism offerings were played during the program.
Billy Dec, an Emmy Award Winning TV personality, actor, and restaurateur, shared the story of how his Filipino roots shaped his love for food and the circumstances that prompted him to return to the Philippines to look for his last living elder, learn their recipes, and gain a deeper understanding of his cultural and culinary identity. The result of his journey to the Philippines is the upcoming documentary for PBS entitled "Food. Roots." slated to launch in 2021.
A video promoting Filipino Restaurant Week (FRW), participating restaurants and chefs, including Fil-Am History Month greetings from FRW participating chefs was shown to encourage viewers to support Filipino restaurants. 
Bill Covaleski, Co-Founder of Victory Brewing Company and Board Chairman of the Pennsylvania Restaurant and Lodging Association, called for support to donate to the Hospitality Assistance Response of PA (HARP) to help businesses in the hospitality industry experiencing financial difficulties.
Video greetings from L.A.-based musical group, The Filharmonic and artists Tia Carere, Arnel Pineda, Dante Basco, and Mark Dacascos extending their Happy Filipino-American History month greetings as well as encouraging Filipino-Americans to vote in the forthcoming US elections were also presented.
The event also showcased cultural performances from Ani Gavino with her dance interpretation of "De/scribing Maharlika", a musical performance from the rondalla ensemble Philippine Folk Arts Society, and songs from the Arato Brothers. DJ Ronnie D. provided a variety of tunes to keep the event lively while Kapitbayan Filipino-American Association, Inc. and Elaine Ficarra led the audience in an interactive Zumba and line dancing session.
Brad Baldia, PACCGP president, and Chris Rivera, NaFFAA National Operations Officer, co-hosted the event. – END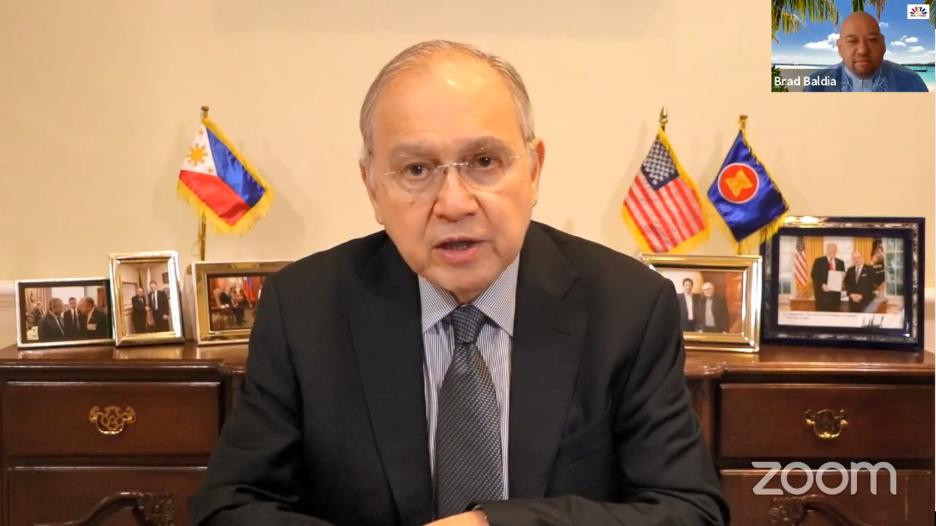 Philippine Ambassador to US Jose Manuel Romualdez delivers Fil-Am History Month greetings during the Virtual Taste of the Philippines event. (Photo by PCGNY)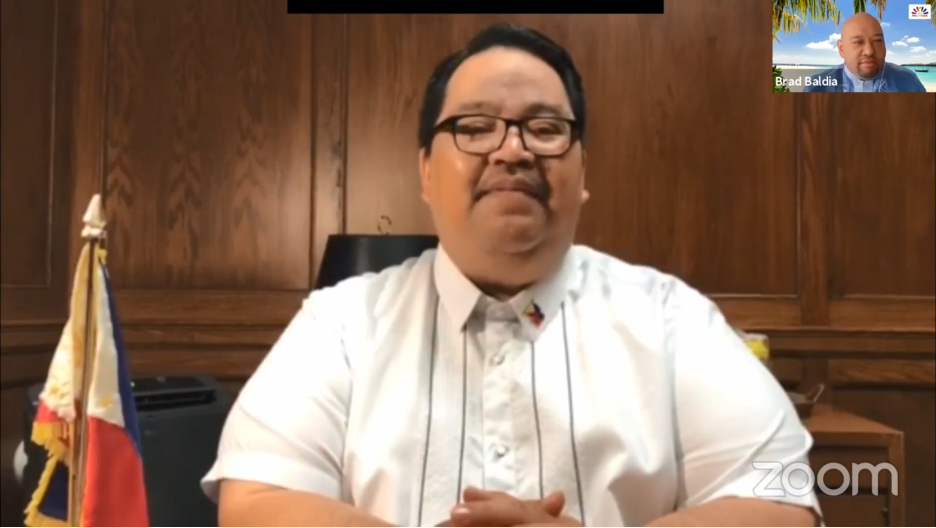 Deputy Consul General Kerwin Orville Tate delivers his brief remarks during the Virtual Taste of the Philippines event. (Photo by PCGNY)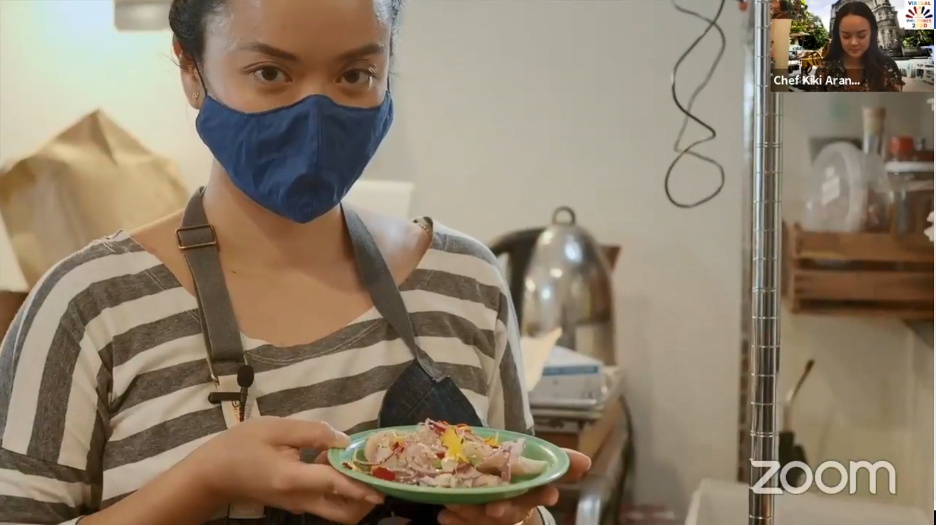 Chef Kiki Aranita poses with her kinilaw na kona kampachi. (Photo by PCGNY)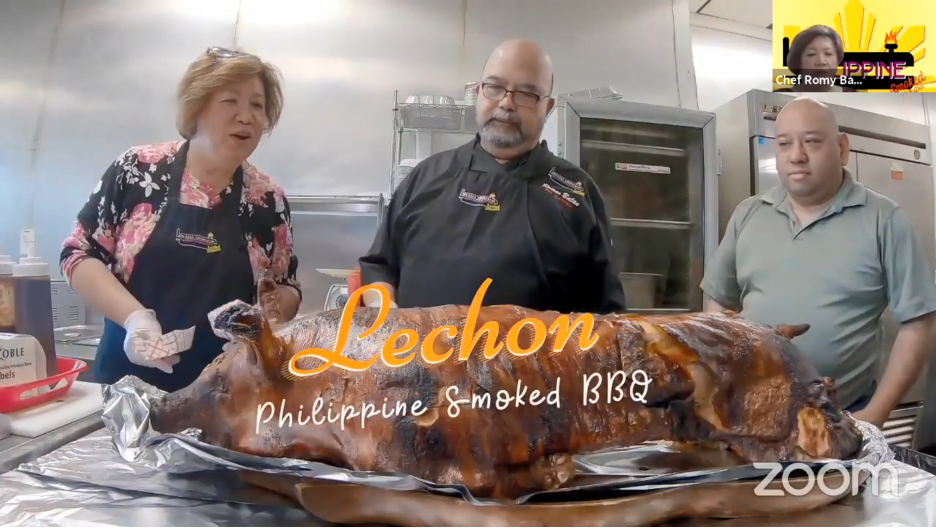 Maryland's Philippine Smoked BBQ & Grill pitmaster Romy and Lalaine Balan showed how to roast lechon while PACCGP president Brad Baldia looks on.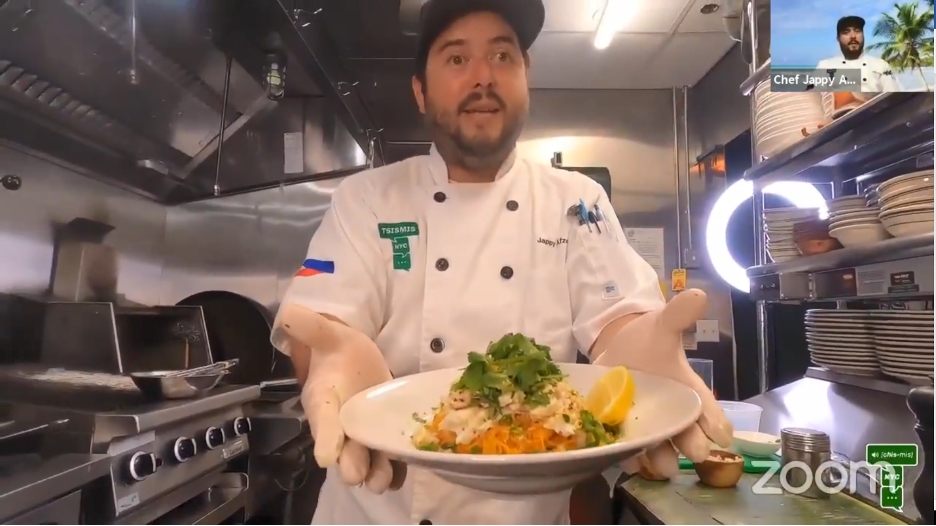 TSISMIS NYC Chef Jappy Afzelius with his pasta aligue. (Photo by PCGNY)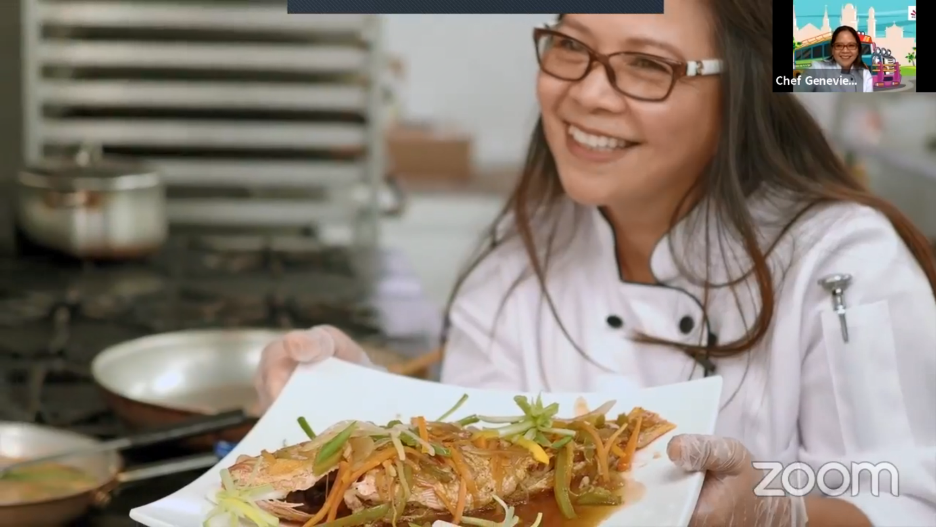 Chef Genevieve Francisco presents her escabeche. (Photo by PCGNY)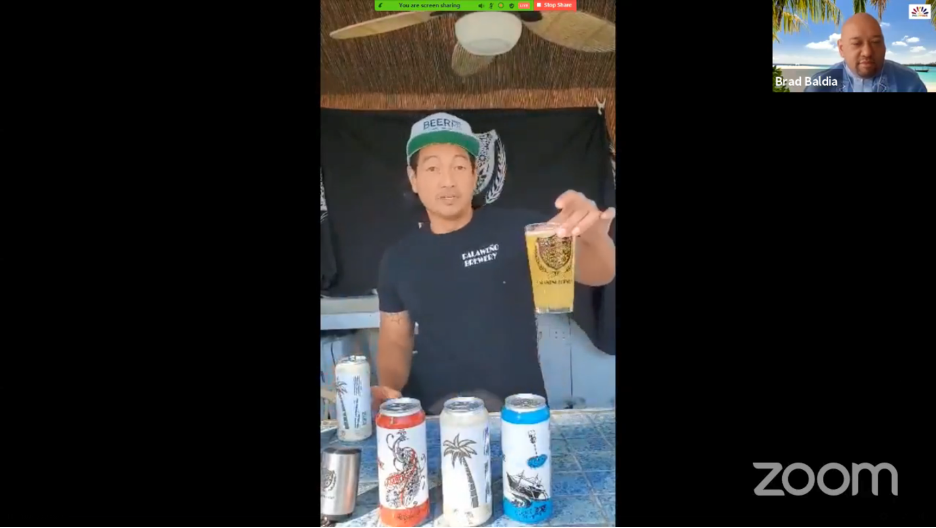 Dean Dean Gonzaga of Palaweño Brewery New Jersey showed how to make cocktails using Palaweño beer. (Photo by PCGNY)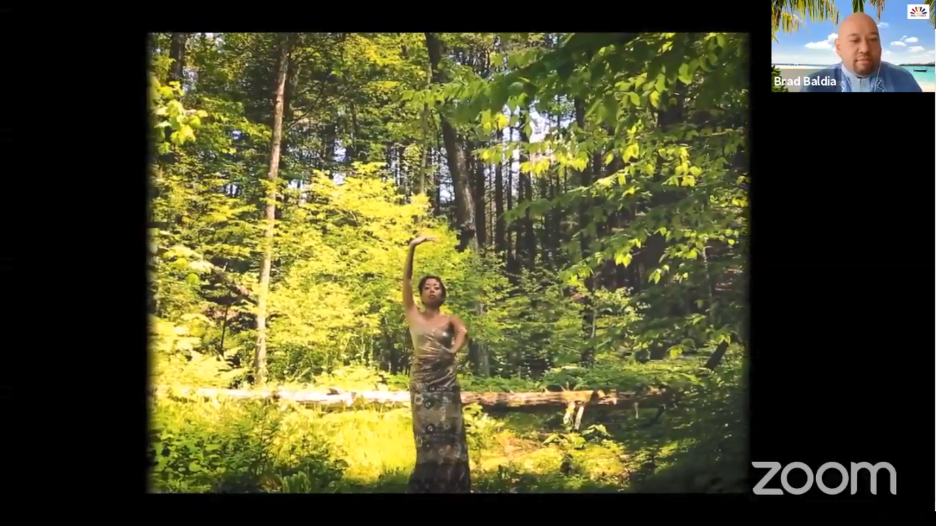 Ani Gavino performs De/scribing Maharlika during Virtual Taste of the Philippines. (Photo by PCGNY)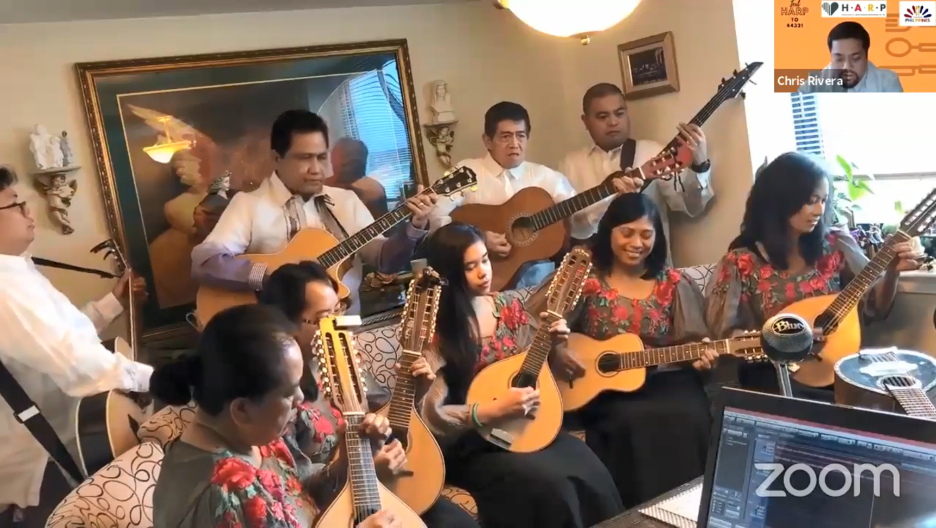 Rondalla ensemble Philippine Folk Arts Society serenades viewers during Virtual Taste of the Philippines. (Photo by PCGNY)