PCG NEW YORK HOPES TO SEE DECLINE IN HATE INCIDENTS IN 2022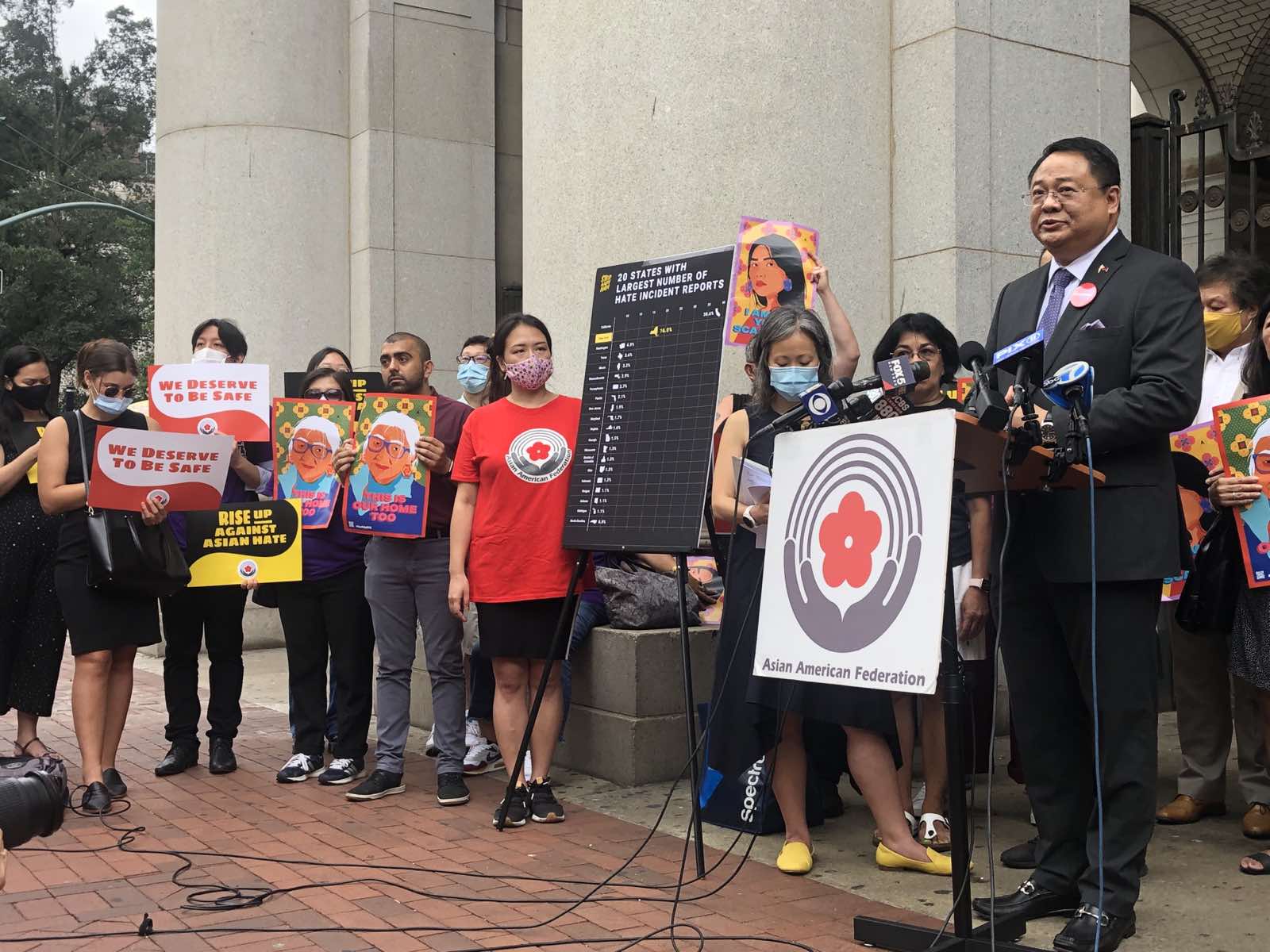 Consul General Elmer G. Cato joined Sen. Chuck Schumer and other officials in an emergency press conference organized by the Asian-American Federation on 19 August 2021 in response to the latest anti-Asian hate incidents involving two leaders of the Filipino Community in New York. (Photo by Beverly Pellosis)
New York, 10 January 2022 – The Philippine Consulate General in New York is hoping to see a downtrend in hate crimes and other incidents that have targeted members of the Asian-American Community with the assumption of New York City Mayor Eric Adams, a former police officer who promised to make the streets safe again.
"We are one with the Asian-American Community in expressing hope that under the leadership of Mayor Adams, the streets of New York City will once again be safe for everyone," Consul General Elmer G. Cato said.
"We fully support the plans of Mayor Adams to not only ensure that every District Attorney's Office would have a robust hate crime unit but to also increase the resources of the Asian Hate Crimes Task Force of the New York City Police Department (NYPD)," Consul General Cato said.
The Consul General also welcomed the mayor's plans to increase police visibility in the subway system and provide support services for homeless individuals, especially those with mental health issues.
"We are hopeful that the measures announced by Mayor Adams would succeed in arresting the record surge in anti-Asian hate crimes and other incidents," he said, adding that at least 20 members of the Filipino Community were among the victims of hate incidents in the past year.
According to the latest figures released by the NYPD, the number of anti-Asian hate incidents in New York City went up by 394 percent from 130 cases in the third quarter of 2021 compared to 33 for the same period in 2020.
The NYPD also said that nearly 36 percent of hate incidents reported on the subway system are anti-Asian in nature. Among these incidents are the face-slashing of church worker Noel Quintana in February and the assault on nurse Potri Ranka Manis in August.
Consul General Cato said that as a result of these high-profile attacks, many Filipinos have become apprehensive of taking the subway with a number of them avoiding the subway completely and opting to take other forms of transportation instead. END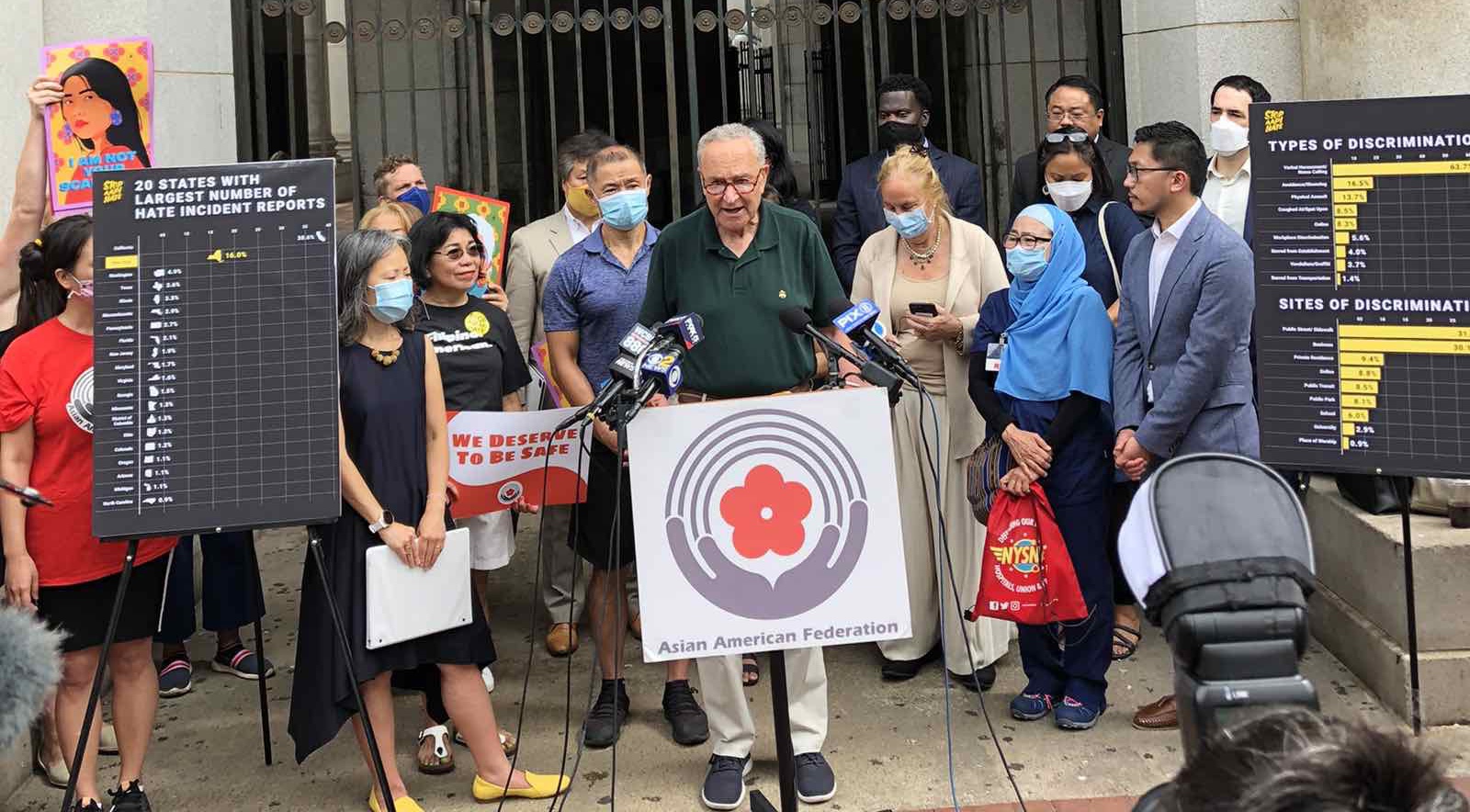 US Senator Chuck Schumer of New York joined the Asian-American Federation, other elected officials and advocate to call an end on anti-Asian violence at a press conference on 19 August 2021. (Photo by Beverly Pellosis)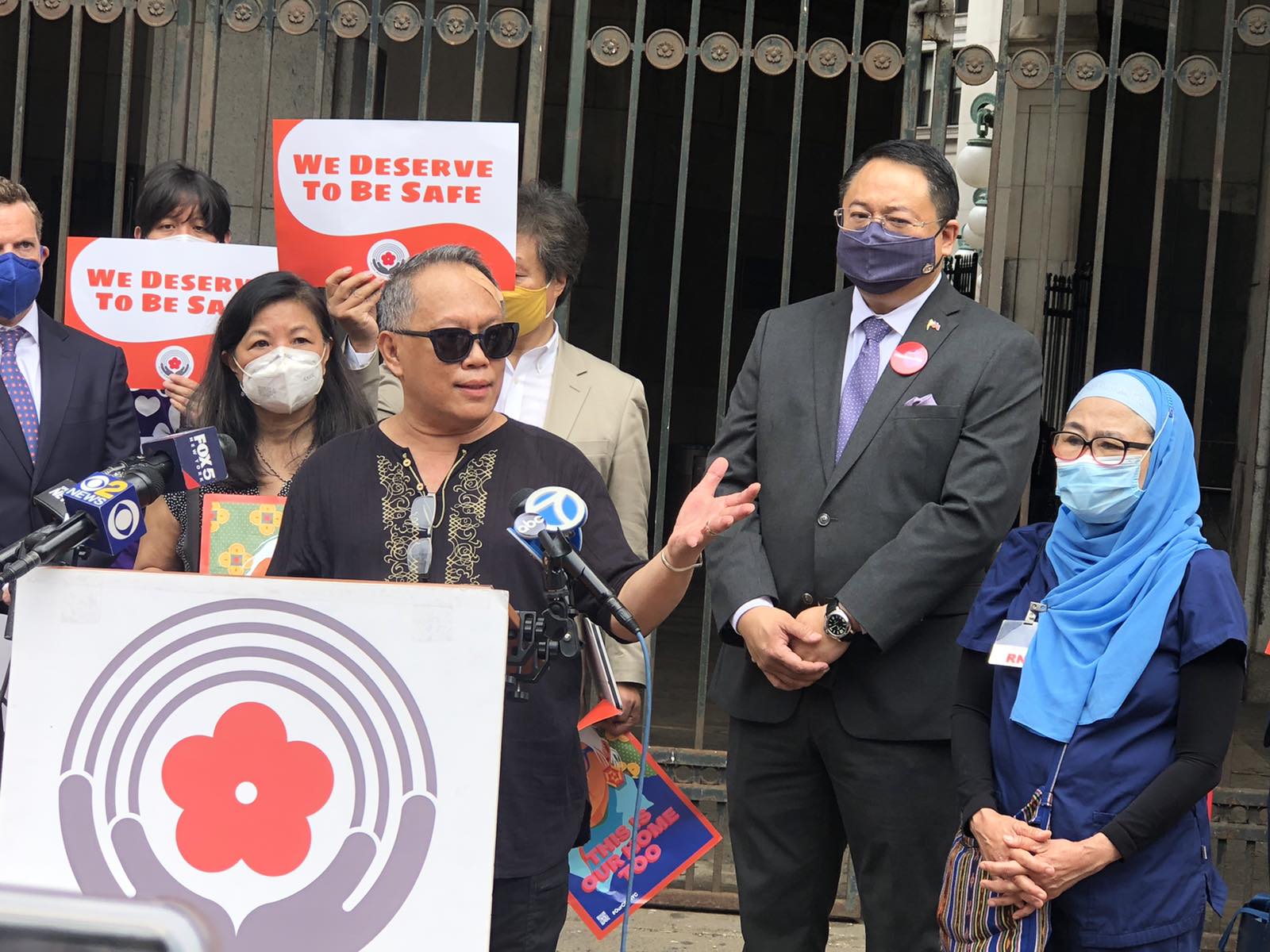 Filipino Community leaders Miguel Braganza (on the podium) and Potri Rankamanis (first on the right) related their hate incident experience during a press conference organized by the Asian-American Federation on 19 August 2021. (Photo by Beverly Pellosis)