SENTRO RIZAL NEW YORK LAUNCHES BAYANI SERIES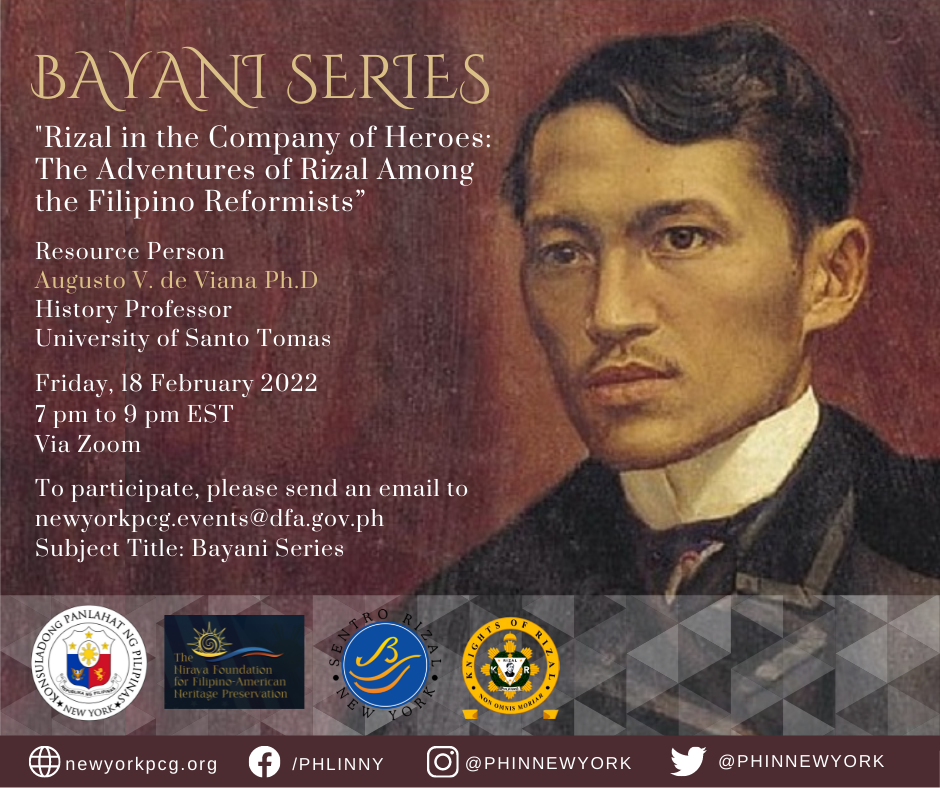 Sentro Rizal New York, under the auspices of the National Commission for Culture and the Arts, officially began its cultural diplomacy initiatives with the maiden episode of its "Bayani Series" on Friday, 18 February. This first episode gives a glimpse of the social life of Dr. Jose P. Rizal, and how his interactions with fellow reformists have influenced and enriched his way of thinking, and shaped the hero that he came to be. (Flyer by Mae Ermita Manubay)
NEW YORK – Sentro Rizal New York, under the auspices of the National Commission for Culture and the Arts, officially began its cultural diplomacy initiatives with the maiden episode of its "Bayani Series" on Friday, 18 February.
Entitled "Rizal in the Company of Heroes: The Adventures of Rizal Among the Filipino Reformists," Assistant Professor Augusto V. de Viana of the History Department of the University of Santo Tomas who is a member of the technical panel for history of the Commission on Higher Education and the co-founder of the International Council for Historical and Cultural Cooperation in Southeast Asia, served as resource person. 
During his presentation, Assistant Professor de Viana first gave an overview of the social context during Rizal's era in the late 19th century – Rizal's era. He then moved on to a thorough presentation of Rizal's interactions with several Filipino reformists in Europe who significantly enriched the national hero's perspective on government. He also provided a refreshing view of the facet of Rizal as a traveling Filipino in Europe. 
In his welcome remarks, Consul General Elmer G. Cato said that "Sentro Rizal New York's "Bayani Series" is a means to remember and rediscover Philippine heroes, and their personal journeys through lectures by eminent historians." He added that "The Bayani Series aims to inspire Filipino-Americans, particularly the second and third generations, to reconnect with their Philippine heritage through our heroes. 
For the pilot episode, the National Commission for Culture and the Arts, the Hiraya Foundation for Filipino-American Heritage Preservation, and the Knights of Rizal, served as Sentro Rizal New York's partners. The webinar was broadcasted via the Philippine Consulate's official Facebook Page. 
The next episode will be held sometime in April. END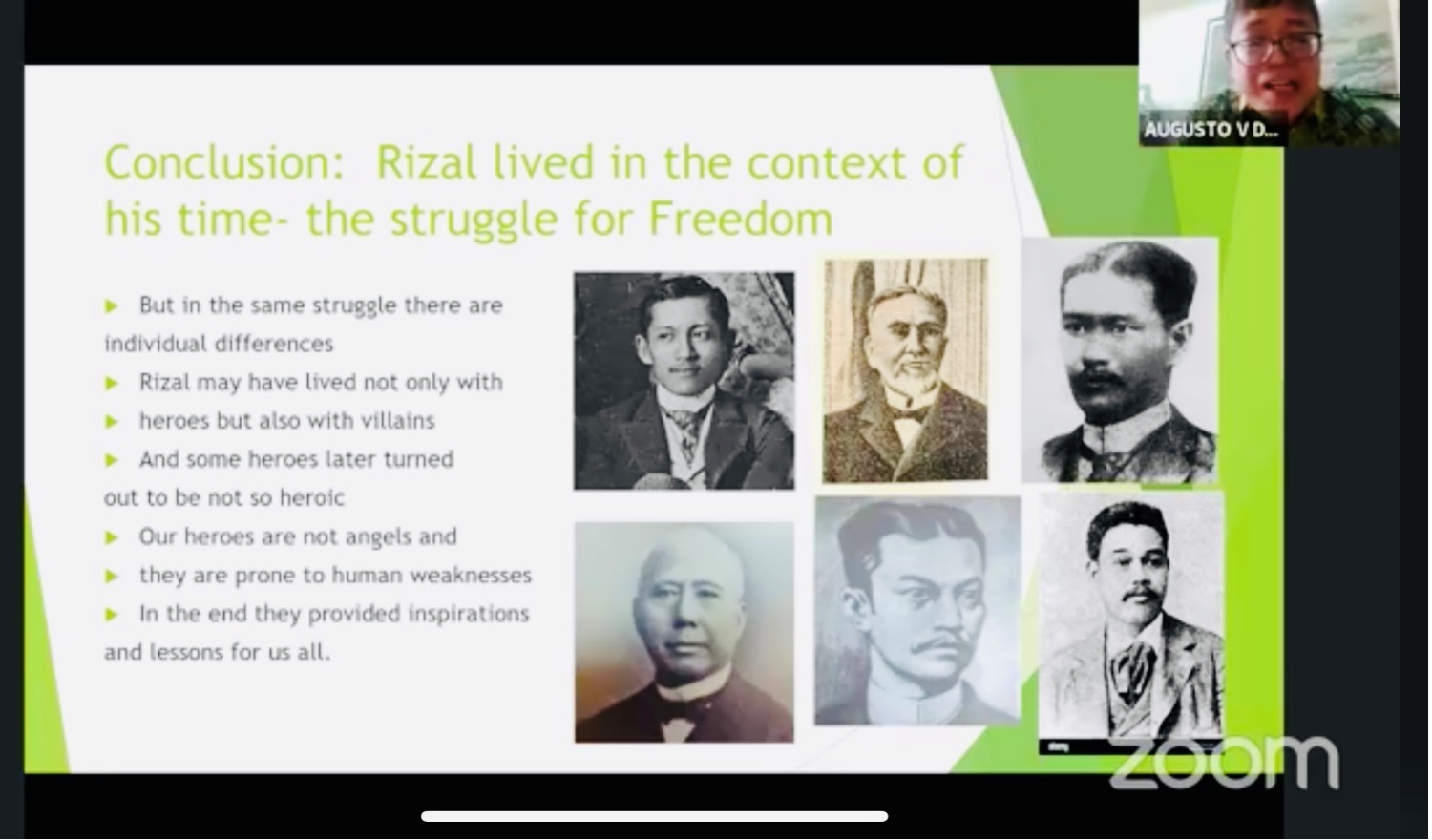 Assistant Professor Augusto de Viana provides a thorough presentation of Rizal's interactions with several Filipino reformists in Europe, who significantly enriched Rizal's perspective on running the government. (Screen captured photo of webinar)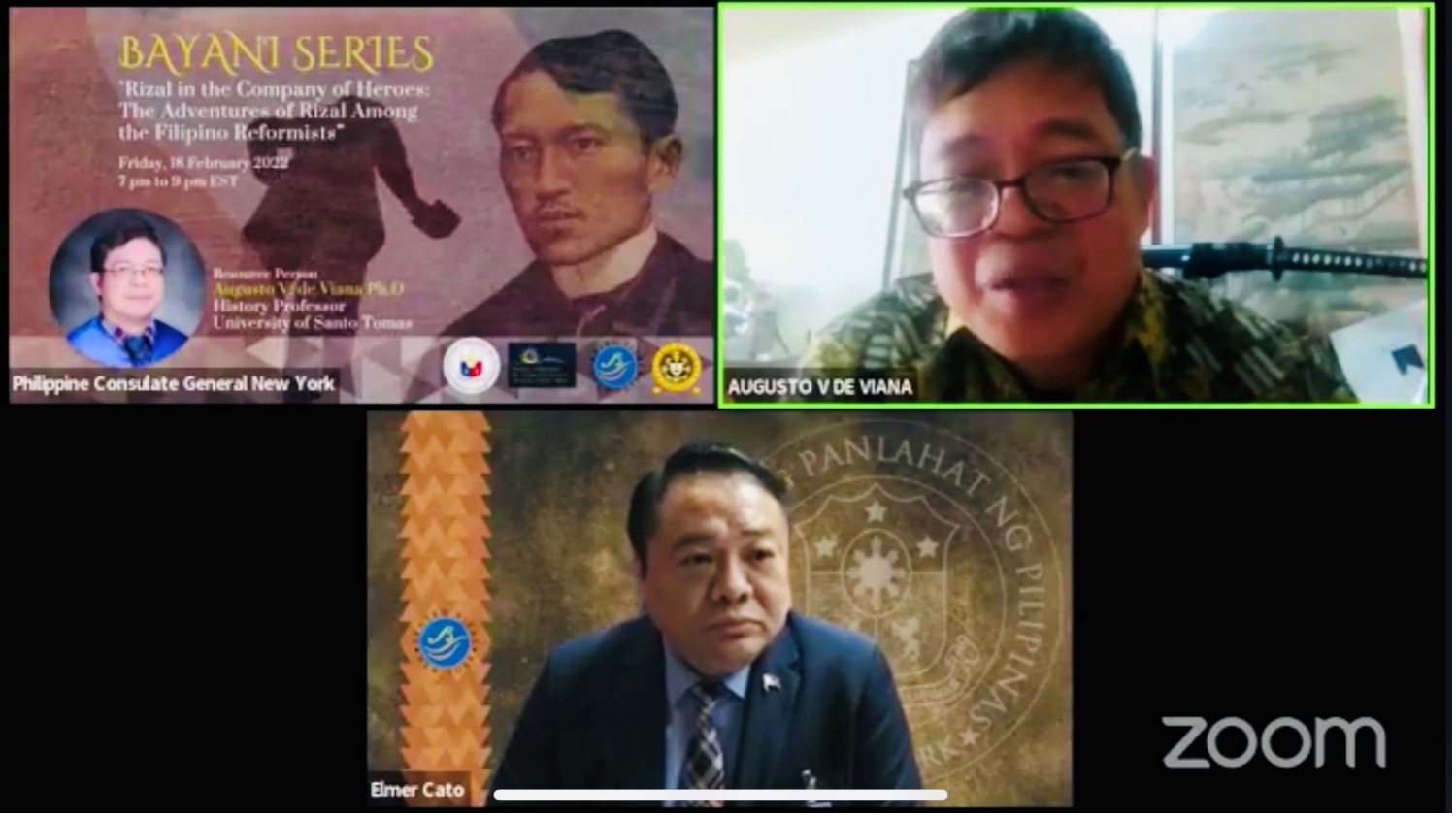 Assistant Professor Augusto de Viana answers questions during the open forum that followed his presentation, with Consul General Elmer G. Cato asking if Rizal was the spark of the Philippine Revolution. Sentro Rizal New York's "Bayani Series" is a means to remember and rediscover Philippine heroes, and their personal journeys through lectures by eminent historians, with the end in view of inspiring Filipino-Americans, particularly the 2nd and 3rd generations, to reconnect with their Philippine heritage through our heroes. (Screen captured photo of webinar)