PINAY POWER IN FINANCE SHOWCASED IN NEW YORK
New York, 06 October 2022 – As part of the celebration of the Filipino American History Month, the Philippine Consulate General in New York and the International Society of Filipinos in Finance and Accounting (ISFFA) – New York Chapter, held a panel discussion dubbed as "Pinay Power" on Thursday, 05 October 2022 at the Philippine Center.
ISFFA NY, established in July 2019, is a nonprofit 501(c)3 public benefit corporation whose primary goal is to assist, educate, train, and mentor emerging professionals, both domestically as well as globally. ISFFA NY is comprised of seasoned professionals from various backgrounds who share the common goal in assisting the growth of Filipinos in the business workforce.
The following Pinays served as panelists and shared their respective experiences on how they navigated their careers in an industry underrepresented by Filipinos:
Charina Amunategui, Executive Director, Business Execution Fund Financing at Mitsubishi UFJ Financial Group;
Alyssa Trinidad, Lead Examiner at the Federal Reserve Bank of New York within the Supervision Group; and
Gemma Padchonga, Analyst at Goldman Sachs in Private Wealth Management within the Consumer and Wealth Management Division.
The event was attended by New York State Assembly candidate Steven Raga and close to 40 young professionals from industries such as financial services and management consulting.
Vice Consul Tanya Faye O. Ramiro welcomed the guests and highlighted the importance of women empowerment.
"Tonight, as we discuss professional development in the finance industry, we also give recognition to these empowered Pinay who dared to disrupt the status quo in order to elevate the stature of Filipino women in American society," Vice Consul Ramiro said in her remarks.
During the event, the panelists discussed the challenges and opportunities of being women and being part of the minority in the finance industry. As Filipinos, they also said that they make it a point to share their Filipino heritage with their colleagues, and to mentor other Filipino women who want a career in finance.
Deputy Consul General Arman R. Talbo congratulated ISFFA for their efforts in bringing together Filipino-Americans in finance and related industries and invited the members to explore more collaborative projects with the Consulate and other Filipino organizations. END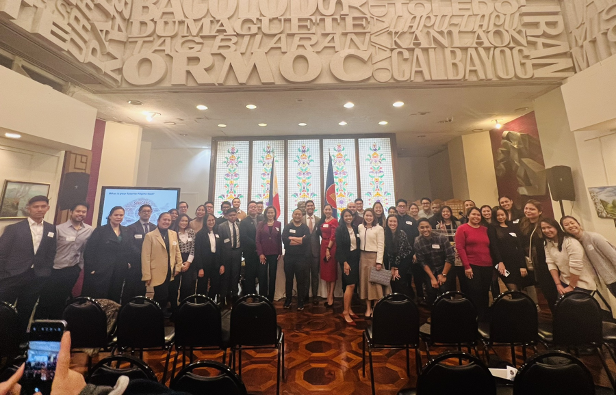 Vice Consul Tanya Faye O. Ramiro, New York State Assembly candidate Steven Raga,
Charina Amunategui, Alyssa Trinidad, and Gemma Padchonga, together with the attendees of the forum.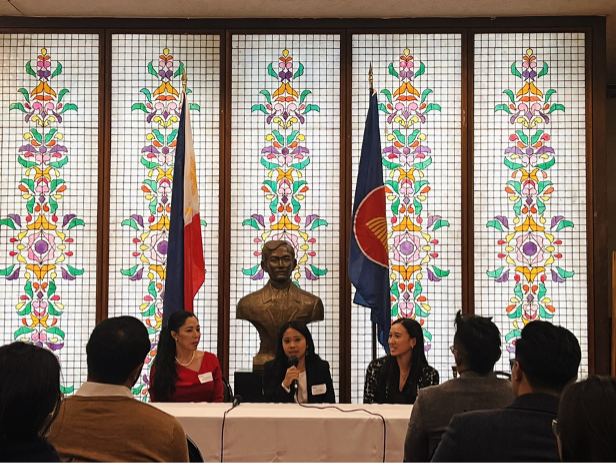 (L-R) Charina Amunategui, Alyssa Trinidad, and Gemma Padchonga sharing
their experiences on how to flourish in the finance industry.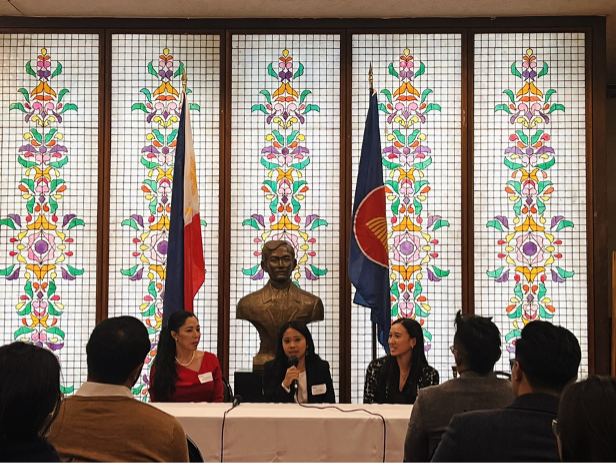 Guests fill the lobby gallery of the Philippine Center
to listen to the in-person panel discussion with Pinays in finance.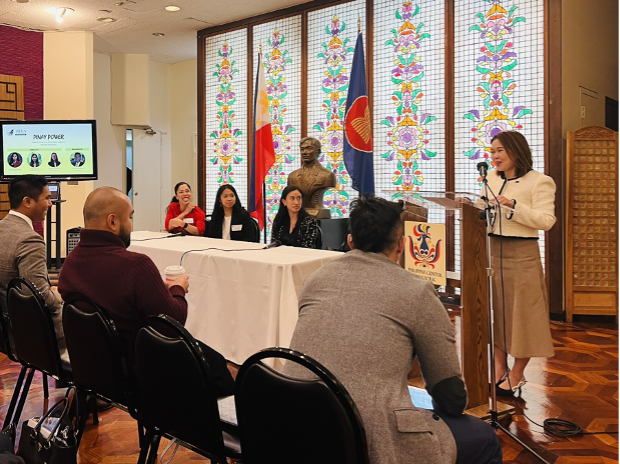 Vice Consul Tanya Faye O. Ramiro welcomed the panelists and guests during the event.