A SWEET ESCAPE: A CHOCOLATE BREAK WITH THE DIPLOMATIC CORPS
New York, 31 October 2022 – The Philippine Consulate General in New York, as part of its economic diplomacy efforts, organized a chocolate sommelier-guided Philippine artisanal chocolate tasting session, attended by some members of the Diplomatic Corps, on Thursday, 27 October 2022, at the Philippine Center.
During the one-hour chocolate break, a variety of chocolates produced by The Chocolate Chamber (TCC), an artisanal chocolate brand based in Cebu, was introduced to the participants, such as tablea as a drink, choco-mango nugget, tartufini, whole cacao nib praline, and hand-rolled truffle. Apart from the regular chocolates offered, the participants were treated to two different chocolate dips, prepared on the spot, by Ms. Raquel Toquero-Choa, founder of TCC, who goes by the title, "Chocolate Queen." The dips were then used on suman (Philippine sticky rice cakes) and churros (Spanish fried dough), which were provided during the session.
Representatives from Consulates/Missions of Republic of Peru, Kingdom of Thailand, Republic of Türkiye, Republic of Korea, Malaysia, Republic of Indonesia, and Kingdom of Cambodia took a respite from work to partake in this indulgent gustatory experience.
During her presentation, The Chocolate Queen shared her vision of bringing the Philippines' chocolate-drinking tradition, "tsokolate de batirol," (hot chocolate prepared using a batirol[1]) to the global audience, and of introducing Philippine cacao and chocolates to the global market.
Consul General Elmer G. Cato, in his welcome remarks, said that "Cacao has been in the Philippines for over 300 years, thanks to the Spanish Galleon trade that brought them from Acapulco, Mexico to Manila. The Philippines, therefore has a very strong cacao heritage that we would like to share with you and the rest of the world."
Currently, TCC has several stand-alone outlets and supplies major international hotels and resorts, such as Marco Polo Plaza Cebu, Manila Polo Club, Shangri-La Mactan Cebu, Mövenpick Hotels & Resorts, NuStar Resort and Casino, The Manila Hotel, South Palms Resort Bohol, and Seda Hotels.
To know more about TCC, you may visit their social media platforms at:
Facebook       :           https://www.facebook.com/thechocolatechamber
Instagram     :           @thechocolatechamber

END.
[1] A traditional wooden mixing tool held by rubbing one's palms together
EGC-132-2022
31 October 2022
A CHOCOLATE BREAK WITH THE DIPLOMATIC CORPS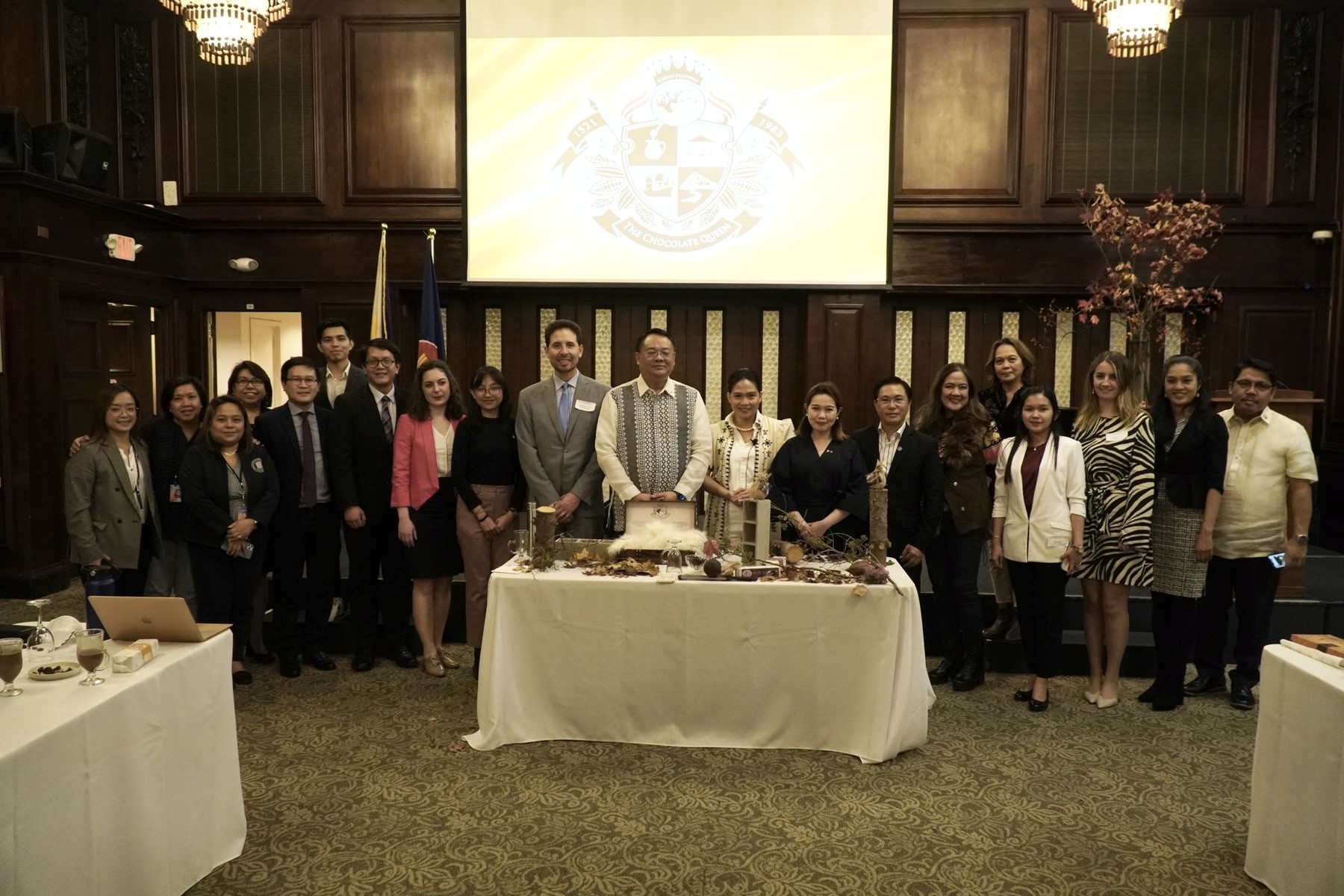 On Thursday, 27 October 2022, the Philippine Consulate General in New York, as part of its economic diplomacy efforts, organized a chocolate sommelier-guided Philippine artisanal chocolate tasting session. Consul General Elmer G. Cato, Vice Consul Tanya Faye O. Ramiro, and Ms. Raquel Toquero-Choa together with some members of the Diplomatic Corps posed for a souvenir shot. (Photo by Jonathan Choa)
EGC-133-2022
31 October 2022
A CHOCOLATE BREAK WITH THE DIPLOMATIC CORPS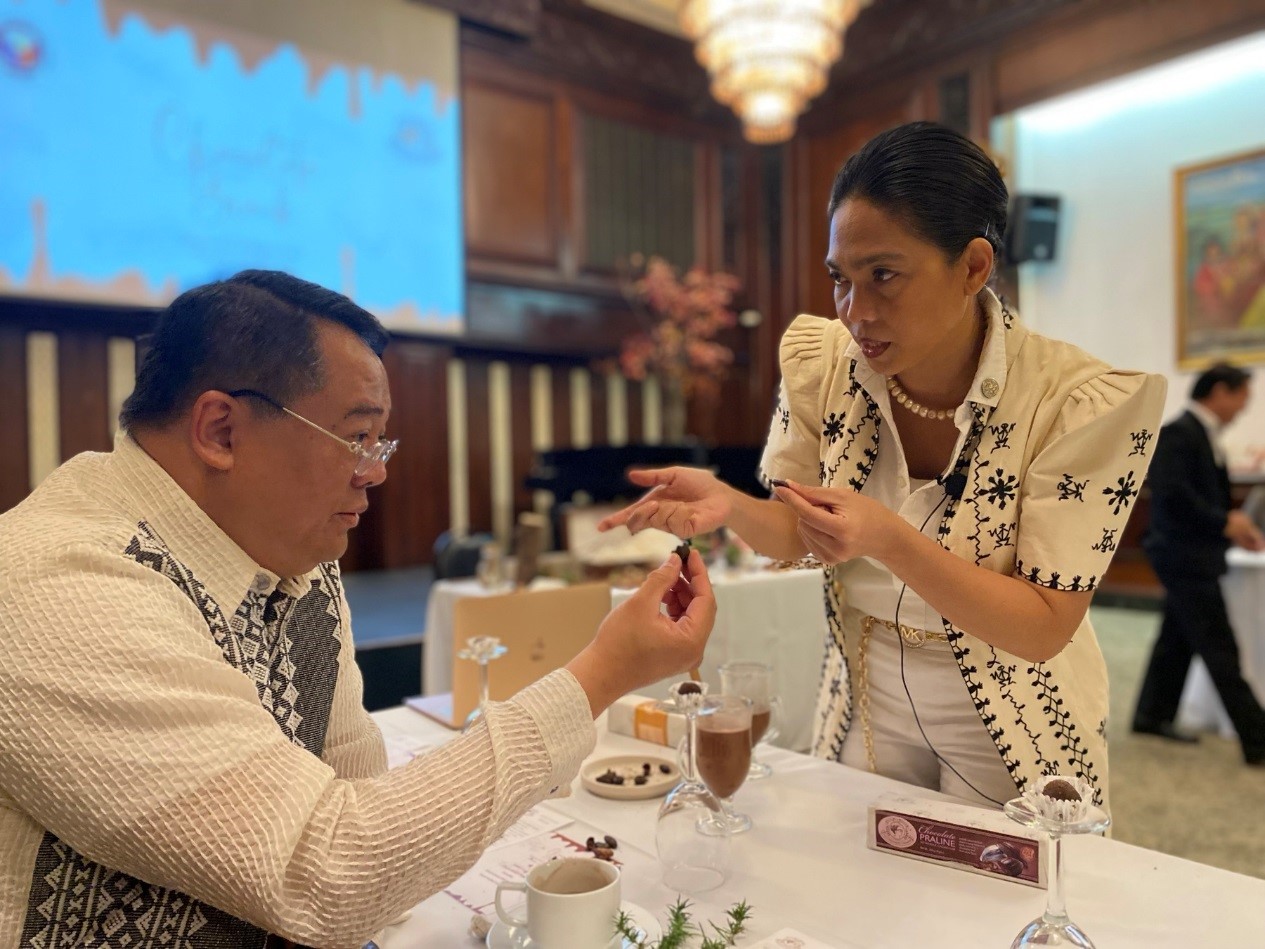 On Thursday, 27 October 2022, the Philippine Consulate General in New York, as part of its economic diplomacy efforts, organized a chocolate sommelier-guided Philippine artisanal chocolate tasting session. Ms. Raquel Toquero-Choa discussing the characteristics of the aroma of the varieties of Philippine cacao beans. (Photo by Nikka Arenal)
EGC-134-2022
31 October 2022
A CHOCOLATE BREAK WITH THE DIPLOMATIC CORPS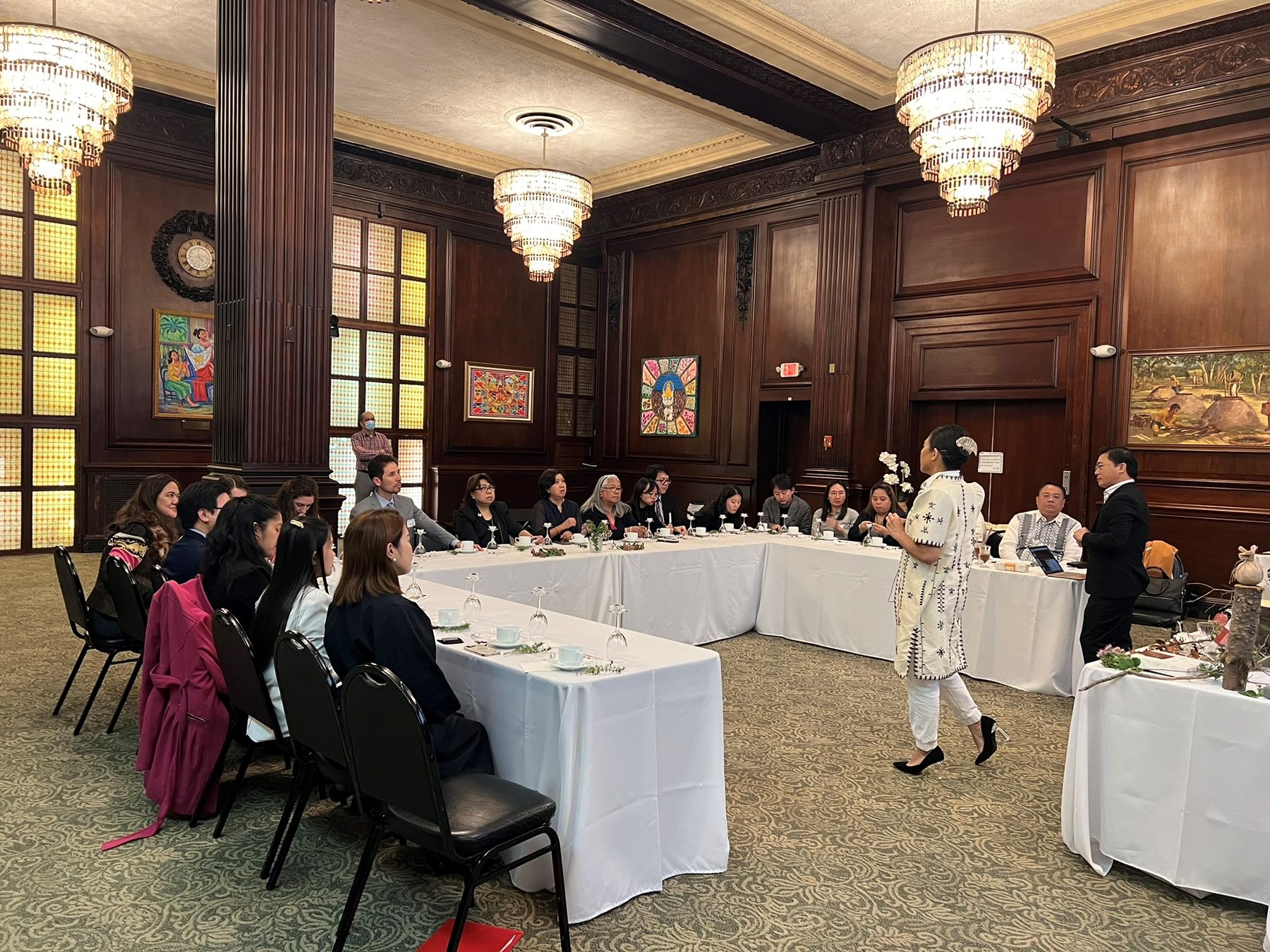 On Thursday, 27 October 2022, the Philippine Consulate General in New York, as part of its economic diplomacy efforts, organized a chocolate sommelier-guided Philippine artisanal chocolate tasting session. Ms. Raquel Toquero-Choa provides an overview of The Chocolate Chamber (TCC) and introduces Philippine cacao and chocolates to the guests. (Photo by Nikka Arenal)
EGC-135-2022
31 October 2022
A CHOCOLATE BREAK WITH THE DIPLOMATIC CORPS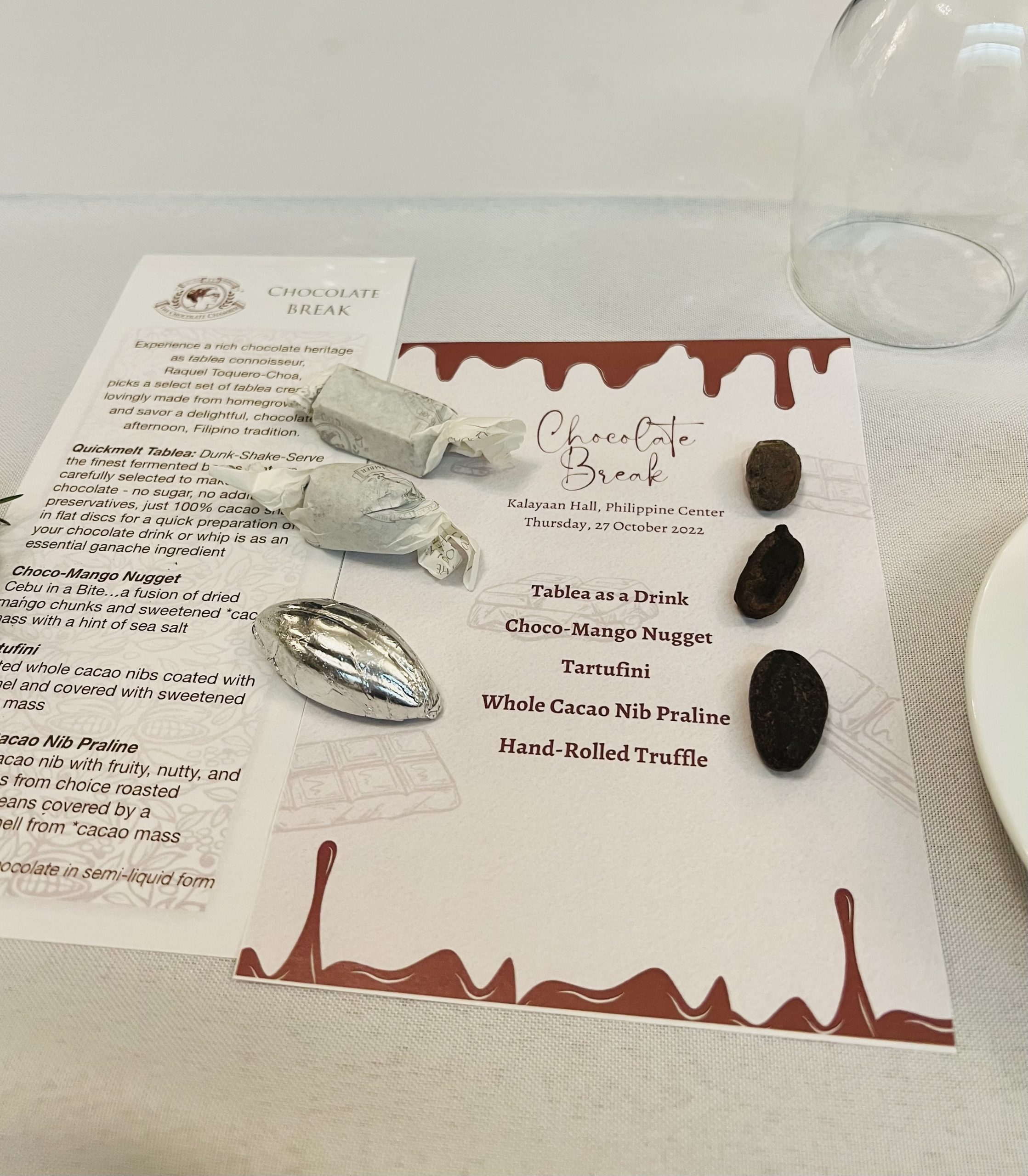 On Thursday, 27 October 2022, the Philippine Consulate General in New York, as part of its economic diplomacy efforts, organized a chocolate sommelier-guided Philippine artisanal chocolate tasting session. Guests were able to savor the choco-mango nugget, tartufini, and whole cacao nib praline, as well as distinguish the different aromas of the varieties of Philippine cacao beans. (Photo by Tanya Faye O. Ramiro)