Preeminent Historian Lectures on Rizal in the "Age of Disinformation"
New York, 21 April 2023 – The very first in-person episode of Sentro Rizal New York's "Bayani Series" was held at the Kalayaan Hall of the Philippine Center on Thursday, 20 April 2023, with no less than renowned historian and foremost Rizal expert, Dr. Ambeth R. Ocampo, serving as speaker.
"Bayani Series," a flagship program of Sentro Rizal New York, is a means to inspire Filipino-Americans, particularly the 2nd and 3rd generations, to reconnect with their Philippine heritage, by learning about the personal journeys and the insights and perspectives of Philippine heroes.
Entitled "Rizal and History in the Age of Disinformation," Professor Ocampo delivered a lecture about the continuing relevance of Jose Rizal in the age of "fake news." He also discussed a prolific forger, by the name of Jose E. Marco, who wrote various fictitious accounts to fill in gaps in Philippine history from non-existent sources, such as the "Code of Kalantiaw," a supposed penal code in force prior to the Spanish colonial rule, and the "La Loba Negra," a novel purportedly written by Fr. Jose A. Burgos. Professor Ocampo also touched upon the concept of "necessary fictions" – the importance of believing in myths or illusions to fan the flames of patriotism and to help in nation-building.
Consul General Senen T. Mangalile, in his welcome remarks, said, that "the perils and pitfalls of misinformation, fabricated stories, and all forms of what we have colloquially consider as 'fake news'" could be combatted "with truth, reason, and critical thinking." He also thanked Professor Ocampo and the National Commission for Culture and the Arts for making the event possible.
Prior to the start of the lecture, Deputy Consul General Adrian S. Cruz facilitated a trivia game, involving Jose Rizal and other Philippine historical factoids, to break the ice, and set the tone for the event. A total of sixty people attended the in-person event, which was also livestreamed on Facebook. END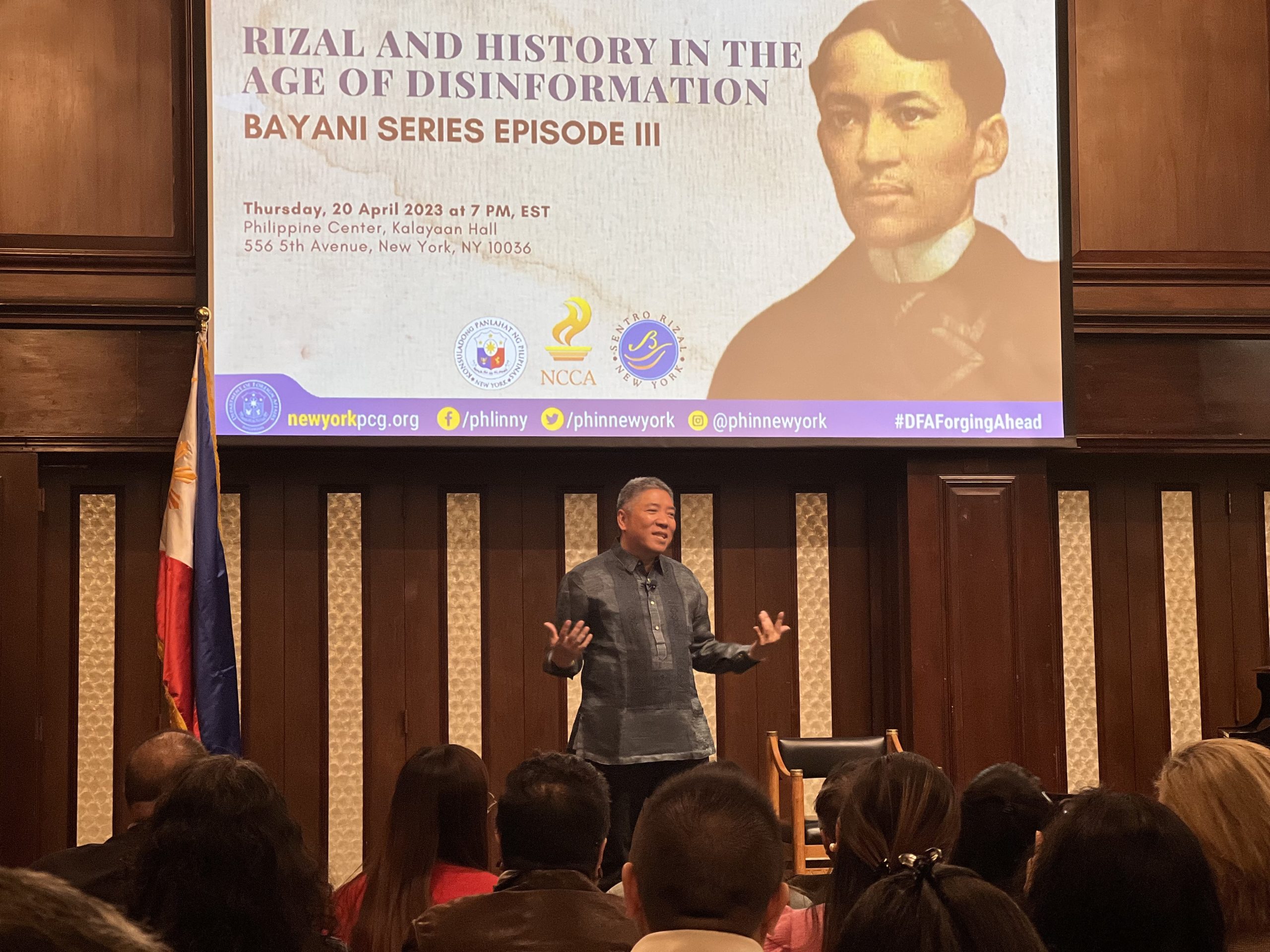 Preeminent Historian Lectures on Rizal in the "Age of Disinformation." Renowned historian and foremost Rizal expert, Dr. Ambeth R. Ocampo, delivers a lecture entitled, "Rizal and History in the Age of Disinformation" on Thursday, 20 April 2023, at the Kalayaan Hall of the Philippine Center, which serves as the third episode of "Bayani Series," Sentro Rizal New York's flagship project which in turn aims to inspire Filipino-Americans, particularly the 2nd and 3rd generations, to reconnect with their Philippine heritage, by learning about the personal journeys and the insights and perspectives of Philippine heroes. (Photo by Nikka B. Arenal)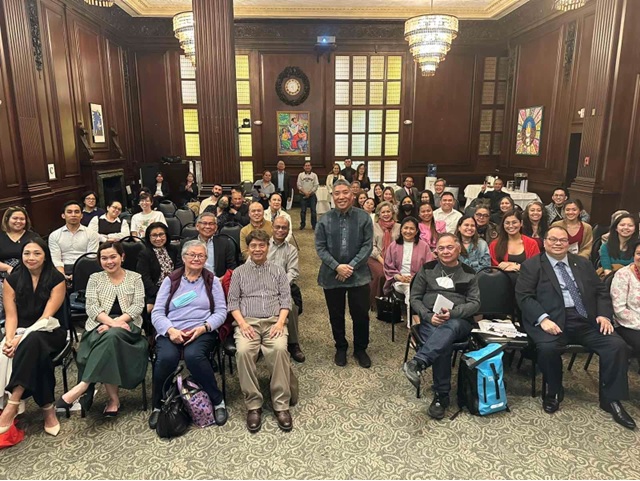 Preeminent Historian Lectures on Rizal in the "Age of Disinformation." Renowned historian and foremost Rizal expert, Dr. Ambeth R. Ocampo, delivers a lecture entitled, "Rizal and History in the Age of Disinformation" on Thursday, 20 April 2023, at the Kalayaan Hall of the Philippine Center, which serves as the third episode of "Bayani Series," Sentro Rizal New York's flagship project which in turn aims to inspire Filipino-Americans, particularly the 2nd and 3rd generations, to reconnect with their Philippine heritage, by learning about the personal journeys and the insights and perspectives of Philippine heroes. (Photo by Adrian Elmer S. Cruz)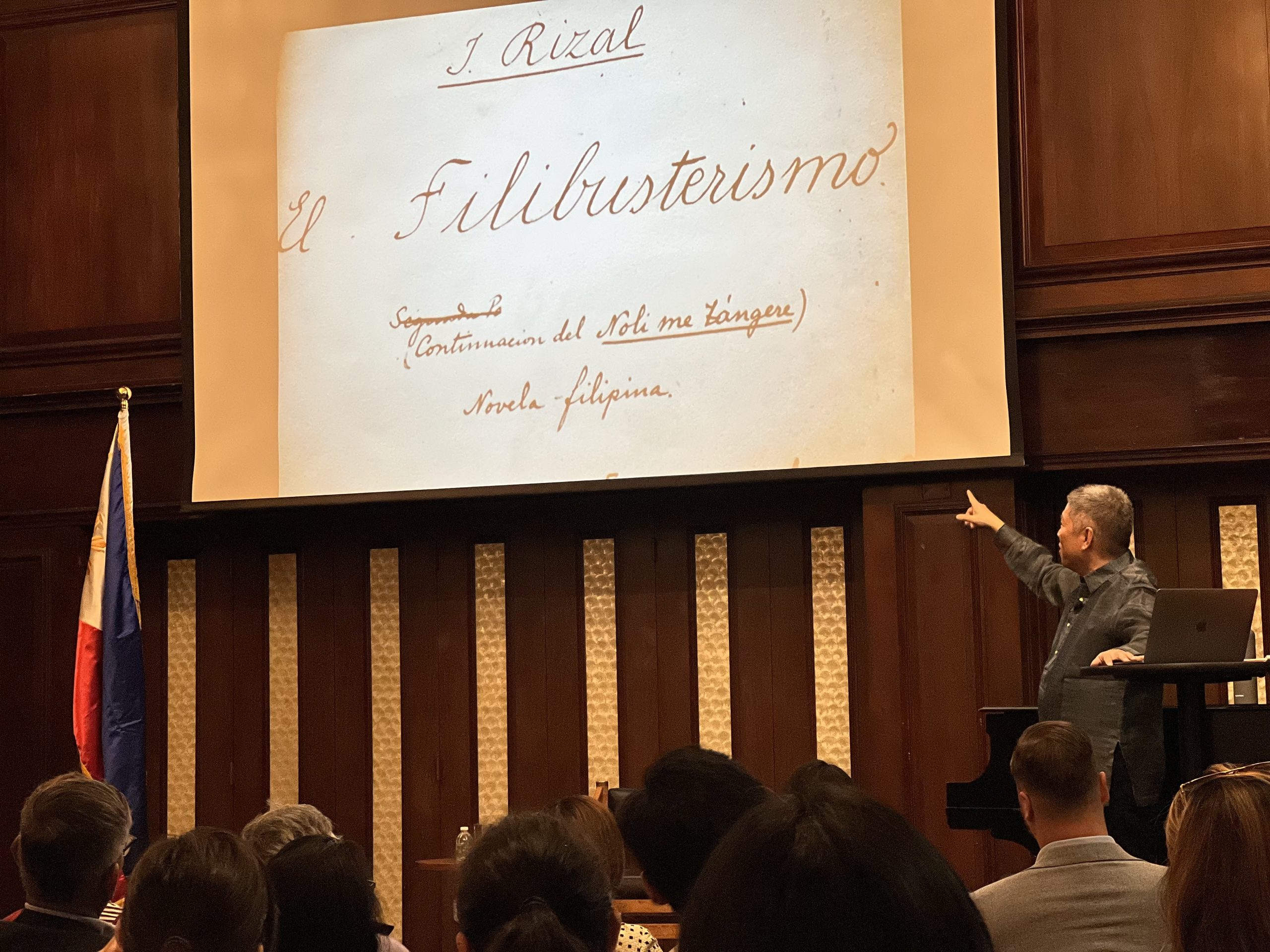 Preeminent Historian Lectures on Rizal in the "Age of Disinformation." Renowned historian and foremost Rizal expert, Dr. Ambeth R. Ocampo, delivers a lecture entitled, "Rizal and History in the Age of Disinformation" on Thursday, 20 April 2023, at the Kalayaan Hall of the Philippine Center, which serves as the third episode of "Bayani Series," Sentro Rizal New York's flagship project which in turn aims to inspire Filipino-Americans, particularly the 2nd and 3rd generations, to reconnect with their Philippine heritage, by learning about the personal journeys and the insights and perspectives of Philippine heroes. (Photo by Nikka B. Arenal)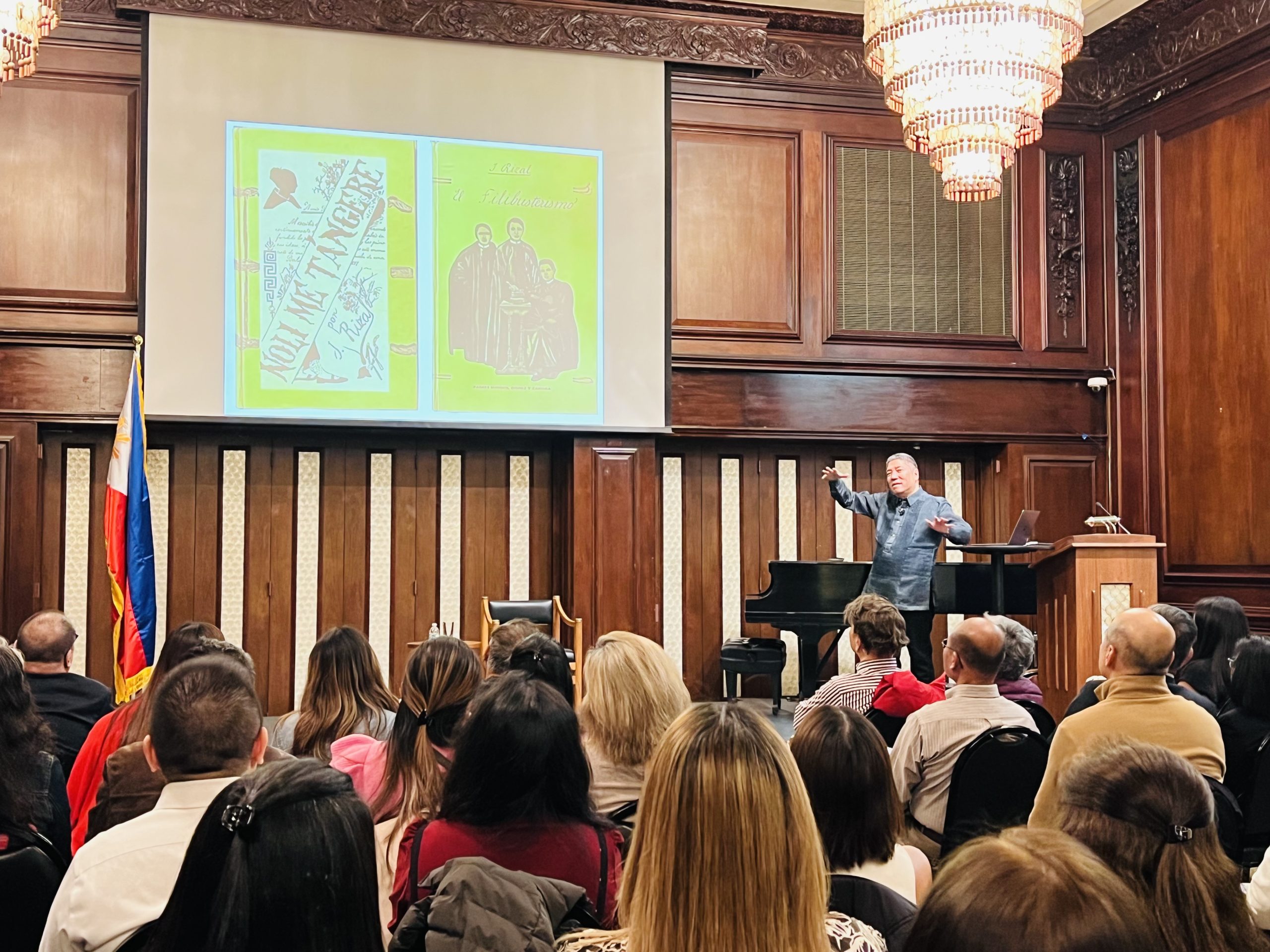 Preeminent Historian Lectures on Rizal in the "Age of Disinformation." Renowned historian and foremost Rizal expert, Dr. Ambeth R. Ocampo, delivers a lecture entitled, "Rizal and History in the Age of Disinformation" on Thursday, 20 April 2023, at the Kalayaan Hall of the Philippine Center, which serves as the third episode of "Bayani Series," Sentro Rizal New York's flagship project which in turn aims to inspire Filipino-Americans, particularly the 2nd and 3rd generations, to reconnect with their Philippine heritage, by learning about the personal journeys and the insights and perspectives of Philippine heroes. (Photo by Nikka B. Arenal)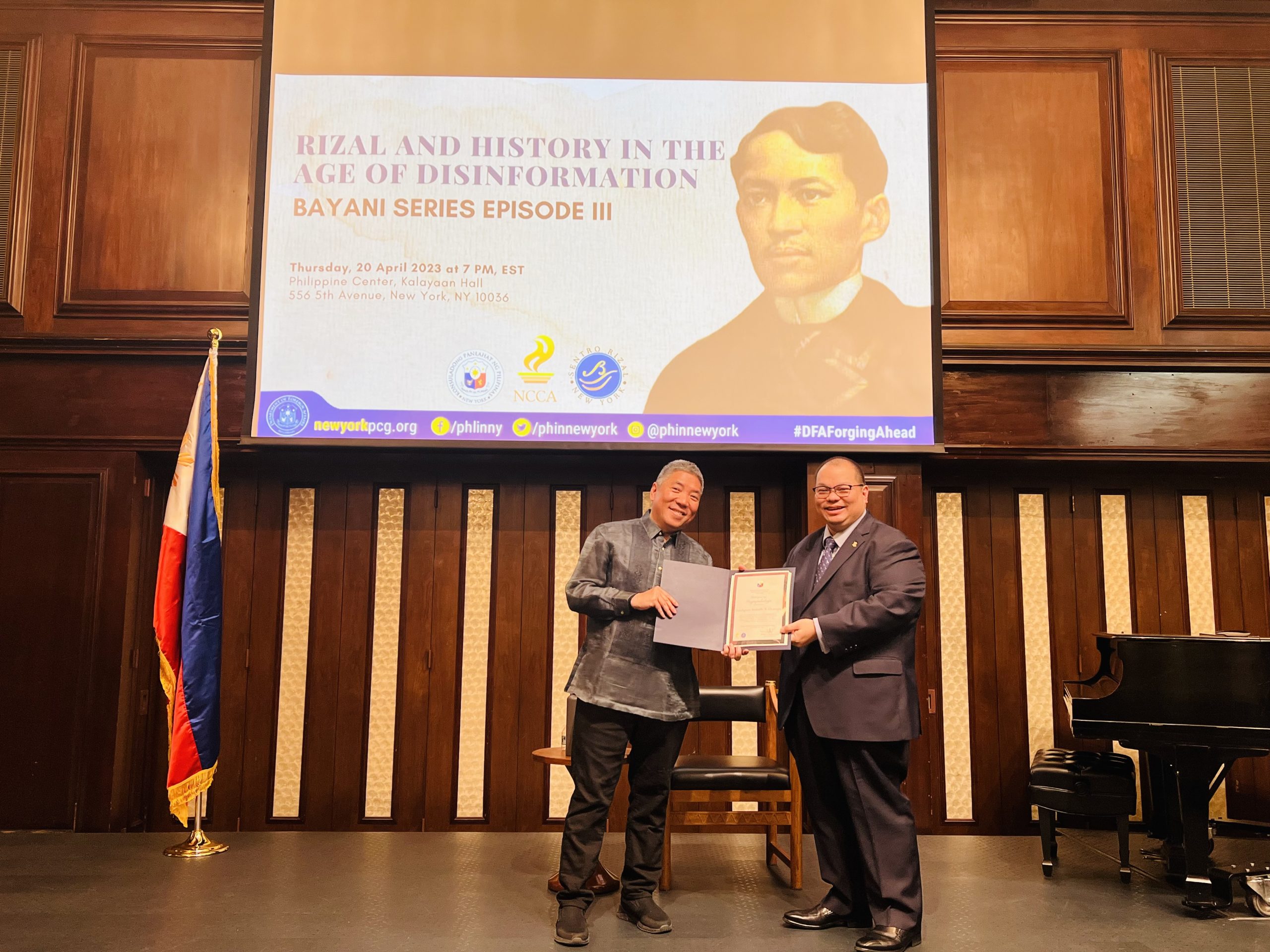 Preeminent Historian Lectures on Rizal in the "Age of Disinformation." Renowned historian and foremost Rizal expert, Dr. Ambeth R. Ocampo, delivers a lecture entitled, "Rizal and History in the Age of Disinformation" on Thursday, 20 April 2023, at the Kalayaan Hall of the Philippine Center, which serves as the third episode of "Bayani Series," Sentro Rizal New York's flagship project which in turn aims to inspire Filipino-Americans, particularly the 2nd and 3rd generations, to reconnect with their Philippine heritage, by learning about the personal journeys and the insights and perspectives of Philippine heroes. Consul General Senen T. Mangalile awards a certificate of appreciation to Professor Ambeth R. Ocampo. (Photo by Nikka B. Arenal)