Filipino
Leadership In Tech, Investments, And Business Gathers For Filipino American
History Month And New York Tech Week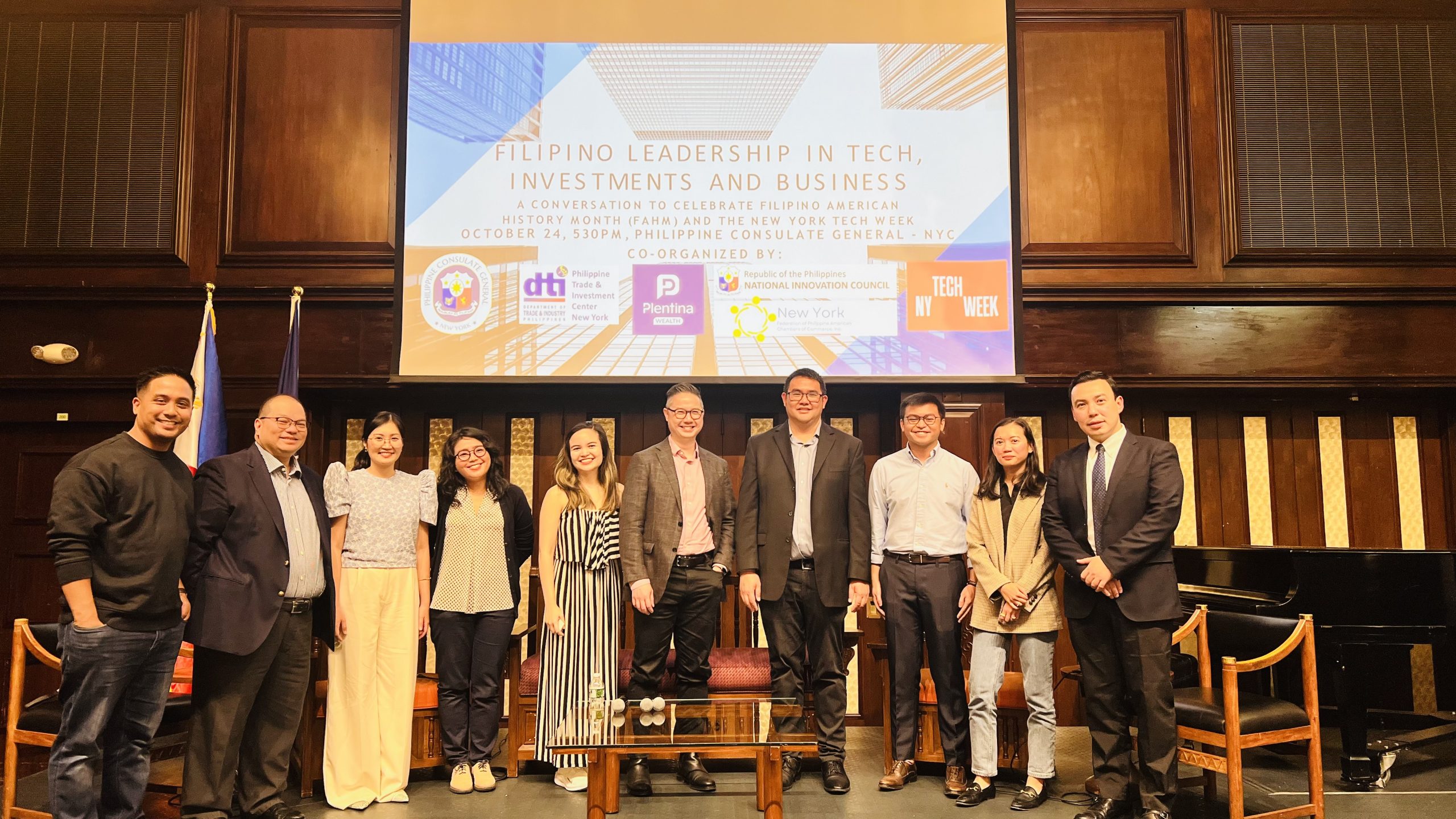 In celebration of Filipino American History Month and New York Tech Week, the Philippine Consulate General in New York and the Philippine Trade and Investment Center in New York, in partnership with Plentina, hosted a conversation with Filipinos and Filipino Americans in tech, investments, and business on Tuesday, 24 October 2023, at the Philippine Center.
Consul General Senen T. Mangalile, in his opening remarks, welcomed the audience who consisted of young professionals in the tech, investment, business, financial services sector and members of the public. He added that the Philippine Consulate looks forward to seeing young Filipino-Americans contribute to a dynamic innovation ecosystem.
Mr. Earl Martin Valencia, co-founder of Plentina and member of the National Innovation Council of the Philippines (NIC), presented the 2023-2032 National Innovation Agenda and Strategy Document (NIASD) which was officially launched by President Ferdinand R. Marcos Jr. in September 2023. "Innovation, through a dynamic innovation ecosystem, will facilitate the creation and translation of knowledge and ideas into high-quality and competitive products and services to promote economic growth, well-being, social inclusion, and environmental sustainability. It will help us avoid the unwanted futures from becoming a reality and can be the key to achieving Ambisyon Natin 2040 – a matatag, maginhawa, at panatag na buhay para sa lahat" he said.
The following served as resource speakers and shared their respective expertise and experiences in navigating tech, business, and investment:
Mika Reyes, Co-Founder and CEO, Parallax

Isabel Yap, Product Manager, Klaviyo

Joey Castillo, VP, Marketing, Prudential/PGIM

Jasmine Baliwag, Senior Manager, Payments, Regulatory and Compliance, Robinhood

Daniel Galeon, Sr. Director, Chief of Staff, CCO and Risk, Payoneer
The panel discussion was moderated by Atty. Marie Siton, Master of Laws (LLM) Candidate, Cornell Tech, while Atty. Jose Ranulfo Mendoza, LLM Candidate, New York University served as master of ceremonies. END