Philippine Independence Day Celebration in New York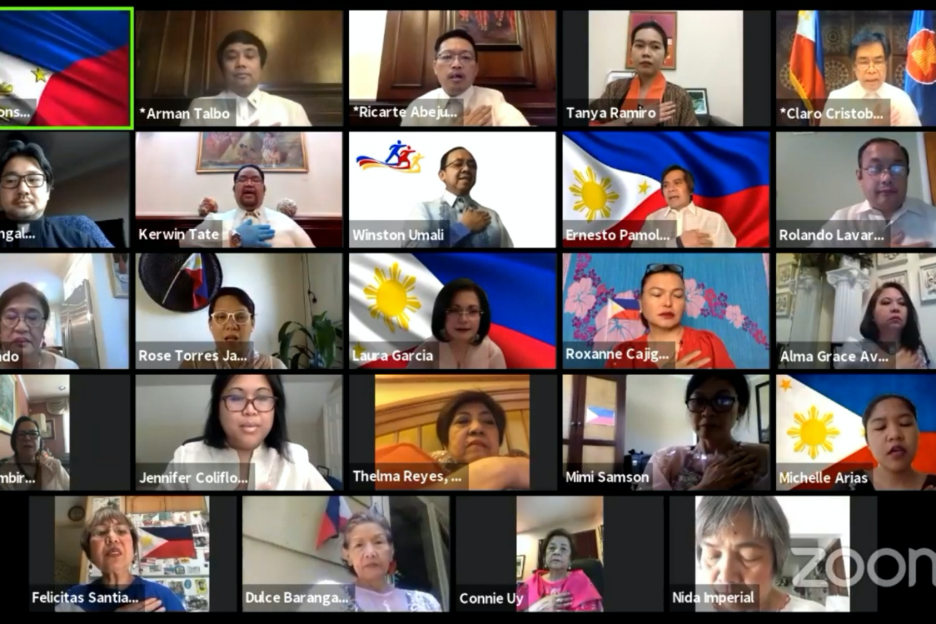 12 JUNE 2020, New York – The Philippine Consulate General in New York organized a virtual flag-raising ceremony and Independence Day celebration on June 12 with leaders and members of the Filipino-American community in the US Northeast participating.
The event featured a live Zoom flag-raising and presentation of the messages of President Rodrigo Roa Duterte and Foreign Affairs Secretary Teodoro L. Locsin Jr for overseas Filipinos. The celebration was live-streamed through the Consulate's official Facebook account where it has been viewed by thousands of our kababayans to date.
The Consulate likewise paid tribute to Fil-Am frontliners who are in the midst of the battle against Covid-19 in New York and neighboring states.  A video of different Fil-Am community leaders thanking the frontliners was prepared and shown by the Consulate.  Until a few weeks ago, New York was the global center of the pandemic, with thousands of casualties including Fil-Am doctors and nurses, as well as community members. 
The virtual flag-raising ceremony was followed by greetings from TV celebrities Jugs and Teddy, and video presentations from Fil-Am organizations that traditionally organized parades, barrio fiestas, and performances in June.  The Philippine Independence Day Council, Inc. (PIDCI) which in the past years have organized Independence Day parades along Madison Avenue in Manhattan, showed snippets of its previous celebrations. 
The New Jersey-based Philippine American Friendship Community, Inc. (PAFCOM) organizes the biggest Fil-Am parade in New Jersey and this year, in addition to showing videos and pictures of the previous parades, they highlighted how their organization is working to support frontliners and community members deal with the challenges of Covid-19. On the other hand, the Filipino Executive Council of Greater Philadelphia (FECGP) showcased how they celebrated Independence Day in Pennsylvania including flag-raising ceremonies at Philadelphia's City Hall and aboard the historic USS Olympia, the flagship of Commodore George Dewey at the Battle of Manila Bay in 1898.
Presentations from the Philippine American Mainstream Advocacy for Nonpartisan Associations, Inc. (Pamana) based in Massachusetts and the Filipino-American Independence Day Committee in Northern New York based in the capital region of Albany completed the 4-hour online event.
The events can be viewed at the Facebook account of the Consulate: PHLinNY.
Despite the pandemic, the Philippine Consulate General in New York and the Fil-Am communities under its jurisdiction were able to hold a solemn and meaningful celebration of the 122nd Anniversary of the Proclamation of Philippine Independence. END