Filipino Fallen Heroes, Front Liners Honored at
79th Commemoration of Araw ng Kagitingan in New Jersey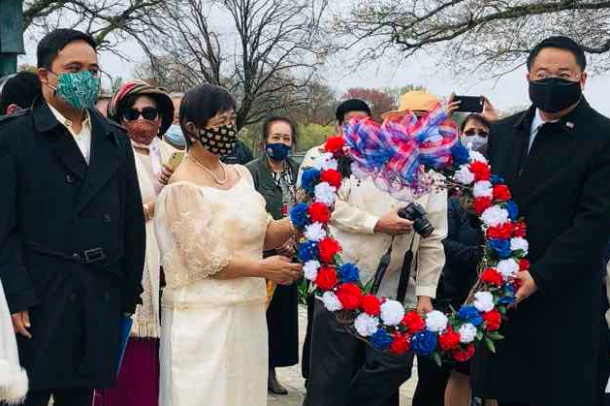 (R-L) Consul General Elmer G. Cato, Ms. Nida Imperial of the Filipino Executive Council of Greater Philadelphia (FECGP)and Deputy Consul General Arman R. Talbo
during the 79th Commemoration of Araw ng Kagitingan at the Bataan Death March Memorial in Cherry Hill, New Jersey. (Photo by PCGNY)
12 April 2021, New York – The Philippine Consulate General in New York paid homage to the bravery and sacrifices of Filipinos who fought in the Second World War and the estimated 150,000 Filipino healthcare workers fighting the coronavirus pandemic in the United States during the 79th Commemoration of Araw ng Kagitingan on Saturday, 10 April 2021.
Consul General Elmer Cato said in his remarks that "The events that transpired almost seven decades ago still echoes to this day as both Filipinos and Americans fight a common enemy, and through this shared history of comradeship, our ties are made strong like tempered steel," during ceremonies at the Bataan Death March Memorial. He said that Filipino healthcare workers today have displayed the same Kagitingan as they fight a similar threat that endangers the lives of multitudes during the pandemic.
In a solemn ceremony, Consul General Cato and community leader Nida Imperial of the Filipino Executive Council of Greater Philadelphia (FECGP) placed a wreath at the Bataan Death March Memorial, which is the only memorial in the US Northeast honoring Second World War veterans from the Philippines.
In attendance were Bataan veteran Francisco Reyta, Cherry Hill Township Mayor Susan Shin Angulo, Camden County Veterans Affairs Service Officer Ted Gallagher, and Marcus Institute Veterans Program Director Carlo Aragoncillo, among others.
Filipino community leaders and members from South New Jersey and Philadelphia, many have family connections with second World War veterans, also attended the event.
The annual commemoration of Araw ng Kagitingan in Cherry Hill is organized by the Philippine Consulate General in New York in cooperation with FECGP, the Philippine Community in Southern New Jersey (PCSNJ), and PVT Tomas Claudio VFW Post 1063 Auxiliary. – END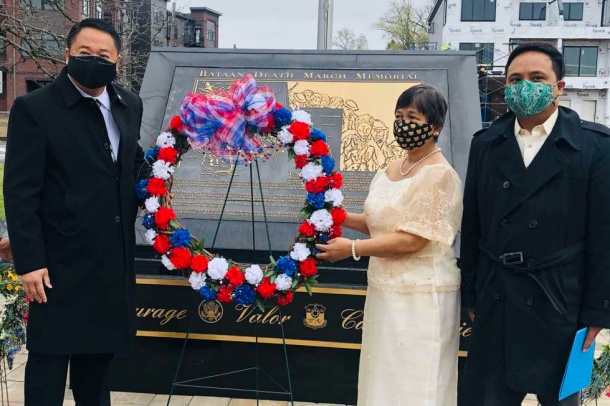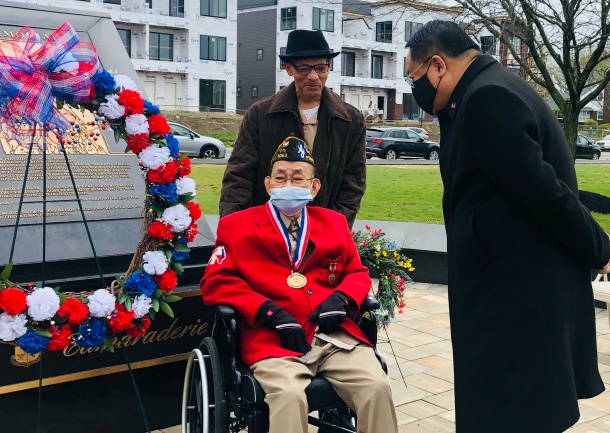 Bataan veteran Francisco Reyta with Consul General Elmer G. Cato