Filipino Graduates Honored By Philippine Consulate in New York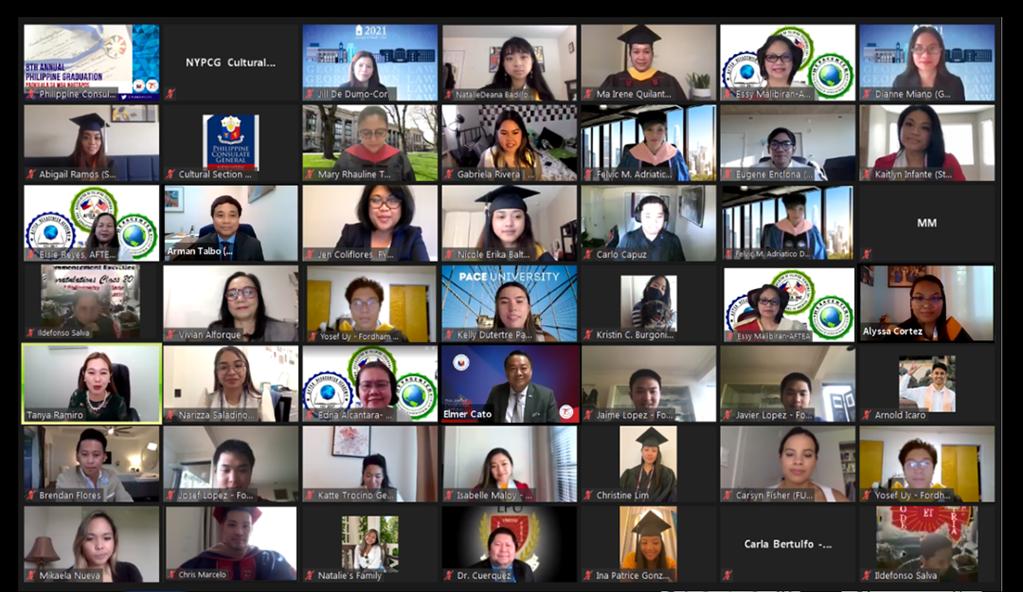 The graduates of the 2021 PGrad, together with Consul General Elmer G. Cato, Deputy Consul General Arman R. Talbo, and Vice Consul Tanya Faye O. Ramiro pose for a souvenir shot (Photo by NYPCG).
17 June 2021, New York City – Five summa cum laudes, four magna cum laudes, two cum laudes and a set of triplets were among the 36 Filipino graduates in the United States who were honored by the Philippine Consulate General in New York in a virtual graduation ceremony on Wednesday, 16 June 2021.
"May this 2021 Philippine Graduation Ceremony further inspire you, our graduates, to strive to fulfill your goals, and to assume your role in nation-building, both here in the US which is your 2nd home, and in the Philippines, which will always be waiting for your return," Consul General Elmer G. Cato said during the 8th Philippine Graduation or PGrad, an annual project of the Philippine Consulate General that honors Filipinos based in the United States who have graduated from colleges and universities.
This year, graduates from as far as Nevada were among those who participated in the ceremony that had to be done virtually due to the coronavirus pandemic:
SUMMA CUM LAUDE graduates were: (1) Carlo Jason Maranan Capuz,
University of New Hampshire – Manchester, B.S. in Computer Information Systems; (2) Abigail Remojo Ramos, Syracuse University, B.A. in English; (3) Kaitlyn Isabelle Infante, St. John's University, MBA in Marketing Management; (4) Natalie Deana Dizon Badillo, Macaulay Honors College at the City College of New York, Bachelors in Engineering (B.E.) in Biomedical Engineering; and (5) Aaron Michael Silva, Fordham College at Lincoln Center, B.A. in Political Science.
MAGNA CUM LAUDE graduates were: (1) Christine Alyssa Lim, Fordham University, B.S in Biological Sciences; (2) Kelly Ashley Dutertre, Pace University, BBA in Public Accounting/ Masters of Science in Taxation; (3) Arnold Angelo Maranan Icaro, University of Texas – Austin, BBA in Accounting and Masters in Professional Accounting; and (4)Yosef Marion Tan Uy, Fordham University, B.S. in Engineering Physics.
CUM LAUDE graduates were: (1) Ina Patrice Pascual Gonzales, Fordham University College at Rose Hill, B.S. in Mathematics and Computer and Information Sciences; and (2) Carsyn K. Fisher, Fordham University, Bachelors of Arts (B.A.) in Economics and International Studies.
Ms. Badillo was chosen as this year's North Star Awardee. The said award is given to the graduate who has demonstrated extraordinary academic excellence, outstanding leadership skills, and strong community engagement.
This year's PGrad was participated in by FilAm triplets Jaime Lorenzo Llamas Lopez, Javier Luis Llamas Lopez, and Josef Leandro Llamas Lopez- who graduated with a degree in Bachelor of Science in Interdisciplinary Math and Economics, Bachelor of Arts in Economics, and Bachelor of Arts in Math and Economics, minoring in marketing, respectively, from Fordham University.
"May you take this time to affirm your commitment to improve your communities and serve our kababayan in whatever way you can. As you climb the ladder to success, remember the support of your Filipino village and try to pay it forward even in small ways.  Your enthusiasm and ideas are what our country and people need.  And when you reach the top, remember to give back to your family, community, and country," Consul General Cato reminded the graduates.
In 2019, a one-year voluntary mentor-graduate partnership was established under the PGrad. This mentorship component will be expanded this year following the Consulate's partnership with Filipino Young Leaders Program (FYLPro), a network of high-performing, next generation FilAm leaders. PGrad participants will have a chance to participate in the mentorship program.
Since PGrad was launched in 2013, about 400 Filipino graduates have been honored by the Philippine Consulate General.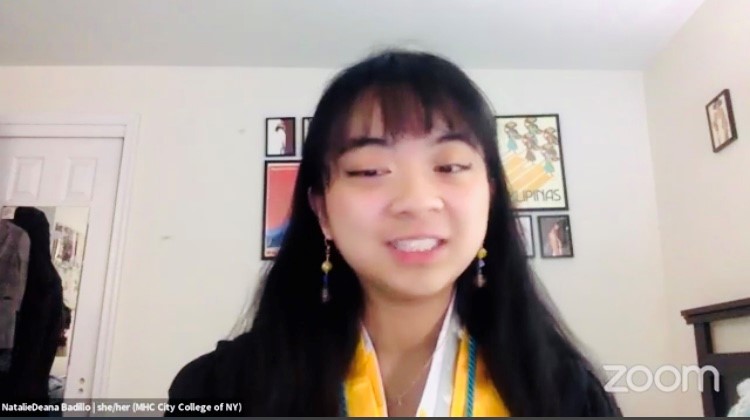 Northern Star Awardee, NatalieDeana Dizon Badillo, gives her Acceptance Speech on behalf of the Class of 2021.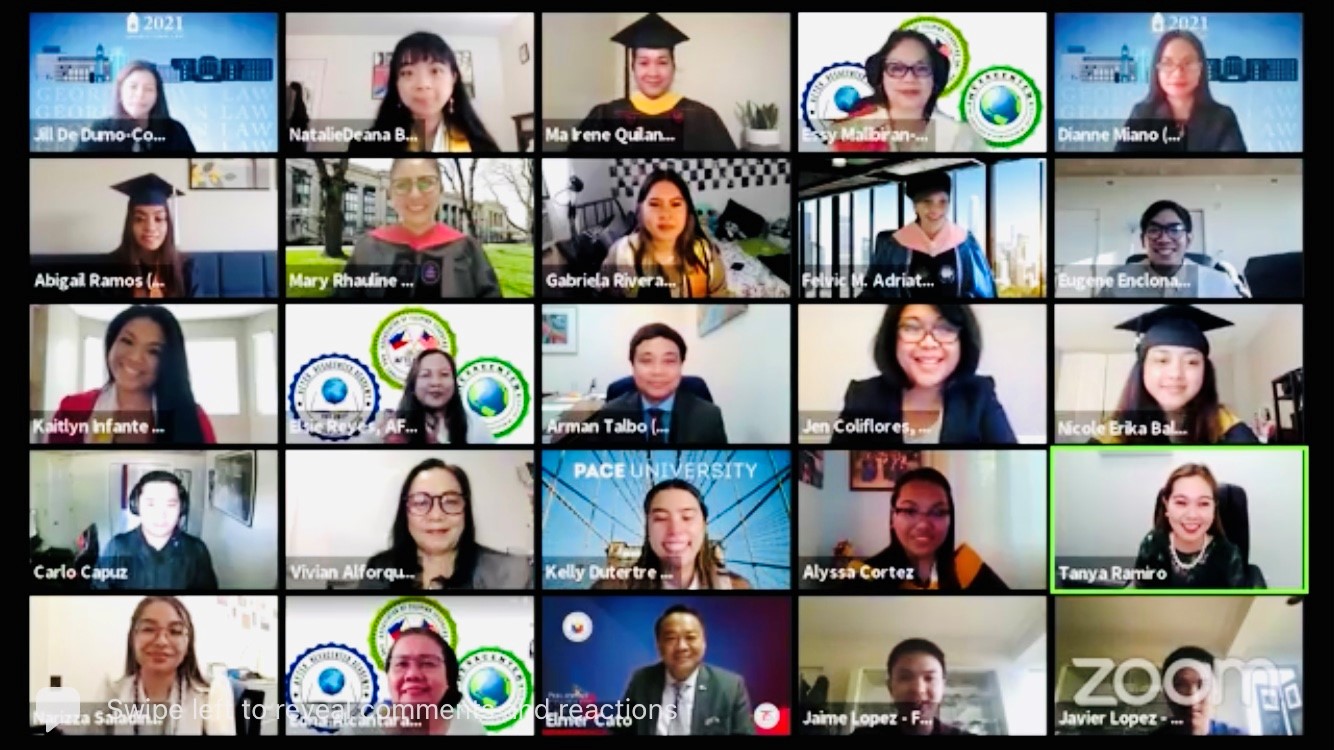 The graduates during the PGrad virtual ceremony with Consul General Elmer Cato and Consulate Officials.