PILI OIL-INFUSED PHILIPPINE SKIN CARE LINE OFFERS SOMETHING UNIQUE TO NEW YORKERS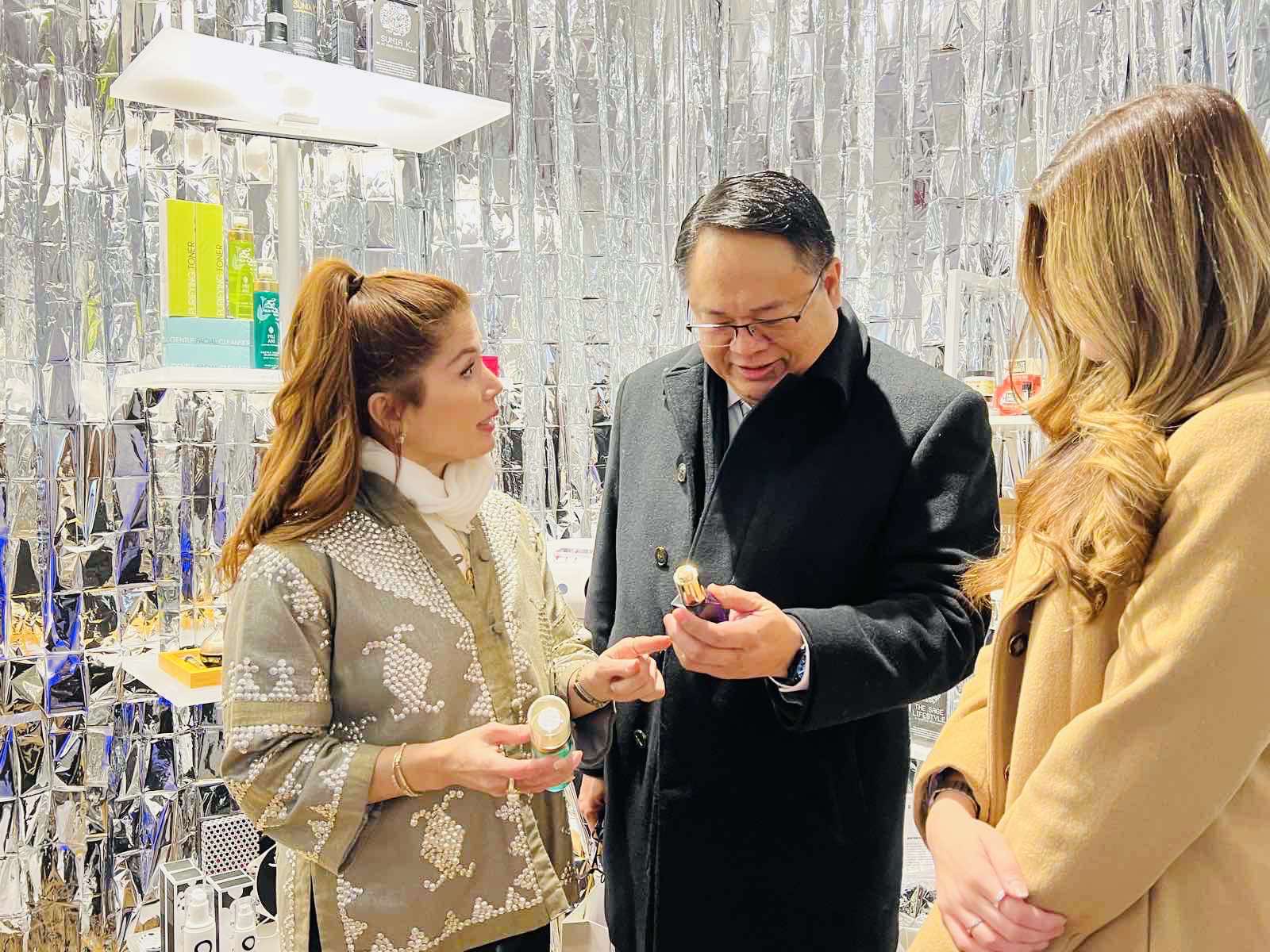 PILI OIL-INFUSED PHILIPPINE SKIN CARE LINE PENETRATES US MARKET: Ana Amigo Antonio (left), the North American representative of Pili Ani, explains the benefits of Pili Ani's skincare products to Consul General Elmer G. Cato (center) during the latter's visit at a pop-up store in SoHo on Thursday, 10 February. Pili Ani, a pioneering Filipino skincare line is the only brand in the world that uses pili and elemi oils in all of its beauty products. These oils are extracted from Pili trees that can only grow in Bicol. (Photo by Tanya Faye O. Ramiro)
NEW YORK – A pioneering Philippine skincare line established six years ago and the only brand in the world that uses pili and elemi oils in all its beauty products has been successfully penetrating the United States market.
Pili Ani has been making its presence felt in the US since it debuted on the popular Home Shopping Network Channel last year. Just recently, it began its efforts to reach out to more New Yorkers with its recent pop-up store in SoHo during New York Fashion Week.
Ana Amigo Antonio, Pili Ani's representative in North America, said their products, which include facial oils and masks, moisturizing creams, cleansers and toners, and essential oils have been well-received in the US market. 
"Pili Ani is unique because its ingredients come from the Pili tree, which is endemic only to Bicol in the Philippines," Antonio told Consul General Elmer G. Cato, during a courtesy call at the Philippine Consulate General in New York.
"Pili oil has become a popular beauty product abroad because it contains one of the highest concentrations of antioxidants and essential fatty acids – making it perfect for the skin," Antonio said.
According to her, Pili Ani was envisioned as a company that gives back to the community. She said purchase of Pili Ani products contributes to the sustainable livelihood of Filipino farmers and supports reforestation efforts in Bicol.
"Most Filipinos grew up knowing pili as candy or food ingredient and it is really heartening to know that pili now has other uses, with oils extracted from it now considered a superfood for the skin," Consul General Cato said. 
"We should maximize the benefits of this unique and precious natural resource so we could help more kababayan back home," Consul General Cato said as he vowed to help support and promote Pili Ani and other Filipino companies and small-and-medium-sized enterprises (SMEs) as part of the economic diplomacy efforts of the Philippine Consulate General in New York. END
PILI OIL-INFUSED PHILIPPINE SKIN CARE LINE PENETRATES US MARKET: Pili Ani, a pioneering Filipino skincare line and the only brand in the world that uses pili and elemi oils in all of its beauty products, displays some of its top selling products in a pop-up store at 27 Greene Street in SoHo from 04 to 20 February, to introduce the sustainably and ethically sourced beauty brand to more New Yorkers. (Photo by beautyquenyc – Instagram Handle)