U.S. NAVY VETERAN WHO FOUGHT IN THE PHILIPPINES DURING WWII HONORED
New York, 10 April 2023 – The Philippine Consulate General in New York (PCGNY) and Sentro Rizal New York (SRNY) commemorated "Araw Ng Kagitingan" (Day of Valor) by honoring decorated U.S. Navy Combat veteran, Arthur Grabiner, in a simple recognition ceremony at the Philippine Center on Wednesday, 05 April 2023. Mr. Grabiner, onboard USS Laurens, fought during the Allied Operations in Lingayen Gulf, Province of Pangasinan in the Philippines during World War – a critical military campaign that led to the liberation of the major island of Luzon from Japanese imperial forces.
The program consisted of the awarding of honors and citations from the Filipino Veterans Recognition Project, represented by Regional Director Sonny Busa; New York City Department of Veterans' Services represented by Deputy Commissioner Glenda Villareal Garcia and Assistant Commissioner Ellen Greeley; New York State Assemblymember Steven Raga, who is concurrently a member of the Assembly's Veterans' Affairs Committee; and PCGNY and SRNY.
"War is an ugly thing. But when war comes knocking on the door, gallant men heed the call and rise to the occasion to stand against tyranny and oppression. Such is the case with our honoree…A fighter and defender of the Free World, Mr. Grabiner, responded to the call of duty despite knowing that this would separate him from his family and loved ones and all things comfortable and familiar to him – by thousands of miles and by the great Pacific Ocean," said Consul General Senen T. Mangalile during his speech. "We will make it our mission to ensure that future generations to come will know of all these acts of courage by our armed forces, including that of Mr. Arthur Grabiner. And we the Filipino People will always remember, on this day most of all, the valor, service, and sacrifice of Filipino soldiers, of whom we are so very proud."
In his response, Mr. Grabiner acknowledged the upcoming 81st anniversary of the "Fall of Bataan" and also mentioned the Battle of Corregidor. "To my fellow veterans of the Armed Forces of the Philippines, the United States, and our allies, thank you for your having answered the call and courageously worn the uniform in service to our great nations. Welcome home! I am grateful to you for your sacrifice and honored to be with you here, today, in the Philippine Center," he ended.
The Taps – a solemn call to remember war veterans for their service – was played immediately after by Peter Gasiewicz, a marine volunteer bugler of the Bugles of America. The program concluded with cheers of "Mabuhay!" for the 97-year old honoree.
Among those who graced the occasion were His Excellency Archbishop Gabriele Giordano Caccia -Permanent Observer of the Holy See to the United Nations, and from the Office of the Military Attaché – Colonel Randy G. Bance and Lt. Colonel Noel G. Pataray. END
PCGNY-061-2023
10 April 2023
WORLD WAR II U.S. NAVY COMBAT VETERAN HONORED DURING
COMMEMORATION OF ARAW NG KAGITINGAN (DAY OF VALOR)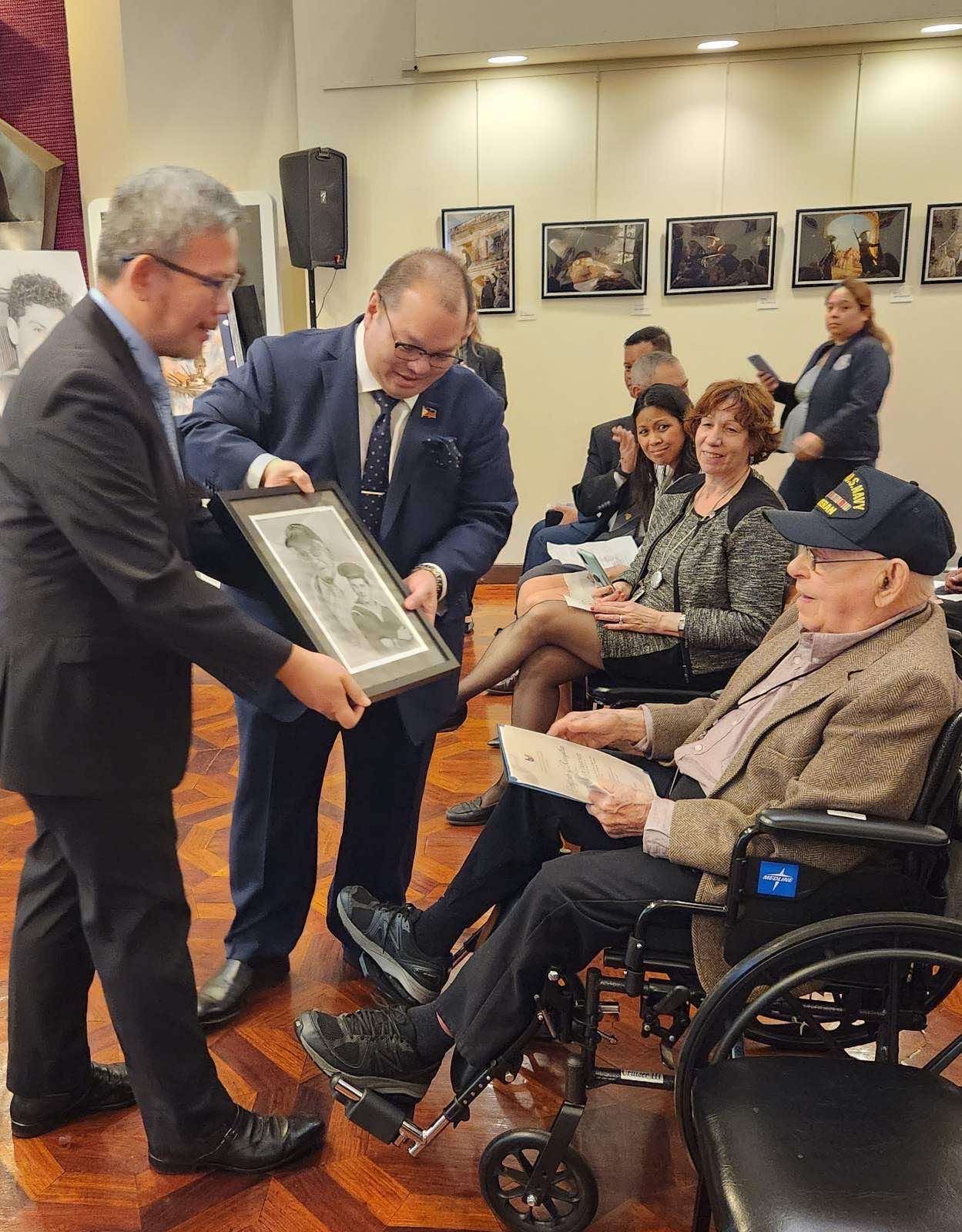 Arthur Grabiner, a 97-year old U.S. Navy Combat Veteran, who fought during the Allied Operations in Lingayen Gulf,
Province of Pangasinan in the Philippines, during World War II, was recognized in a simple ceremony at the Philippine Center
on Wednesday, 05 April 2023, to commemorate Araw ng Kagitingan. Consul General Senen T. Mangalile (middle)
and Deputy Consul General Adrian S. Cruz (left) present a portrait of the honoree to Mr. Arthur Grabiner (seated).
(Photo by Mae Ermita Manubay)
PCGNY-062-2023
10 April 2023
WORLD WAR II U.S. NAVY COMBAT VETERAN HONORED DURING
COMMEMORATION OF ARAW NG KAGITINGAN (DAY OF VALOR)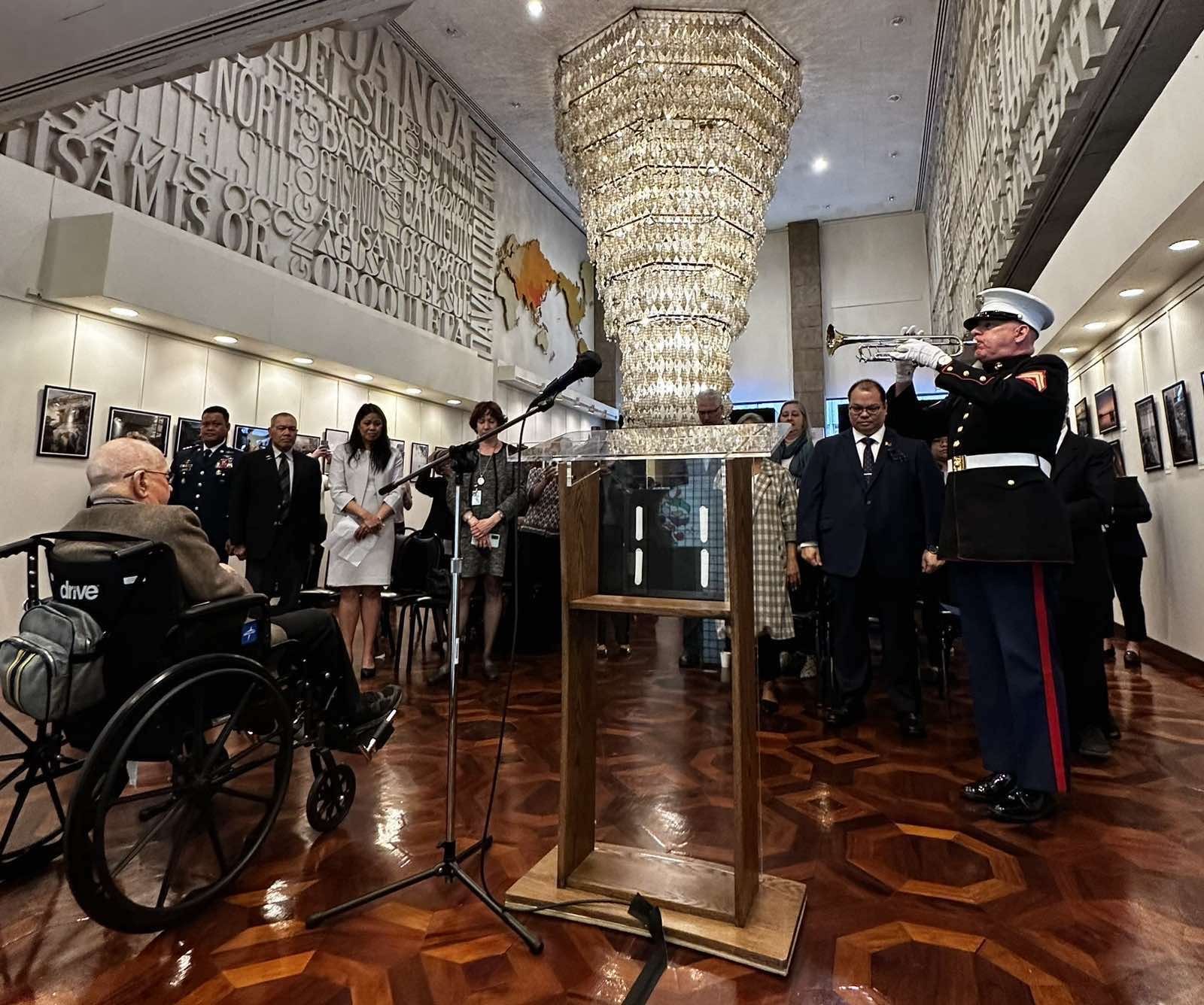 Arthur Grabiner, a 97-year old U.S. Navy Combat Veteran, who fought during the Allied Operations in Lingayen Gulf,
Province of Pangasinan in the Philippines, during World War II, was recognized in a simple ceremony
at the Philippine Center on Wednesday, 05 April 2023, to commemorate Araw ng Kagitingan.
The Taps – a solemn call to remember war veterans for their service – is played by Peter Gasiewicz,
a marine volunteer bugler of the Bugles of America. (Photo by Deputy Consul General Adrian S. Cruz)
PCGNY-063-2023
10 April 2023
WORLD WAR II U.S. NAVY COMBAT VETERAN HONORED DURING
COMMEMORATION OF ARAW NG KAGITINGAN (DAY OF VALOR)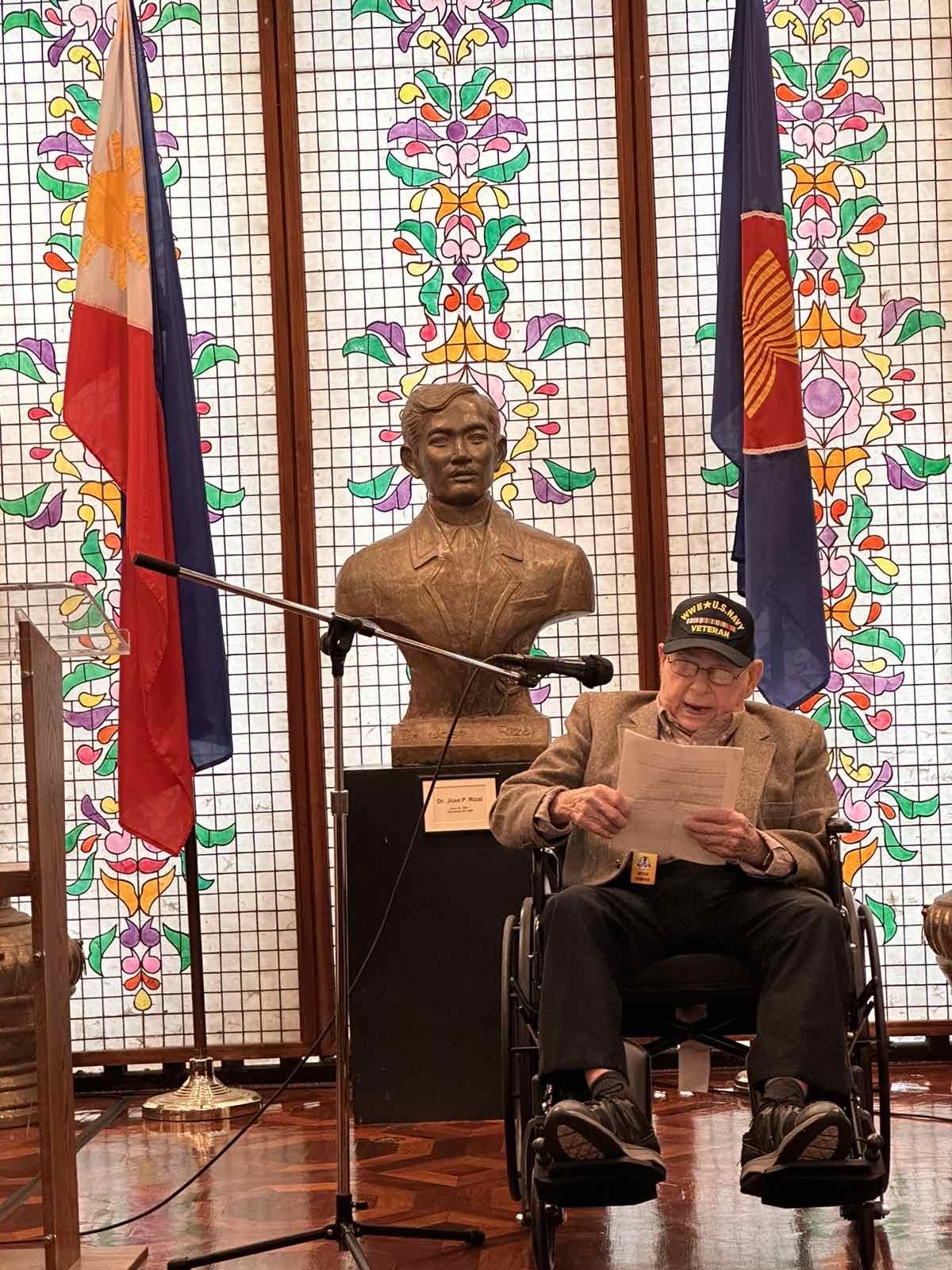 Arthur Grabiner, a 97-year old U.S. Navy Combat Veteran, who fought during the Allied Operations in Lingayen Gulf,
Province of Pangasinan in the Philippines, during World War II, was recognized in a simple ceremony at the Philippine Center
on Wednesday, 05 April 2023, to commemorate Araw ng Kagitingan. Arthur Grabiner dedicates his message to his fellow
veterans in the Armed Forces of the Philippines, the United States of America, and all Allies, for their sacrifice. 
(Photo by Deputy Consul General Adrian S. Cruz)
PCGNY-064-2023
10 April 2023
WORLD WAR II U.S. NAVY COMBAT VETERAN HONORED DURING
COMMEMORATION OF ARAW NG KAGITINGAN (DAY OF VALOR)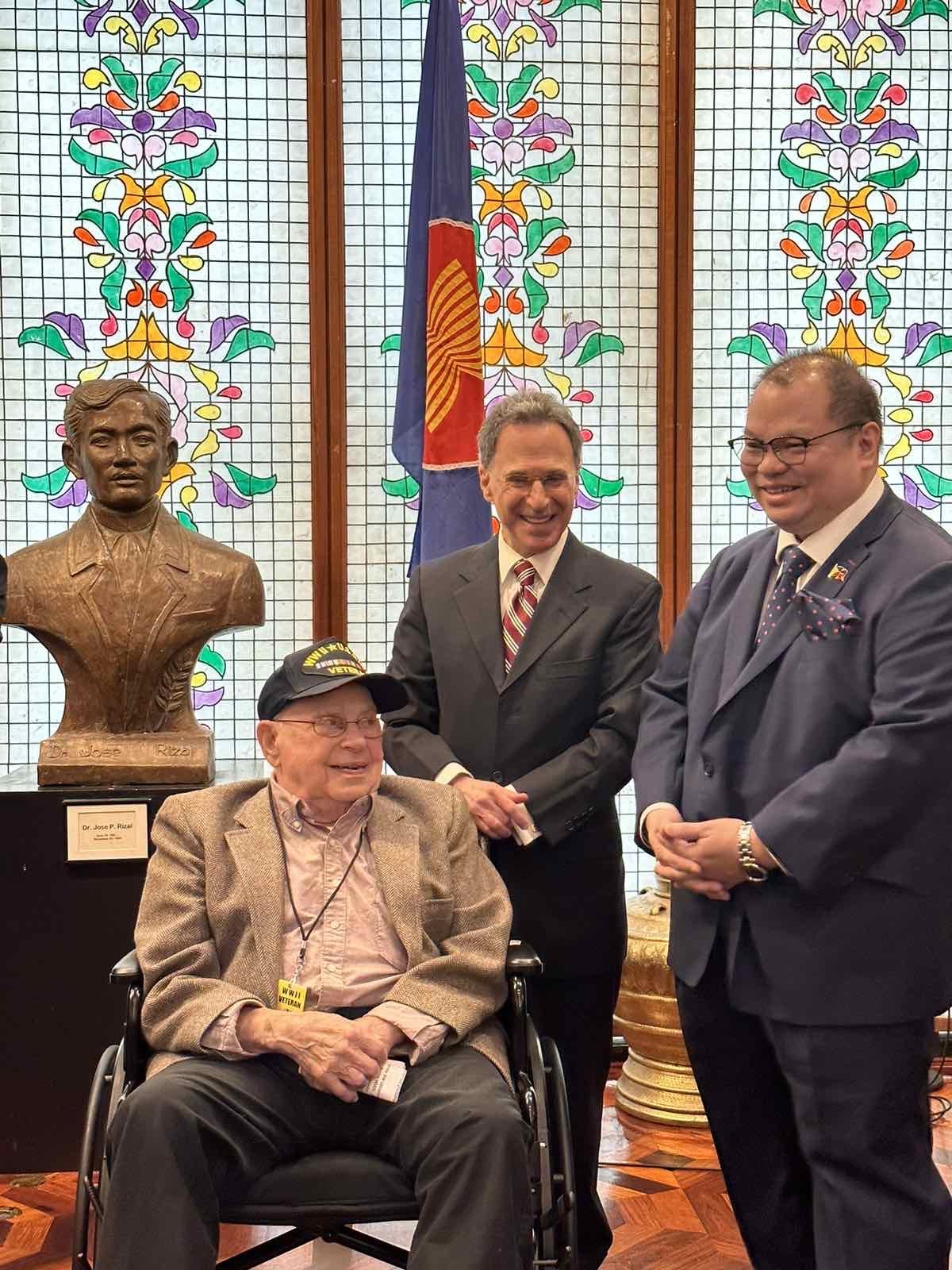 Arthur Grabiner, a 97-year old U.S. Navy Combat Veteran, who fought during the Allied Operations in Lingayen Gulf,
Province of Pangasinan in the Philippines, during World War II, was recognized in a simple ceremony at the Philippine Center
on Wednesday, 05 April 2023, to commemorate Araw ng Kagitingan. Consul General Senen T. Mangalile (rightmost) shares
a light moment with Arthur Grabiner (seated), and the honoree's son, Douglas Grabiner.(Photo by Ruth Galiza)
PCGNY-065-2023
10 April 2023
WORLD WAR II U.S. NAVY COMBAT VETERAN HONORED DURING
COMMEMORATION OF ARAW NG KAGITINGAN (DAY OF VALOR)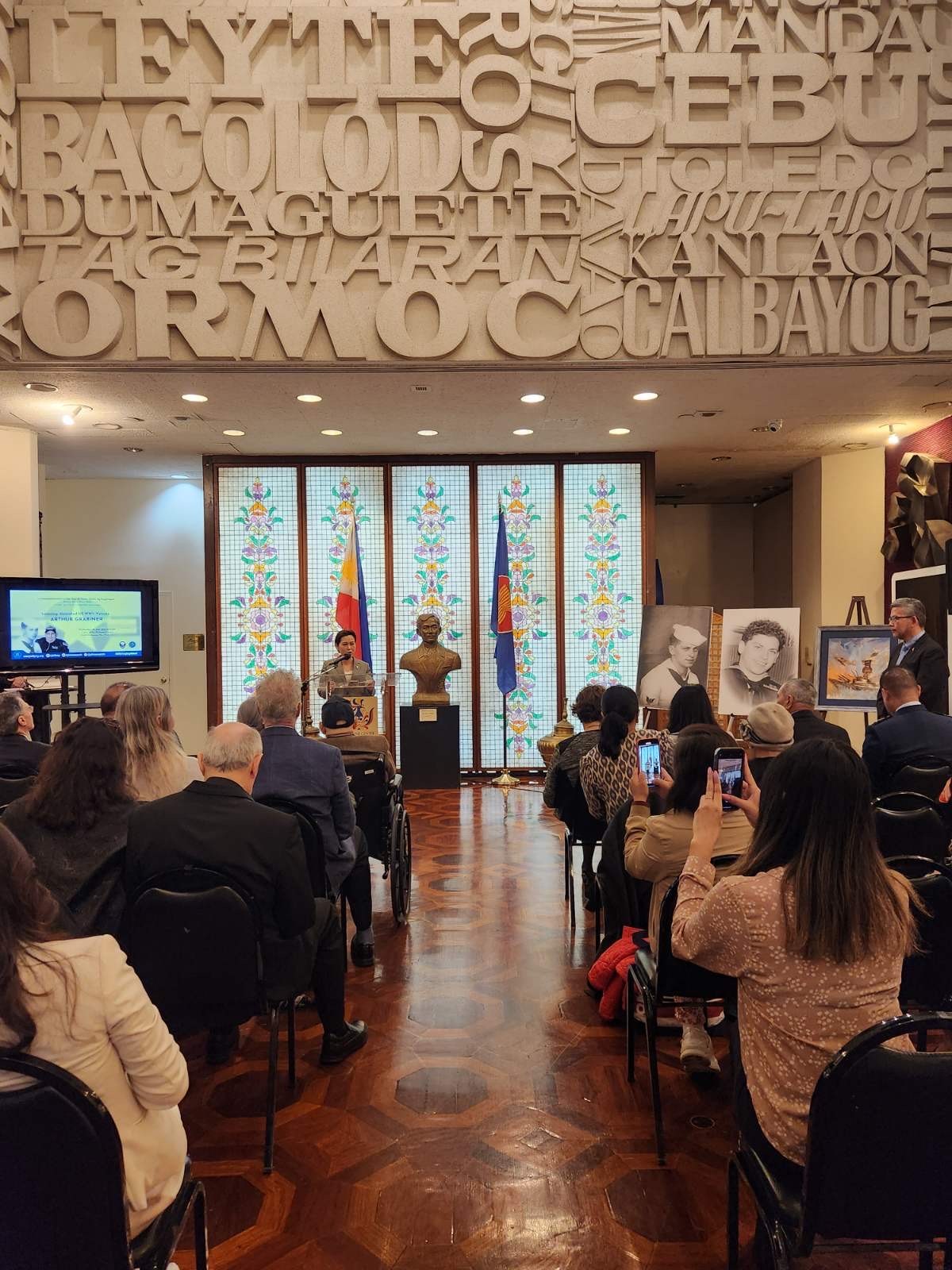 Arthur Grabiner, a 97-year old U.S. Navy Combat Veteran, who fought during the Allied Operations in Lingayen Gulf, Province of Pangasinan in the Philippines, during World War II, was recognized in a simple ceremony at the Philippine Center on Wednesday, 05 April 2023, to commemorate Araw ng Kagitingan. The Philippine Consulate General in New York and Sentro Rizal New York, together with the Office of New York State Assemblymember Steven Raga, the New York City Department of Veterans' Services, and the Filipino Veterans Recognition and Education Project awarded Mr. Grabiner with honors and citations for his valor, service, and sacrifice. (Photo by Mae Ermita Manubay)