The Power of One Voice Unleashed in a Night of Music and History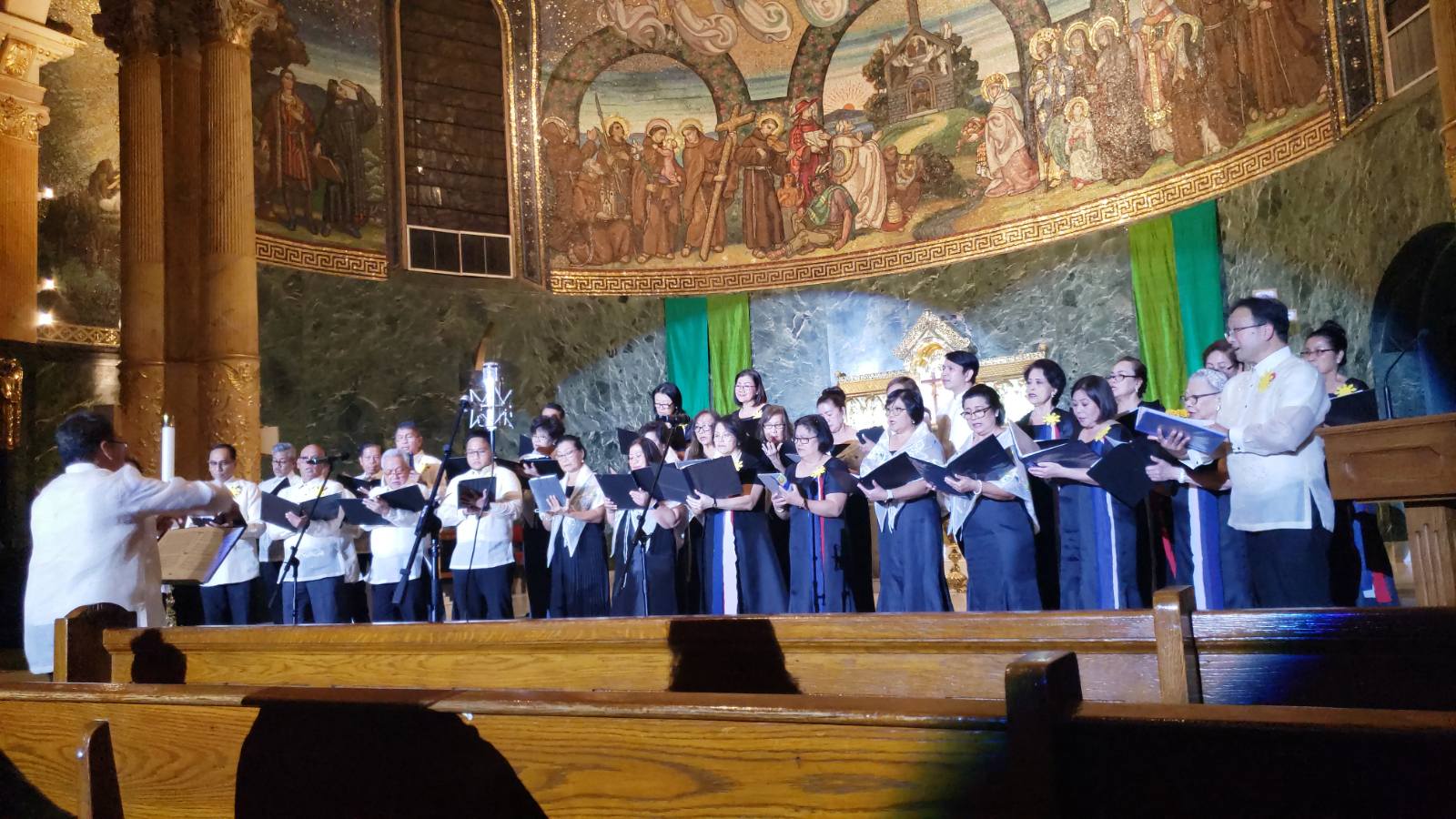 Singers of Kayumanggi Chorale, Bayanihan Singers of Union, and the FilharmoniX Choir serenaded more than 100 attendees with Filipino songs, which highlight milestones in the nation's continuing history, and amplify the need for unity. (Philippine Consulate General in New York Photo by Monina E. Tran)
NEW YORK – In the spirit of bayanihan, various Filipino singers gathered together to lift their voices in a night of music and history at the St. Francis of Assisi Church in Midtown Manhattan on Friday, 29 October 2021. 
Entitled Santinig (One Voice), the concert capped off Filipino-American History Month with Filipino songs of pride, heroism, and unity, carefully selected to highlight milestones in the nation's history, from the pre-colonial period down to the Spanish, Japanese, and American eras, and finally to the Philippines of today. 
With the power of one voice, talents from the Kayumanggi Chorale, Bayanihan Singers of Union, the FilharmoniX Choir, as well as guest performers, Rogelio Peñaverde Jr., Joy Tamayo, and Vice Consul Paolo Marco R. Mapula serenaded over 100 attendees with "Bayan Ko," "Pilipinas Kong Mahal," "Lupang Hinirang," and "Bati Bati 'Di Hati Hati," amongst others.
"In my interactions with the leaders and members of our vibrant community, my message always revolved on bayanihan—on how we could work together for the common good.  Santinig is such a great example of what we can do when we work together," Consul General Elmer G. Cato said in his welcome remarks. 
Before he ended his speech, Consul General Cato highlighted a stanza from the song, "Bati Bati 'Di Hati Hati" (by composer Jewpeter Vidal and songwriter Garry Sibal), which he says encapsulates the essence of bayanihan:
Isang bansa ang ating kinalalagyan
Isang lahi ang ating kinagisnan
Iba-iba man ang kulturang kinalakihan
Ikaw at ako ay dangal ng bayan.
Ang ating kulay ay hindi dilaw o pula
Nananalaytay sa atin dugong Maharlika
Isantabi natin ang pagkakanya kanya
Tulong tulong tayo at magsama sama
Bati bati, di hati hati.
The Santinig concert was made possible with the cooperation of the Migrant Center of New York, Inc., the Church and Friary of Saint Francis of Assisi, Ugnayan Filipino Ministry, and several partners, and volunteers. END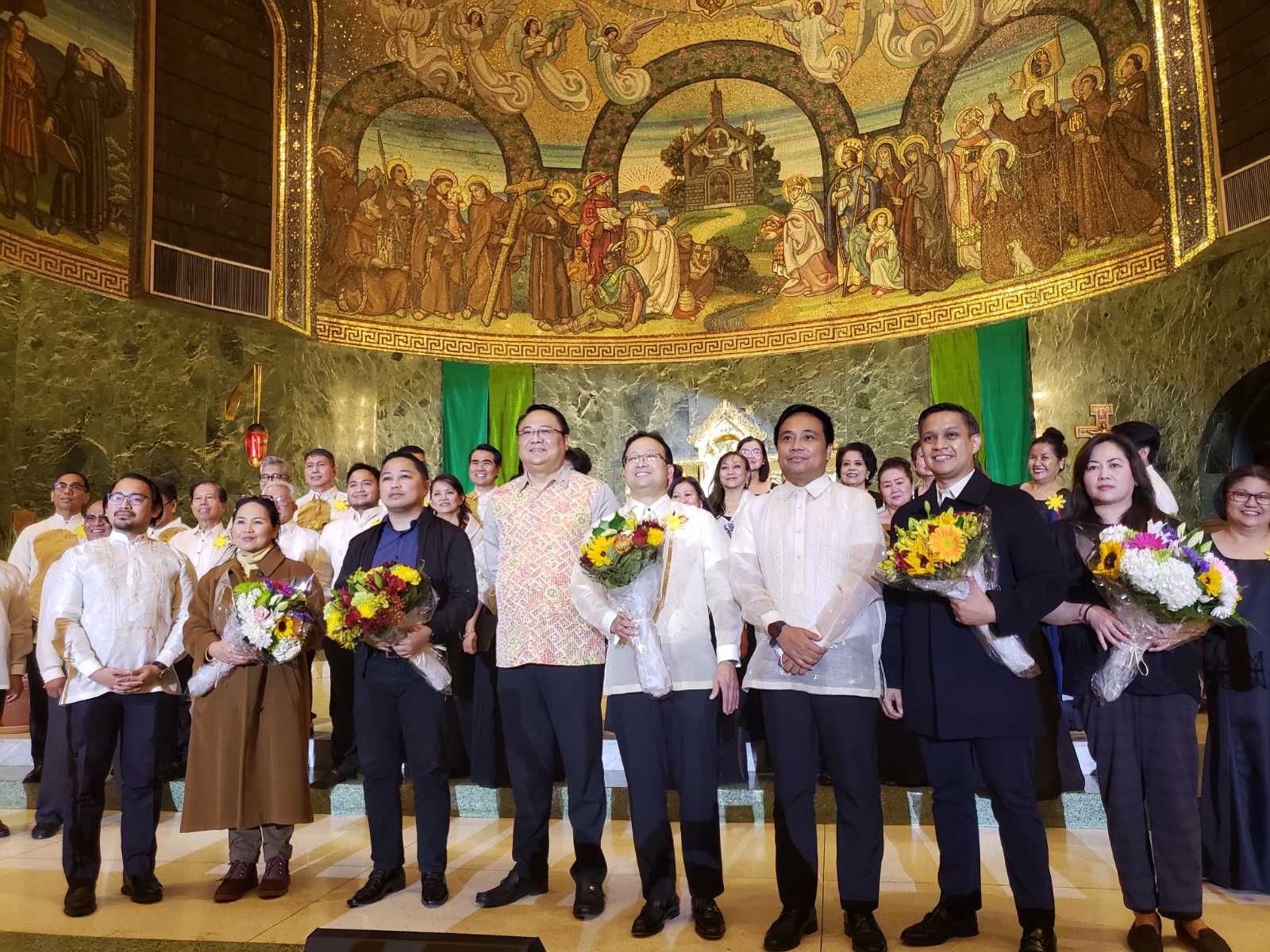 First row, from left to right: Vice Consul Paolo Marco R. Mapula, Joy Tamayo, Jewpeter Vidad, Consul General Elmer G. Cato, Dennis N. Bernardo, M.D., Deputy Consul General Arman R. Talbo, Rogelio Peñaverde Jr. and Mary Rose Villegas, with singers of Kayumanggi Chorale, Bayanihan Singers of Union, and the FilharmoniX Choir in the background. (Philippine Consulate General in New York Photo by Monina E. Tran)