Filipino-American Veterans Honored in New York Event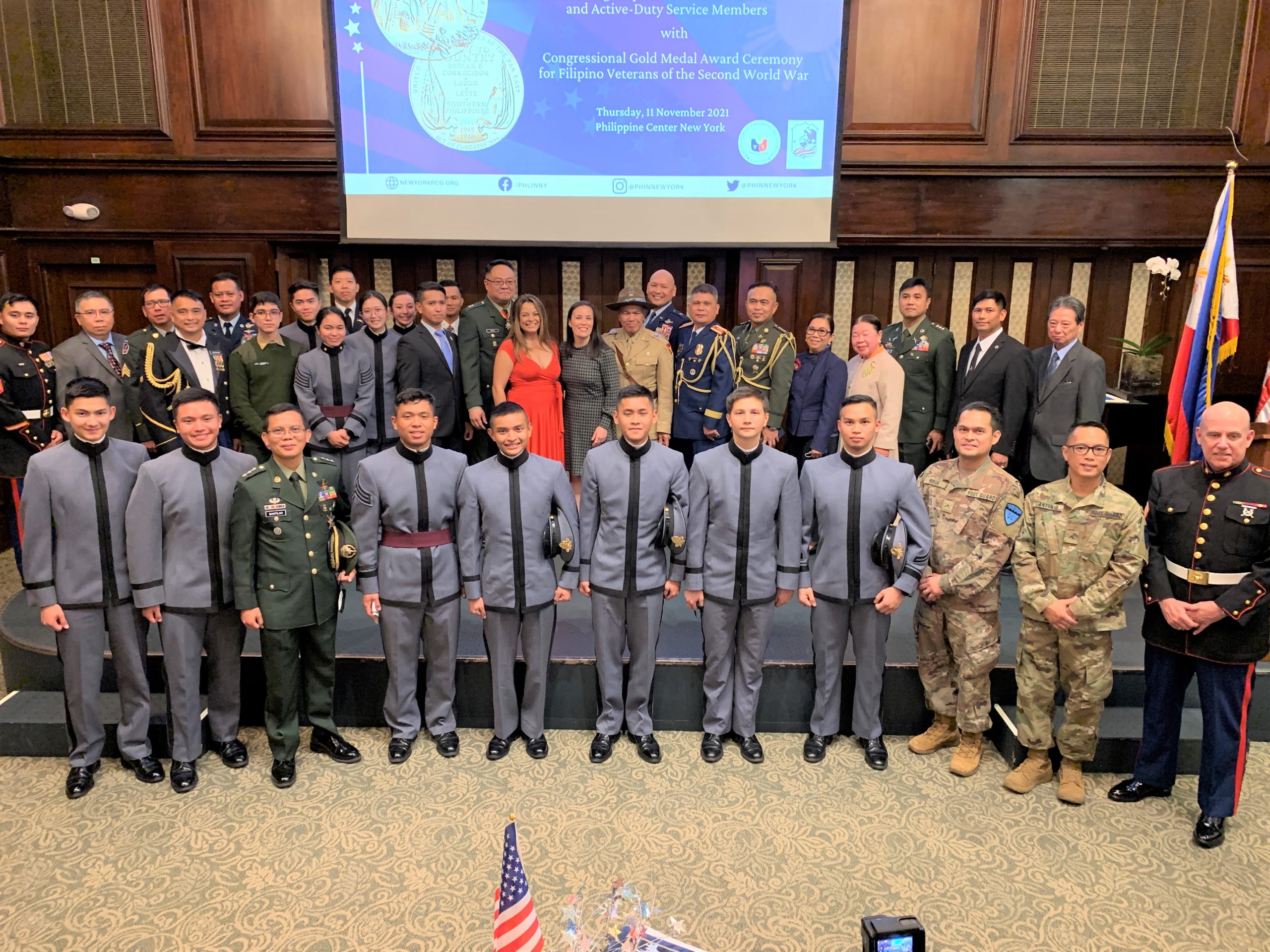 The Philippine Consulate General in New York honored Filipino-American veterans in a commemorative event and a Congressional Gold Medal Award Ceremony at the Kalayaan Hall of the Philippine Center on Thursday, 11 November 2021, Veterans Day (Photo by Lambert Parong)
NEW YORK – The Philippine Consulate General in New York honored Filipino-American veterans in a commemorative event that included the presentation of the Congressional Gold Medal to three World War II Veterans Award Ceremony at the Kalayaan Hall of the Philippine Center on Thursday, 11 November 2021. 
Among those honored were Air Force Undersecretary Gina Ortiz Jones, the highest ranking Filipino-American official in the Biden Administration, who also served as guest of honor and speaker, who traces her roots to Pangasinan, spoke of the strong people-to-people ties between the Philippines and the United States.  Undersecretary Jones was an Air Force intelligence officer who served in Iraq and Libya.  She ran but narrowly lost her bid for a congressional seat in San Antonio, Texas in 2018. On July 22, 2021, she was appointed Undersecretary of the Department of Air Force, the first woman of color to hold such an important portfolio. 
Speaking of Filipinos who have fought in battles throughout the course of history, Consul General Elmer G. Cato, said that "this tradition of valor runs in the blood of the more than 91,000 veterans of the US Armed Forces who were born in the Philippines and the thousands more of Filipino heritage, such as Undersecretary of the Air Force Gina Ortiz Jones." "The valor displayed by our veterans continues to inspire each and every one of us. It is the same kind of valor or kagitingan that is being displayed by Filipino healthcare workers who are serving in the frontline against a different enemy—the coronavirus," Consul General Cato said.
The program continued with the awarding ceremony where the respective family representatives of Colonel Cornelio J. Tomelden, Master Sergeant Genaro Gallo, and Captain Sergio Navarro accepted the Congressional Gold Medal from Consul General Cato and Undersecretary Ortiz Jones.
Colonel Cornelio J. Tomelden was an officer with the US Army Forces of the Far East (USAFFE), who valiantly fought in Bataan in 1942, and instead of surrendering, joined guerrilla forces in Luzon.  His actions helped pave the way for the successful liberation of the Philippines.
Captain Sergio Navarro, on the other hand, was a commander of Filipino guerrilla units in Luzon. His actions seriously crippled the combat capability of enemy forces in his operational area.  
Finally, Master Sergeant Genaro Gallo was a member of the famed Philippine Scouts. He fought in Bataan, survived the infamous Bataan Death March, and spent three years in captivity. After the Second World War, Sergeant Gallo served 20 years in the US Army and fought in Korea.  
Also honored were US Air Force Brig Gen. Jimmy Canlas who hails from Angeles City for being one of the highest ranking Filipino-Americans in active service; and retired US Army Maj. Gen. Antonio Taguba and retired US Consul Genral Santiago Busa, Jr., for the critical role they played in securing US Congress recognition of Filipino-Americans World War II Veterans. 
The program ended with the playing of the taps by Peter Gasiewicz, a marine veteran who served in both Vietnam and the Philippines. END