EGC-005-2022 
6 January 2022 
SENTRO RIZAL IN NEW YORK INAUGURATED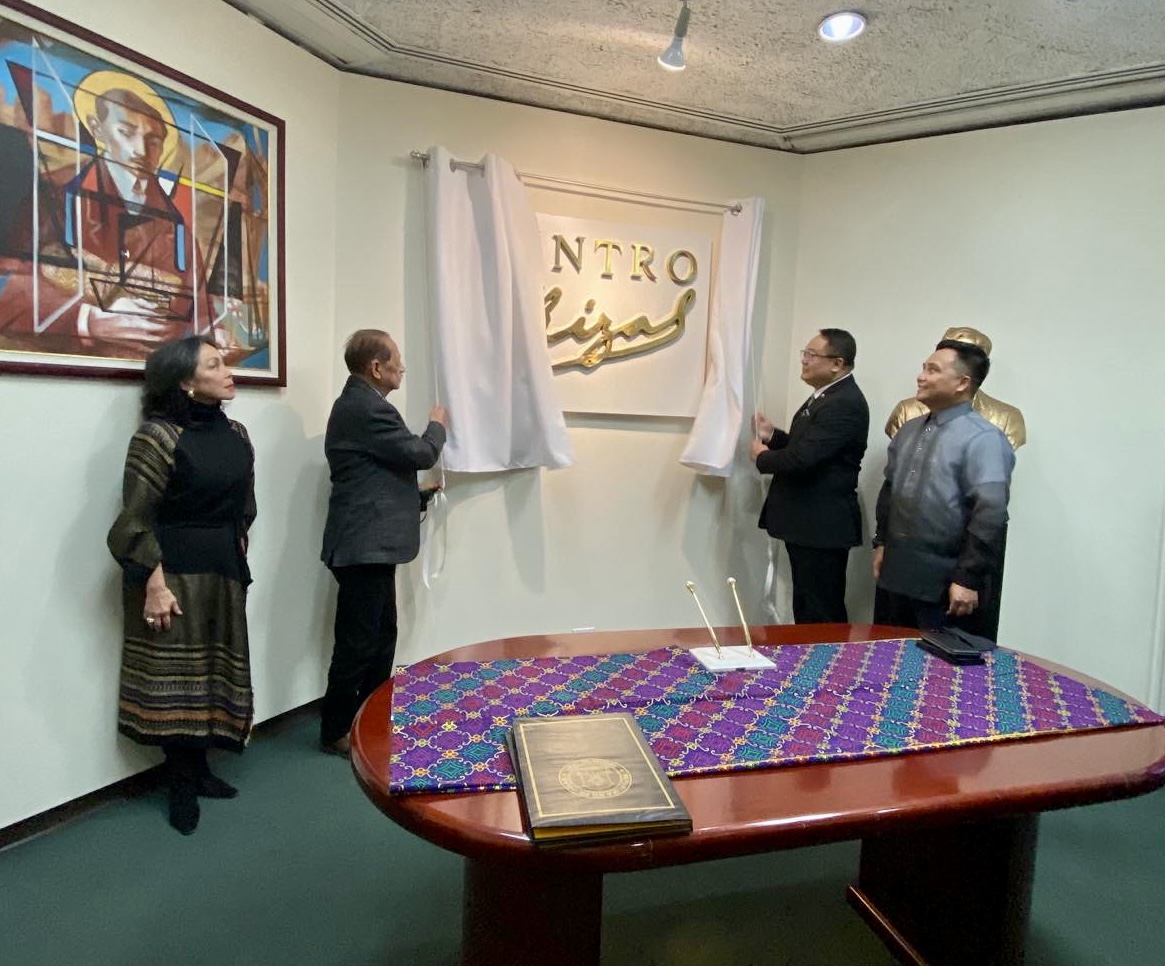 Consul General Elmer G. Cato (second from right), and Chairperson Arsenio J. Lizaso of the National Commission for Culture and the Arts (second from left) unveil the Sentro Rizal marker at the Philippine Center on Thursday, 06 January 2022. Witnessing the event are Ms. Maria Luisa Tinio Bayot, a descendant of Dr. Jose P. Rizal, and Deputy Consul General Arman R. Talbo. The Sentro Rizal New York is the 36th such center in the world, and the 7th in the United States. It will be at the forefront of cultural diplomacy efforts of the Consulate at the United States northeast. (Photo by Federico A. Silao, Jr.)
New York, 06 January 2022 – The Philippine Consulate General in New York received a big boost in its cultural diplomacy efforts with the inauguration of the Sentro Rizal at the Philippine Center in Manhattan on Thursday, 6 January 2021.
The Sentro Rizal New York was launched in simple ceremonies led by Consul General Elmer G. Cato and Chairperson Arsenio J. Lizaso of the National Commission for Culture and the Arts (NCCA) and attended by members of the Filipino Community. 
"Sentro Rizal serves as a platform to reignite our Filipino pride and strengthen the Filipino identity," Consul General Elmer G. Cato said. "It is our hope that Sentro Rizal New York will reinforce the ties that bind our kababayan in the United States with our inang bayan."
Consul General Cato also expressed his appreciation to Chairperson Lizaso for his commitment to support the various cultural projects of the Philippine Consulate General.
"Now that we have the Sentro Rizal New York, the NCCA can make available to the Philippine Consulate General the resources it needs to effectively carry out its cultural diplomacy programs in the East Coast," said Chairperson Lizaso.
As part of the inauguration ceremony, Consul General Cato and Chairperson Lizaso signed a Memorandum of Understanding outlining the commitments of both the Philippine Consulate General and NCAA in ensuring the success of the Sentro Rizal New York. 
The signing of the MOU was witnessed by Deputy Consul General Arman R. Talbo; Maria Luisa Tinio Bayot, a descendant of Dr. Jose Rizal; and officials of the Knights of Rizal in the Eastern Region led by Atty. Ferdinand Suba. 
The Sentro Rizal New York was inaugurated 12 years after the passage of the National Cultural Heritage Act of 2009 that provided for the establishment of Philippine centers to promote Filipino art, culture, and language among members of the Filipino diaspora.  
It is the 36th Sentro Rizal in the world and the seventh in the United States after those at the Philippine Embassy in Washington, D.C. and the Philippine Consulates General in Agana, Chicago, Honolulu, Los Angeles, and San Francisco.
Consul General Cato said the Sentro Rizal New York will serve as repository of Filipiniana materials in the form of books, CDs, and artworks to allow the public to fully immerse themselves into the Filipino culture. END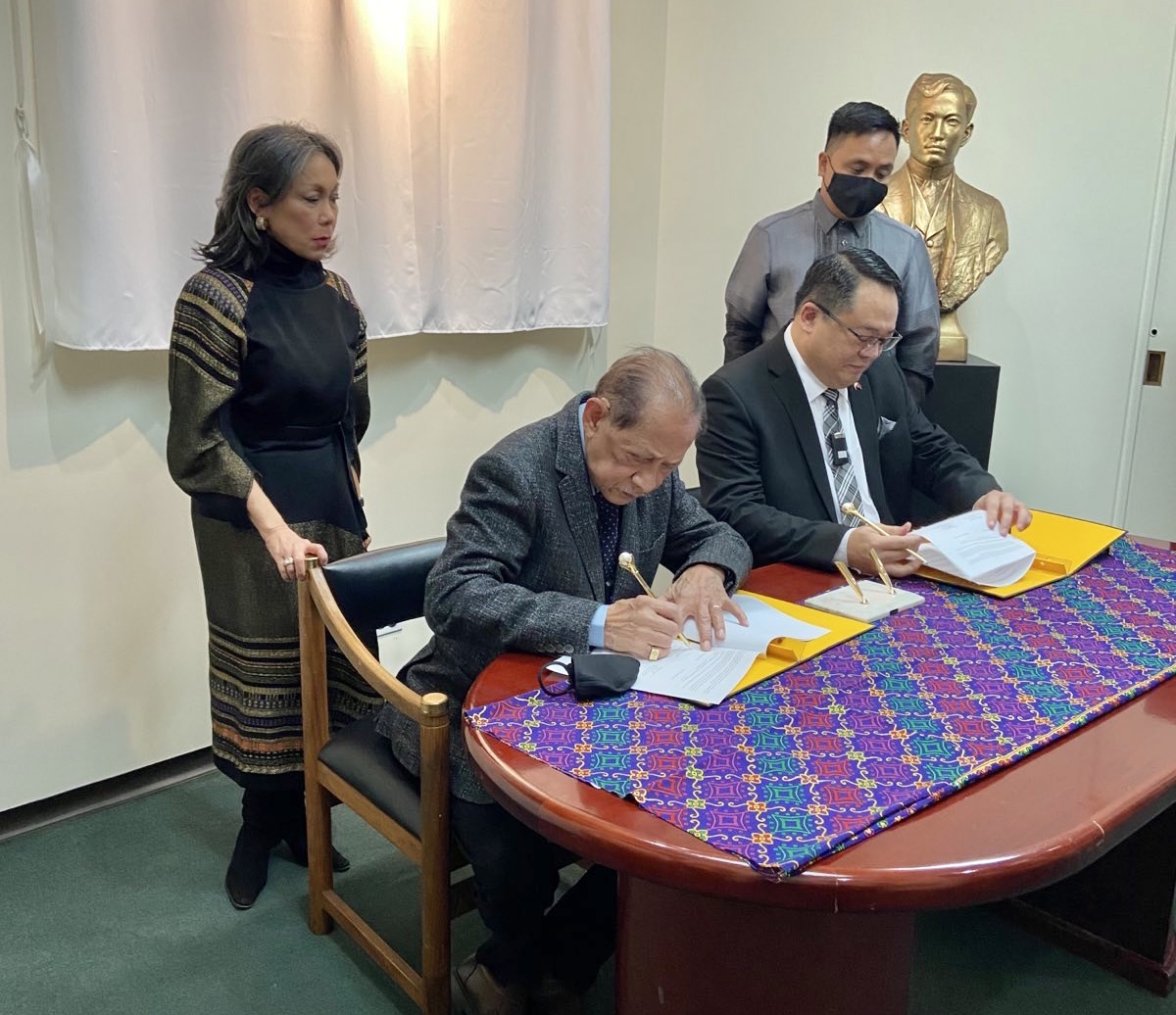 Consul General Elmer G. Cato and Chairperson Arsenio J. Lizaso of the National Commission for Culture and the Arts (NCCA), sign the Memorandum of Understanding outlining the commitments of both the Philippine Consulate and NCCA to ensure the success of Sentro Rizal New York. Looking on are Deputy Consul General Arman R. Talbo, and Ms. Maria Luisa Tinio Bayot, a descendant of Dr. Jose P. Rizal. (Photo by Federico A. Silao, Jr.)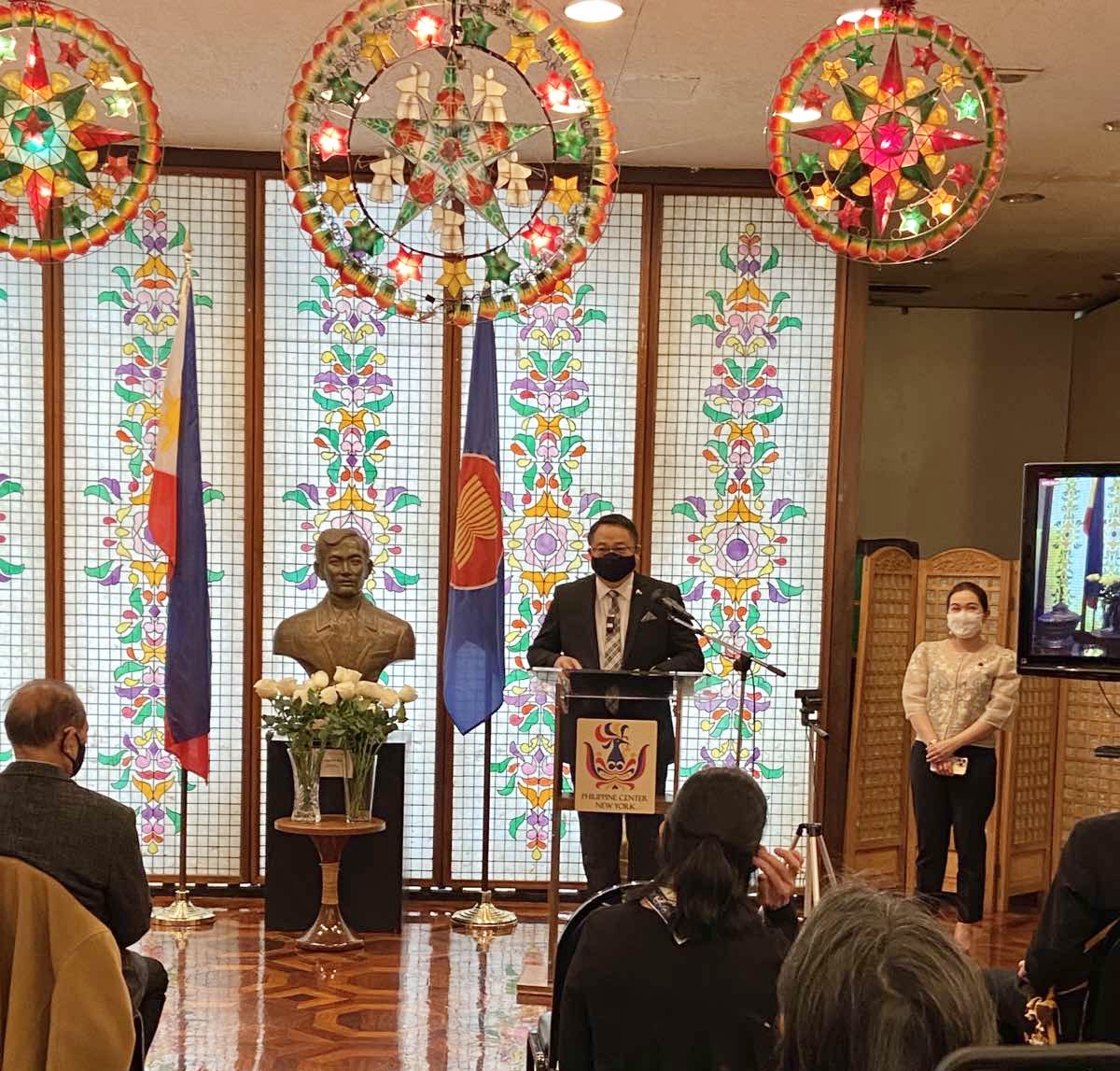 Consul General Elmer G. Cato calls on the members of the Filipino Community in the United States northeast to be active partners of the Philippine Consulate General in its cultural diplomacy efforts. The Consul General made the call during the launching on Thursday of the Sentro Rizal New York at the Philippine Center. (Photo by Federico A. Silao, Jr.)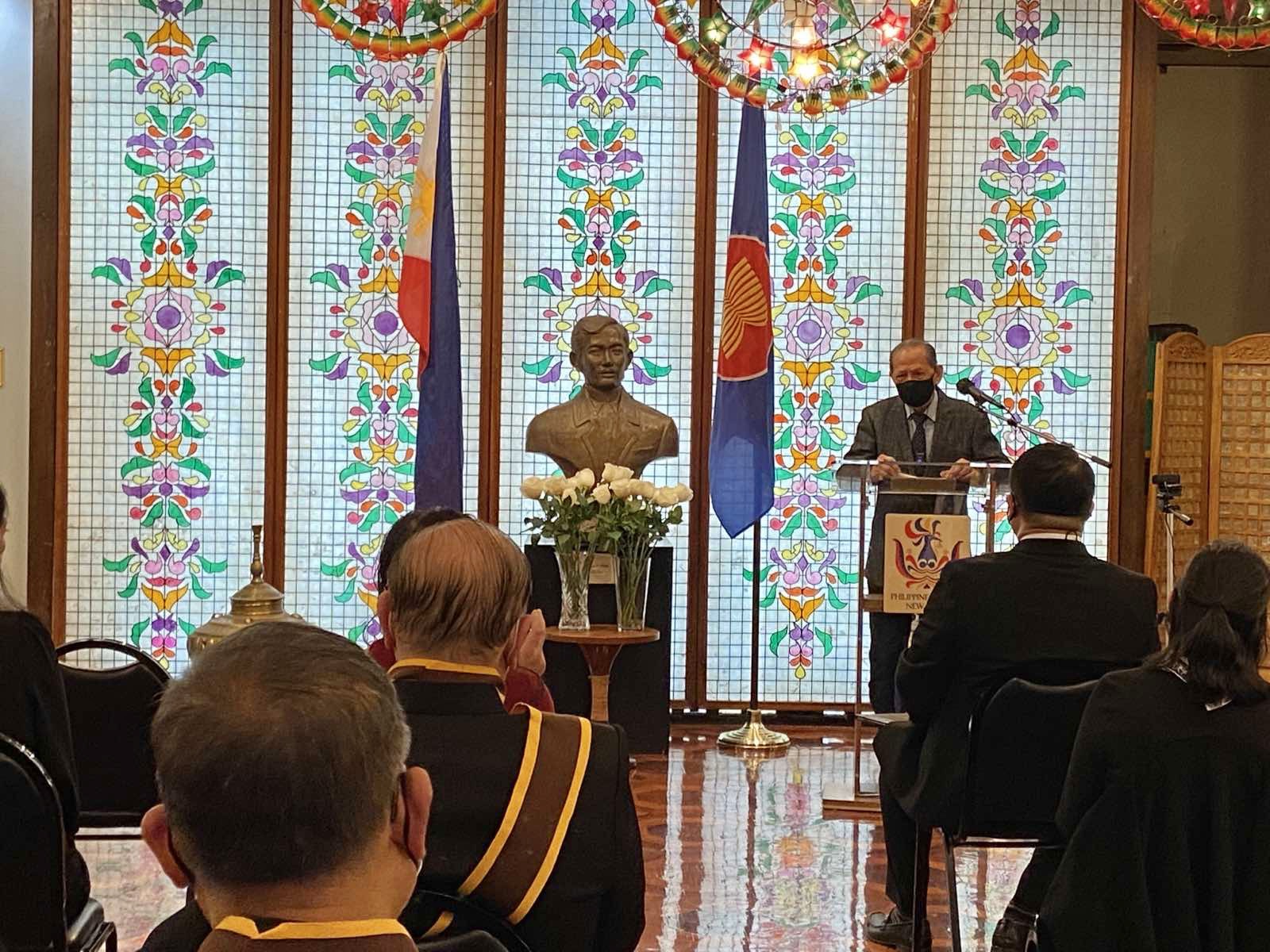 Chairperson Arsenio J. Lizaso of the National Commission for Culture and the Arts (NCCA) assures the Filipino Community that with the launching of the Sentro Rizal New York, the NCAA can now channel resources to support the cultural diplomacy efforts of the Philippine Consulate General in New York. (Photo by Federico A. Silao, Jr.)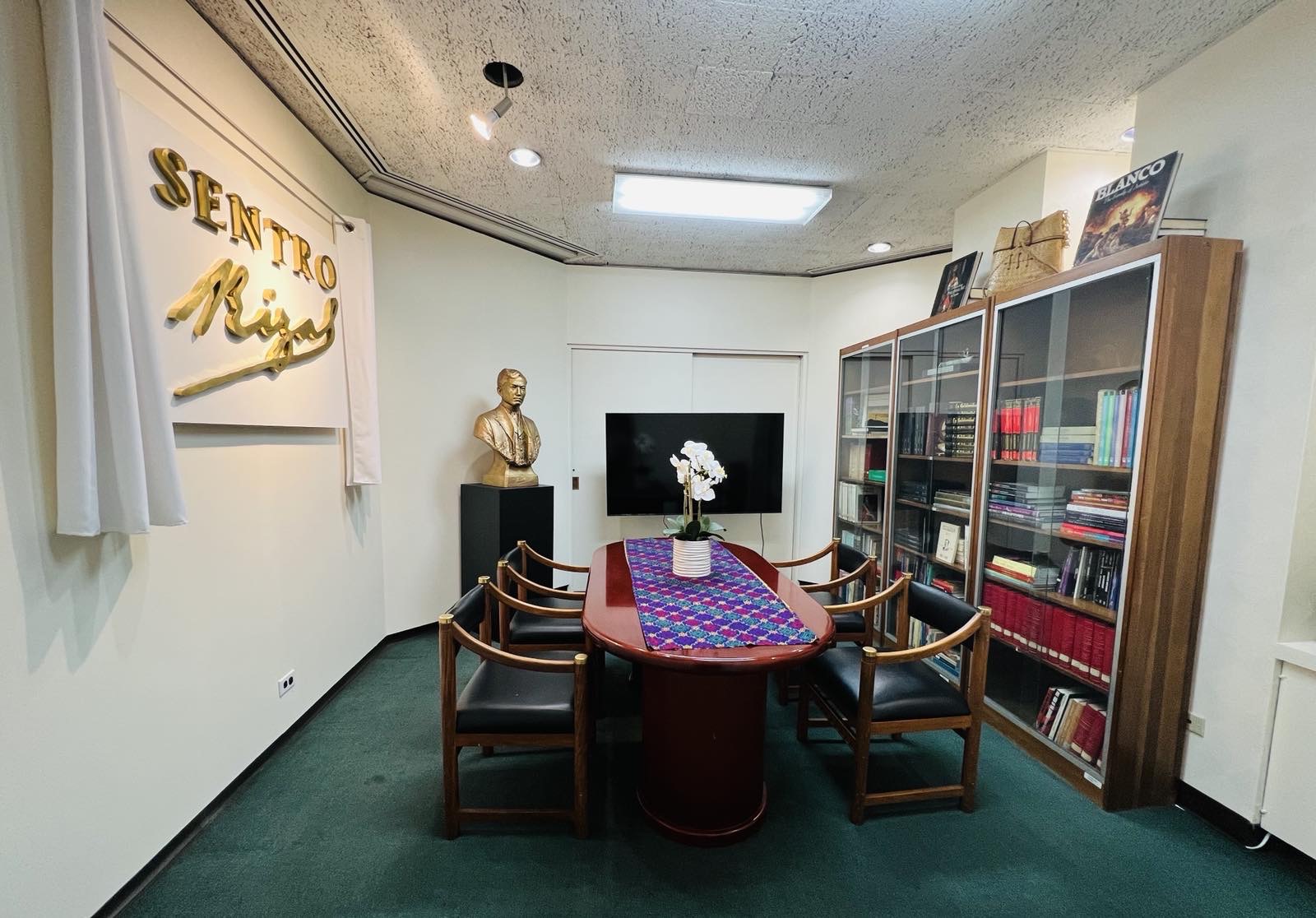 The Philippine Consulate General in New York and the National Commission for Culture and the Arts (NCCA) launched on Thursday Sentro Rizal New York at the Philippine Center in Manhattan. The Center will serve as a research center, library, and a repository of Filipiniana materials to allow the public to fully immerse themselves into the Filipino culture. (Photo by Federico A. Silao, Jr.)